A welcome distraction!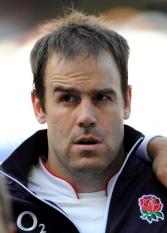 I blame Charlie!
By Wildwillie
February 12 2012
The rollercoaster Championship season has ground to a halt, temporarily. The die-hard Leeds Carnegie fans have stopped worrying about where we are going to finish in the main season – mid table is about the most likely, and have now started fretting over key issues such as- when will we get to play another game? Whilst the answer to that question is in the lap of the gods we are fortunate to have had a welcome distraction…….
No I am not talking about the "Harry Redknapp for Pope" campaign nor the Suarez/Evra return spat. I am of course referring to the Six Nations competition which is in its second week! Now we have a special interest in the competition this year as the "interim" England coach is one of our own. Will he succeed? Indeed – is he succeeding? After two games away from home, in dreadful conditions, England, as I write, are top of the heap. This is as much as we could have reasonably expected. What we did not anticipate is the manner in which those victories were achieved nor that the hero of the piece in both games was none other than onetime potential Leeds recruit Charlie Hodgson. As I watched him score in Rome yesterday I could not help but ponder on what if…..?
We have also seen a cracking Celtic battle in Dublin & have been thwarted by Gallic weather in Paris. The Six Nations is never dull. When we finally get back to the bread and butter stuff of the Championship it will almost certainly be an anticlimax. Still the distraction is most welcome and even the #LeedsCarnegieTwitterArmy will be enjoying the break from reality.
Short and sweet!
More Leeds Carnegie headlines
Leeds Carnegie Poll