Keeping the dream alive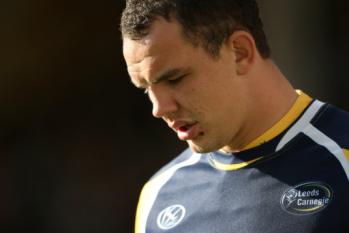 The people's choice
By Haxbytyke
March 29 2012
This Saturday sees the return fixtures from last Sunday in the Championship play off groups, and Leeds return to the scene of their biggest win this season when they travel to Goldington road to take on Bedford Blues. It is hardly an understatement to say that a repeat is required this week if Carnegie are to retain hopes of progressing to the semi final stage. Defeat would not necessarily be terminal, but events would be beyond our control, and that is far from ideal.
Leeds should have beaten Bedford last week, but poor decision making, and a repeat of the costly errors we witnessed earlier in the season, meant we had to be satisfied with a share of the points. The team performance though, was much improved, and that should give some confidence to the hoops if they can carry that forward to Saturday. The Blues have not beatenLeedsin three attempts this season, and there is no reason, on last Sunday's evidence, why they should do so this time around.
With this weeks hosts seemingly having one foot in the next phase, the other three sides are still in with a shout of joining them. If Leeds loses this week, all would not be lost if Rotherham beat Pirates, and providing Leeds can at least match the Pirates return from their trip to Clifton Lane this week, they would still be only one victory shy of qualifying. The big problem then of course is there are only two games remaining, and it would be a very tall order indeed. Even victory in each of the three remaining games may not be enough if other results conspire against Leeds; that is how close it is.
Team selection will again be largely dictated by the injury situation, but I have an idea there may be a place in the match day squad for Big Mac, and Lachy Mackay.
Once again, the big question will be how do we accommodate the return of Tommy Bell? Stevie McColl looked very comfortable at 15, and Joe Ford had a very good game at fly half. Will the point's machine move to the wing, and if so, who will make way? Lee Blackett would be very unlucky to be demoted after his display last week. There may also be the problem of replacing Scott Barrow if he fails to overcome his injury, although Jordan Davies did enough last Sunday to look as though he would be a likely replacement.
In the forwards, Chris Walker is the likely beneficiary should Ed Williamson not recover in time, the only other question mark would appear to revolve round who starts at hooker. I would like to see Phil Nilsen as he is a more consistent thrower than Andy T., but I imagine the skipper will once again get the nod.
So,Leeds really needs to win this one, and it will make for an exciting end to the season if they can. They have nothing to fear, and hopefully, around 4.30 on Saturday they will have done enough to be keeping the dream alive.
I can't give up on them now, so it's a narrow win for me, maybe by 3.
I hope all of those who are going have a safe journey, and enjoy the game.
COME ONLEEDS
More Leeds Carnegie headlines
Leeds Carnegie Poll