I guess that's why they call them the Blues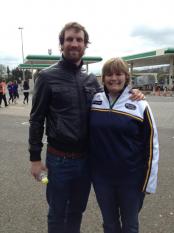 Funbus fantasy 2nd row
By Zandra LaPoi
April 1 2012
So, there I was on the fun-bus, nursing the 'mother of all post-birthday hangovers' when the irracible Wildwillie Tweeted and asked very nicely for a match report. Now, sans notebook, I thought I was scuppered but, with a pen and a single piece of A4 paper (the list of pax on the fun-bus), I was ready to report on the Mighty Leeds Carnegie's return to Super-Stardom, or so I thought!
I have spent nearly 3 and a half years living in Bedford in the last 10 years but have never been to Goldington Road. What a lovely hospitable ground it is too, although that slope has to be seen to be believed! Our Leeds boys looked confident and a last minute change saw Lockwood out and Denman in.
So, we all assembled on the side of the ground, ready to watch our Gladiators do battle. We were playing uphill for the first half so we assessed that if we could keep Bedford out in the first 40 mins, we could capitalise in the second 40 on the downhill stretch!
We kicked off. The first 10 mins were pretty even, both teams trying to play running rugby. After 10 mins, Bedford got a penalty, they took it quickly but another infringement by Leeds resulted in Pritchard slotting it over for three, so 3 – 0 to Bedford!
Again, there wasn't much in it for the next 20 mins, Leeds showed some good moves with Buzz and Dinger doing well. Joe's kicking from hand is not too bad and there are signs we can win here. After 30 mins, Big Mac, fell over the try line after more good work by Buzz and young Lucock. Dinger slotted the conversion and there we were 3 – 7 up, going uphill, at Bedford, there was hope!
After, 32 mins Dinger increased the lead to 3 – 10 with a 45 m super-kick after Bedford were caught offside. Joe has a boot and a half on him and there must have been some weird thermals out there because one his kicks must have travelled 90m!
After 37 mins, Bedford pulled back little after another Leeds offside infringement, so we went in at half time, 6 – 10. This wasn't a bad display and most of the Leeds faithful were in buoyant mood! So the second half came and we were going downhill, I could see it now, Kirsty and Co scampering down the hill to score bagfulsof tries and transport us to Nirvana and me to the bar! I woke up in time to see poor young Pete Lucock going off injured to be replaced by fans' favourite,Blackie.
Our Scrum and Lineout were not doing too bad and good scummaging resulted in a couple of penalties to Leeds. After 49 minutes, Bedford made three subs and try-scoring Demi-God, Big Mac, made way for the Beast! Then it started, the Bedford backs started running rings around us as our suspect tackling made another appearance. On 52 mins, Josh Bassett scored for the Blues, and Pritchard converted, so 13 – 10 to Bedford. Then we lost Birthday Boy / Mr Ed / Edwina / Biff, replaced by England U20 Skipper, Wakka. On 55 mins we got back in it and after excellent work by Will Cliff, Dicky Beck went over the try line, Dinger got the conversion so we are back in front, 13 – 17. Hope was back with us!
Then Luke Baldwin showed why he is a potential prospect, on 58 mins he picked the ball up from the base of the Bedford scrum and ran in over the try line, a lovely move that our players watched in wonder, well they didn't tackle him! The conversion was good and the Blues were back in front, 20 – 17. Now at some point we had a chance to make it 20 – 20 with a pen, but Will Cliff decided to go it alone towards to try line, his attempt fell flat and with it, the chance of three points!
The game ended with some tit-for-tat pens / DGs and the final score was 26 – 20, we managed to scrape a losing bonus point.
The players were clearly gutted with the result as were the Leeds faithful. We keep making the same mistakes, giving away penalties time and time again is handing the points to the opposition, on a silver platter, garnished, with an orange in its mouth. Personally, and cue lots more debate on the matter, I think another year in this League will do us good, it didn't harm Bristol. I do not want to see the boys getting spanked week in, week out in the Premiership, my nerves cannot take it anymore.
So the positives, we all thought long and hard about these on the journey back and I can report the following are positives:
1.We cannot get relegated.
2.The away game against Jersey next year is going to be epic and a thoroughly good day out for all! I see another 'mother of all hangovers' coming!
3.The pork rolls at Bedford come in a Tiger Bread roll and were only £2.00, bargain!
4.Jon Pendlebury (my favourite second row) was on the fun-bus with us and I got my picture taken with him, thoroughly top bloke who regaled us with stories on the way there!
5.My favourite Hooker, in possession of his shorts, wished me Happy Birthday!
6.A Bedford player was spending a lot of time outside the changing room in just his shorts and socks and very nice he was too! Think it was Vass but not so sureas me and Carnegiette weren't looking at his face!!
7.Chris Bell was there to support his little brother and took time to chat to Rocky Tyke and Beeston Lion.
8. Marco was there and spent an age chatting to Blackie! No GelBel, I did not accost him!
Stand out players for me today were:
Andy 'Superb Titts' Titterrell – Titts was superb today, he played how we know he can play and was everywhere. We so need him to do this on at least two more occasions for us.
Ryan 'Buzz' Burrows – Put in a full shift and carried the ball well when given the opportunity.
Jordan Davies – Some massive hits off him today, absolutely massive.
Dicky Beck – Another good showing from this lad. SIGN HIM UP NOW PLEASE MR H!
It is still possible for us to make it to the Semis but our fate is no longer in our hands,we have to win our remaining fixtures and hope others do us favours. I will be at Rotherham, cheering them on as I will be next year, regardless of what League we are in!There are way more important things to worry about in life than rugby, trust me. So, I'll see you all at Rotherham when we will exact our revenge on the Mighty Titans!
Keep the Faith - Marching on Together!
More Yorkshire Carnegie headlines
Yorkshire Carnegie Poll