Depending on the kindness of strangers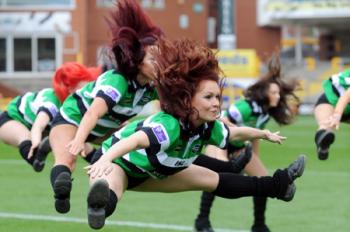 New signings?
By Gelbel
April 8 2012
With two matches to go in the pool play-off stage, Leeds' Championship campaign is beyond their control. After two frustrating games against Bedford – frustrating for me as I could only listen to the radio coverage and frustrating that Leeds did not take advantage of 3 point penalties to secure the matches; but went for the glory of 5 or 7 points that came to either nowt or giving 3 points away through needless penalties. For Leeds to get to the semi-finals they are depending on the kindness of strangers and hoping Bedford do some major damage to Pirates this week, leaving it all in Leeds' hands the following week.
To get to that situation, there is the small matter of Rotherham to overcome – the team who gave Leeds a titanic thumping in front of the telly cameras several weeks ago. If I was Diccon Edwards I would sit the squad down and show them the TV recording again and again and again. If that horror film does not stir the blood for the final Yorkshire derby and fourth meeting between the teams of the season then nothing will.

So what about the team? Given it's out of their hands, again if I was Diccon, I'd make some changes; Bell at outside half, McColl at full-back and, if he's available for selection, Mackay at inside centre (before you comment – why not? We've nothing to lose), Thornley at outside centre, with Stevo (if he's fit) and Blackett on the wings. This backs selection is mobile and big enough to deal with the burly Rotherham side.

So what of the pack? To be honest I am not unduly worried about who we put out to front up in, what will surely be, a bitter encounter. What I want to see is decent scrummaging; think the first play-off down in Penzance and discipline; some discipline, any discipline – not the pointless, school boy errors that seem to raise their heads with alarming regularity. If the discipline is not there, then Rotherham's Garry Law will punish us and whatever kindness Bedford may give Leeds will be wasted.

It won't be pretty, it will be gritty stuff. With a fervent home crowd, the atmosphere will be electric. Can Leeds do it? Depends which team turns up – let's hope it's the team that got the draw in Cornwall and not the side that capitulated against our opponents at HC.

But on the bright side - there will be some fun. Rotherham's 'dug out'. I can't wait to see The Beast and Aulika trying to park themselves in those resin garden chairs. But these days I am easily pleased! Let's hope trip to Clifton Lane ends with the Lemonheads very pleased with the result and performance rather than the sight of bits of plastic buckling under the weight of some hulking great backsides.
More Leeds Carnegie headlines
Leeds Carnegie Poll