Business as usual in LS6!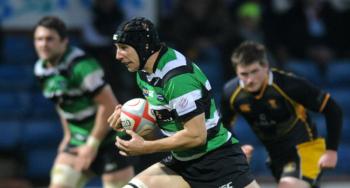 Skipper
By Bunj67
October 15 2012
Leeds entertained the Knights from Doncaster at Headingley in another "Friday night under the lights". We all went expecting an open game of rugby in what was the 1st installment of the round robin Yorkshire Regiment Cup made up of the championship's two other Yorkshire representatives from the people's republic of South Yorkshire namely our visitors and the other Mexicans, Rotherham Titans.
The game kicked off and before most people had drawn breath ,Dr. Who(Christian Georgiou) made a break and sent the" Little London Express" tearing down the line and Jamel Chisholm scored Leeds 1st try 30 seconds later Joe Ford converted and The Hoops were 7-0 up.
9 minutes later Leeds was awarded a penalty from the scrum and Joe made no mistake and Leeds extended their lead to 10 . In fact Leeds's dominance from the off meant that the Knights didn't even have the ball in our half in the first 15 minutes. The pressure began to mount and Dougie Flockhart took matters in to his own hands as he tried to rip Stevie" Kirsty" McColl's head off after the full back had made a great break. Ian Tempest, our referee for the evening, brandished his yellow card and off the winger trudged and the Knights were temporarily down to 14.
Carnegie piled on the pressure once more and this derby really hotted up in the 20th minute when a scrap broke out in midfield. I didn't see who started it but it was fun nevertheless and the result was another penalty for Leeds who then went on to waste the possession and not really make the visitors pay. That was until the most controversial moment in the match happened when on 22 minutes when a straight red was issued to Doncaster's flanker Adam Kettle for a dump tackle. This got all the hardened fans like me searching through their memory banks to try to remember when the last occasion any player at Headingley had seen red and my honest answer is I can't remember. The referee was in a good position so all I can say is that he had a good view of the misdemeanor. Joe Ford converted the resultant penalty and the score now read 13-0
The sending off made a uphill task in to mission impossible for the visitors and the impressive Sam Lockwood went over for Leeds's 2nd try from close range unfortunately Joe Ford missed the conversion and the score ticked over to 18-0 then on 34 minutes a huge scrap broke out in midfield and 2 more yellows were brandished this time Doncaster's hooker, Rhys Buckley and our own Calum Green walked the walk back to the dugout to cool down. So poor old Flockhart who had just returned to the fray after his 10 in the bin earlier was duly tactically subbed off again and had to walk the long walk back to the bench for the 2nd time in the half not looking well pleased.
Leeds continued to press and were rewarded in 1st half injury time when their other speed merchant, Curtis Wilson went over and the resultant conversion had taken the Hoops out of sight and oranges were taken with Leeds 25 points to the good and the contest effectively over. The players came off to another standing ovation for a good entertaining first half performance and again the paying punters had something to cheer about.
The first 10 minutes of the 2nd half seemed to come and go without anything to report then a moment of magic from the Tykes sponsored genius McColl who made a great break from his own 25 linking well with the impressive Fred Burdon who managed to send an ever improving Wilson in for his second and Leeds's 4th bonus point try. Mr. Ford added the extras and Leeds eased out to 32-0.
Doncaster, to their credit, never gave up but I wouldn't have expected them too against their arch rivals, and they were rewarded in the 58th minute when their captain Matt Challinor scored from close range and at last they were on the scoresheet and with Jamie Lenard adding the extras the score was now 32-7 and cue a host of subs from both camps.
16 minutes from the end Leeds were awarded a scrum 5 and a couple of phases later Lockwood dived over for his 2nd try of the night McColl unfortunately missed the conversion under the sticks and Leeds had added a further 5 to the score. I wonder what odds you could have got on him completing his hat trick but just as I was ringing the bookies Diccon thought better and off he came to a great round of applause.
This game seemed to have had everything or so I thought then in the 71st minute Leeds looked to have scored again but our man in the middle Mr. Tempest, seemed to slip over and couldn't give a decision as he was on his back side much to the crowd's amusement. History was made however with 6 minutes to go when Dr.Who scored what will be the last try on the historic turf at Headingley after great work again from Curtis Wilson and Freddie Burdon. Again Mr. McColl missed what looked like an easy 2 pointer and the scoreboard ticked over for the final time to read Leeds 42 Doncaster 7 Game over.
It was great to see James Ticknell back on the field although he will be first to admit that he had played better. So it was Leeds who drew first blood in the Yorkshire Regiment Cup but more importantly it was 5 points gained a move up the table and a performance that helps banish the memories of last week's debacle in the Artic. This young team are playing some good rugby and let's hope more fans will come back to witness it.
Crowd 2255
Champagne Moment - Mr. Tempest's slip
Hendre Fourie Leeds "man of the match" - 2 Try Sam Lockwood
Justin Marshall "villain of the piece" - Adam Kettle for getting his marching orders
View a Printer Friendly version of this Story.
TykesRugby.co.uk (IP Logged)
Unregistered User
Business as usual in LS6!
What do you think? You can have your say by posting below.
If you do not already have an account
Click here to Register
.
Edited 1 time(s). Last edit at 2012:10:21:19:06:24 by Wildwillie .
Reply•Quote
almostatyke (IP Logged)
Allez les Tykes!
Date Joined: Oct, 2011
Location: Sitting Sunny Side Up
Posts: 1290

Bobba (IP Logged)
Registered User
Date Joined: Apr, 2007
Location: A cliff full of ravens
Posts: 2712

Sorry, only registered users may post in this forum.
More Leeds Carnegie headlines
Leeds Carnegie Poll