Robin Hood Nearly Stole Our Christmas!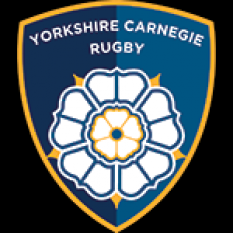 By Buckling 'Wish I'd taken my Coat and Gloves Goatster
December 29 2016
So, after a period of convalescence in the Black Country, I trotted up the M42 and headed towards Nottingham. I have missed my Rugby and with the boys in Blue and White doing reasonably well this season, so far anyway, I thought I would pop over to Robin Hood County and see what the fuss was about.Seems when I got there some 'high on Sloe Gin' Yorkshire Ladies decided it would be a good idea for me to write this match review, probably because they were all too busy tucking into a Six-Course Festive Hamper and filling their faces! So here it is, my drivel, sans note book and pen!
With those poor little Welsh fellows struggling, Carnegie pounced and acquired a Full Back and Second Row, with Chris Elder the FB starting against those Merry Men from Nottingham and I can hereby state that a Chris Elder should be for life, not just for Christmas (well that is what I told David Dockray after the game)!
Yorkshire started lively, kicking into a very strong, sometimes swirly, wind in the first half. It was very cold with that nasty wind coming in from straight over the River Trent. At this point credit must go to Joe Ford. With his Dad looking on from behind the posts, he nailed all his kicks despite the wind, including an absolute gem of a conversion that seemed to hang in the air before gently falling over the bar, converting Richard Mayhew's try.
So with one converted try and a penalty Yorkshire went into halftime 10 - 0. Nottingham were not really bothering us and we were playing well.
The second half came and we started pretty much where we left off. The wind had dropped and we managed, after about 75 mins, to be 24 - 0 up two converted tries, one a penalty. Lots of talk of 'niling' a Team started to rumble round the 'Sloe-Ginsters' and there was much merriment and joy and sloe gin!
Then those cheeky Robin Hood boys got a try, scored by their replacement hooker. Oh well, not to worry, it is Christmas after all and their kicker missed the conversion anyway.
At this point, Rob O'Donnell decided he'd rather sit out the last five mins on the bench than play. Then that cheeky hooking fellow (TJ Hooker, well actually Harris but love a good 80s Cop Show) scored another, maybe the Yorkshire Christmas spirit was a bit too generous, but not to worry there's only 4 minutes left and their kicker missed the conversion again, 24 - 10. Also, Gelbel promised me there was no way they could win as there wasn't enough time left.
Then TJ Hooker scored again, first time ever a replacement for Nottingham had scored three tries after coming on. This time the kicker nailed his kick, 24 - 17. At this point the 'Sloe-Ginsters' went quiet but alas there was no more sloe gin about to calm frazzled nerves.
Thankfully the Referee decided Yorkshire's Christmas spirit was finished and blew for full time. Brush had to physically calm down a very upset Buzz, not 100% sure what was bothering him but he wasn't happy. Had that game gone on for another few minutes, I doubt we would have been taking all the points back up the M1.
However, as young Jack Walker who was supporting his big brother said, if we can win when not playing well, that is all you can ask for.
If you had asked us at five minutes to two if we would have taken a 24 - 17 win, we would have taken your hand off, however, winning 24 - 0 with 15 minutes-ish left, we should have been out of sight at the end and not hanging on for the 'W'. However I would rather have a wobble now than in April.
Big thanks to Nottingham, nice little set up down there and with the Notts County crowd's chanting ringing in our ears, the Ladies and me left for our journeys' home.
Merry Christmas to all Tykes and hope to see you all on New Year's Day!
More Yorkshire Carnegie headlines
Yorkshire Carnegie Poll