So long and thanks for all the fish.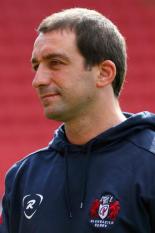 Thanks mate!
By Bemused of BD23
January 10 2017
With a masterstroke of timing Phil Daly brightened up a dull winter's day today by announcing that Bryan Redpath is to leave the Carnegie club at the end of the season to take up a position in non-banking. So good news then you would think?
It has been obvious to some supporters for quite a while that BR was not going to take the club any further than he has done up to now. With the second biggest budget in the Championship he has assembled a talented squad and then struggled to put lesser squads with tiny budgets to the sword. Word reached the terraces last season that all was not sweetness and light in the dressing room and that BR was a major factor in Sinfield's early retirement. Whilst we were powerless to do anything about it the board had clearly developed serious reservations about Redpath. With his contract expiring at the end of the season the board did not seek to negotiate a new one with BR. It is usual to have the Head Coach contracted before starting any negotiations with players for the following season. Clearly either BR was told his contract was not being renewed or he figured it out for himself and got himself another job.
So good news? Yes - BR is going. No - he is being replaced with Jimmy the shipjumper! Jimmy Lowes has been appointed Head Coach after he dropped us in it a couple of years ago when he pootled off as soon as a better offer came along.
The club has said that a new Director of Rugby will be appointed to work with JSJ. Is Gibson stepping down? If we have any aspirations to play in the Premiership then we should be appointing the best coach currently not coaching in the Premiership. Remember Exeter? Rob Baxter? Where are they now? We all know the answer.
So whilst I am relieved that we are parting company with BR, I am underwhelmed by the announcement of his replacement. It feels like 3 steps forwards and 3 steps back again.
Hey ho! The rollercoaster continues on it's merry way.
More Yorkshire Carnegie headlines
Yorkshire Carnegie Poll