The run in.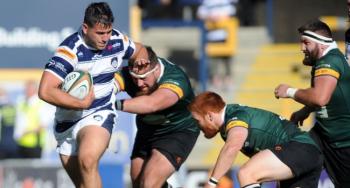 Forwards key.
By WW
February 13 2017
There are seven games left in the regular season of the Championship Our team has 4 home games and 3 away trips before the play-off places are decided. This weekend the visitors to LS6 are the Cornish Pirates.
It is not so long since the Pirates were formidable opponents where ever you played them. The club has had a few lean years recently but it is still in the top half of the league and in contention for a play-off place. Just 2 points behind 4th placed Ealing and with a game in hand a win for the Pirates at Headingley on Saturday would see them in the top 4. Ealing still have to visit Headingley on the last day of the regular season. So in a season where there have been no major upsets so far the team with the best incentive are visiting HC on Saturday afternoon. They might just fancy overturning the form-cart.
Our lads have won their last 2 league fixtures albeit against weaker opposition. We are second in the league and will be hoping to finish there (at least). Hopefully our management will recognise this fixture as a potential bananaskin and prepare accordingly.
In the campaign so far our forwards have been the key to our success. Despite the fact that we have been dogged with injuries we have strength in depth and the lads who have been brought in to supplement the existing forwards have been solid signings (if their first few games are anything of a guide.) The return to fitness of Mike Myerscough and Dean Schofield is like getting 2 new signings for the run-in which is when we want the competition for places to be keenest. The loss of Richard Beck through injury has exposed the 6 shirt as the place where we do not have strength in depth. I am not a fan of playing either Burrows or Stedman on the blindside. Our best option appears to have been to switch Mayhew from openside as we do have a surfeit of 7s.
Alex Davies has owned the scrum half slot this season, ably supported by Max Green. Despite the fact that Joe Ford has started all the league games at 10 there is a feeling that Warren Seals should have played a bigger part, which he still might if Ford gets injured. Our best centre pairing, Lucock and Casson, has developed as Casson has managed to stay fit. The shock signing of Alex Elder has galvanised our back 3 with the only other debate being Prell or Stegman.
Next week we travel to Jersey before the clash with London Irish at HC on March 5th. No-one expects us to beat the all conquering Exiles which is good. The word from the south is that the mood in the Irish camp is bullish. It would be nice to put down a marker that day for the main event a couple of months later. We then have a week off before a trip to Doncaster who, despite the fact that they lost key players in the close season, are in 3rd place and are our likely opponents in the play-offs. Last season Donny was our nemesis. I like to think that we have progressed since then and will bring back 4 points from Castle Park. So it all looks like plain sailing through to the end of the regular season. Those of us who have, mistakenly, held that belief in the past are now laughing to ourselves. We are Yorkshire Carnegie and nothing, but nothing, is ever plainsailing.
Cornish Pirates will prove to be a tougher proposition than our last opponents I am sure. That said I expect that we will win with a bonus point. Tykes by twelve.
More Yorkshire Carnegie headlines
Yorkshire Carnegie Poll