Can we fix it? Yes we can!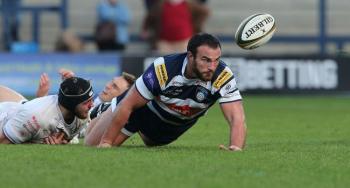 Key scrummager
By WW
May 16 2017
Bryan Redpath has named his squad today for tomorrow's Championship play-off final first leg against hot favourites London Irish. His legacy will, to a large extent, be determined by the performance of this squad over the next 160 minutes of rugby. These two games will be the last played in the Championship this season. Who comes back next season is yet to be decided....
Anyone looking at the two sides in the final could easily say that it was predictable. At the start of the season these two clubs were , on paper, the strongest in the division. London Irish have beaten every side in the league at least once this season and, in the minds of their supporters, they will prevail in the two-lgged final.
In contrast the Yorkshire Carnegie campaign has stuttered and misfired from the off. Many games won were "too close for comfort". This was not helped by the opinion that it was a weak diivision this season. That not withstanding we are within 2 games of a place in the big show. In my opinion we can win the final. There have been clues to our potential all season in the various displays that the club has put on. All we have to do is bring our A-game to the two remaining matches and anything is possible.
I occasionally wonder if Brush has been holding back the squad this season and that he will unleash tomorrow, a performance which we all thought that the lads were capable of but that we had given up any hope of seeing.
London irish are favourites. We are the underdogs. Therefore there is no pressure on our lads. All the pressure of expectation is on the Exiles. It is time for another magical evening in LS6!
C'mon Tykes!
More Yorkshire Carnegie headlines
Yorkshire Carnegie Poll