Preview - Week Off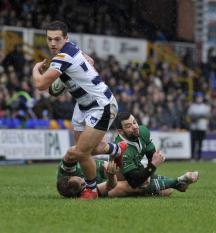 Done a good job!
By Almo
January 4 2018
I thought that I would take up the challenge of writing something interesting during what is probably the quietest part of the season: the gap between the Festive Christmas/New Year matches and the cup games. Firstly, I hope the players enjoy a break, although the weather has been terrible and I don't think the club allow them to venture abroad during the season. Still their bodies should be rested and those coming back from injury should have some breathing space in terms of their return to active duty.
The B&I cup is in its final season, and I don't think there will be too many mourners at its funeral. I have struggled to find optimism and encouragement for this competition, based on low-quality opposition in Scotland and Wales but amazingly high-quality players emerging from the Irish region/franchises in the final rounds. It has been best used for blooding Academy players and of course Sir Kev's learning curve.
This year the last round of B&I matches were understandably used by J-Lo to rest our over-stretched squad. This meant that youngsters got some excellent experience, but had the side-effect that when the Championship programme resumed, the team looked like it had eaten too much Christmas Pud but it was only mid-December. Nevertheless, the team-spirit got us through two nail-biting 2 point wins and we are now third in the Championship table behind only high-spending Ealing and mega-rich Bristol.
So, with two more B&I games to come, following a rest weekend, if I was in J-Lo's head I would pick a 10:5 team of established players and apprentices, with more experience on the bench. I don't think the results matter too much but we need to gather some momentum for the next batch of Championship games. I suppose we might just get into the next B&I round by accident, if so perhaps we should regard it as another full-contact training session/game time.
On the International Front we are all no doubt waiting for the 6 Nations in February. Will Eddie Jones' magic work once again? Could be a strong event this year with Scotland on a roll, Ireland looking strong and France under new management. Wales lack the resources of England but usually make-up in passion, but they have injuries to key players who are not easily replaced. Not to be left out, Italy will be Italy. So probably not too much controversy in that, hope it has achieved its aim of being of interest to somebody.
More Yorkshire Carnegie headlines
Yorkshire Carnegie Poll