Guess The Attendance - Hartpury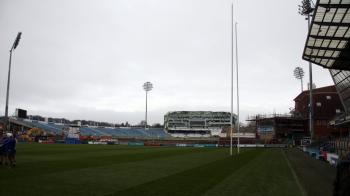 Something missing?
By Almo
January 22 2018
This Sunday marks the first-ever visit of Hartpury to the Emerald Headingley Building Site and I would like to welcome them. It has also been a month and five days since our last home match at Headingley so perhaps I should also welcome the Carnegie faithful, hoping they can remember the way.
It promises to be an interesting occasion, hopefully on the field, but if not the diggers and duct-laying will be a worthwhile distraction. In round 6 of the GTA, we had the pre-Christmas match against Nottingham and it was a good atmosphere helped by the wearing of some of the dodgiest Christmas jumpers seen in Leeds. We had an official (and believable) attendance of 2128, meaning JDH took the spoils and 3 points, Gel was second with 2 and Albert gained 1 point in third place. JDH is now in a commanding lead and the table looks like this:
GUESS THE ATTENDANCE SCORE AFTER 6 MATCHES:
9 JDH
5 Gelbel
4 Tyke George, yorkie ba
3 Hornchurch, Redcar Tyke
2 Headingleytyke, Tower
1 Wild Willie, Madtyke, Albert Fishwick, Bobba
Though not a fan of the B&I it seems J-Lo has successfully used the past two matches to give quality game time to the senior players, to keep them on the boil, brought up to speed some players returning from injury and has also given the youngsters a crack of the whip. So, hoping to step-up from the crowd of 521 at a cold Scarborough last week, my initial stab at the Hartpury home game attendance is: 1895
Please post your more considered guesses below.
More Yorkshire Carnegie headlines
Yorkshire Carnegie Poll