Attendances - Guesses and Facts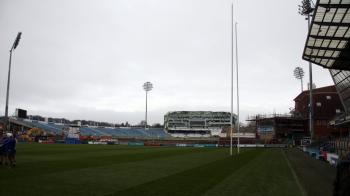 Wot, no snow?
By Almo
March 8 2018
HISTORICAL MADTYKE GUESS & MYSTERY OF THE MISSING EIGHT PEOPLE
Some Facts:
After eight Headingley home matches so far this season a total of 14817 official punters have sat or stood in the Carnegie Stand, an average of 1852 per game. So how does this compare to last season, pre-construction and with the team playing for promotion? After 8 games we had 14882, averaging 1860, so where have the eight people gone? Or more to the point, we have only lost 8 people, which considering the disruption of the construction, changes at the club and the return of the "First past the post" promotion system, is remarkably low and excellent news.
Historical Event:
Our last home match against Richmond had an official attendance of 1752; nothing remarkable in that you may think, but it was the exact number that Madtyke guessed. So congrats to Madtyke as the first recipricant of the Almo bonus and he receives 5 points. Second-closest was Hornchurch (2 points) with JDH ominously getting another point in third, and comfortably leading the table (see foot of page).
Some Guesses:
Our next match is against Ealing, clearly the second-strongest team in the Championship, and now featuring Ollie Stedman recently of this parish (if selected).
The match is the day after the England - Ireland St Patrick's Day match at Twickers and perhaps the outcome of that match could determine our appetite for live RU on the 18th.
My guesses have been fruitless so far this season but I will start the ball rolling with 2050 (following an England win).
Please post your more considered guesses below.
The Table so far:
| | |
| --- | --- |
| JDH | 10 points |
| yorkie ba | 7 points |
| Madtyke | 6 points |
| Gelbel, Hornchurch | 5 points |
| Tyke George | 4 points |
| Bobba, Redcar Tyke | 3 points |
| headingleytyke, Tower | 2 points |
| Albert, SFS, Wildwillie | 1 point |
More Yorkshire Carnegie headlines
Yorkshire Carnegie Poll