The Yorkshire Regiment Trophy – End of an Era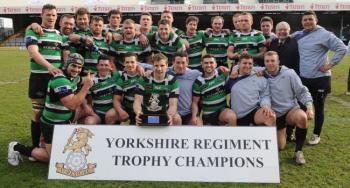 Winning in Green
By Madtyke
April 10 2018
Rotherham Titans versus Yorkshire Carnegie Preview.
Yorkshire Carnegie will be at Clifton Lane next weekend against a demoralised Rotherham Titans side who having been officially relegated from the GK Championship in what will be the last Tri-Club game for the Yorkshire Regiment Trophy until hopefully the 2019/20 season.
Rotherham have always been a pugnacious side who rarely take a step backwards but this season despite the best efforts of the former Tykes coach Andy Key have failed to make the grade and now face playing in National League 1. Rotherham Titans will no doubt have to look at possibly moving to a part-time professional set-up next season and hopefully they will retain most if not all of their squad to enable them to bounce back straight away.
Titans are coming into the game against Carnegie having lost quite heavily in their last 2 games against London Scottish and Jersey but they did show spirit and have made both Bristol and Ealing work hard for their wins. Yorkshire Carnegie won their arm wrestle with a strong Jersey side at the weekend and hopefully the injuries to Callum Irvine, Charlie Beech and Ben West are not too serious and we will be able to turn out an experienced set of players.
I for one will be making the short journey down the M1 to Rotherham and would love to see a repeat of the reverse fixture that saw Carnegie win by 47 points to 11 and of course to partake in the lovely Cow Pie that Rotherham Rugby are renown for. I predict a win for Carnegie and the bragging rights of being the Yorkshire Regiment Trophy winners 2017/18.
More Yorkshire Carnegie headlines
Yorkshire Carnegie Poll