Goodbye Mister Boggy.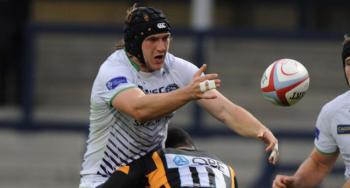 Thanks Stevie.
By Bemused of BD23
April 28 2018
The last match of this strange season arrived today. I am quite relieved to get this "transitional" season behind us but am also a little bit sad to see some of my favourite players making their last appearance for the club.
Today's opponent was London Scottish, second bottom of the league and sporting our new tighthead, Ewan McQuillin. As the Exiles had beaten us on the opening day at the RAG I did harbour a nagging doubt about our ability to give the lads a good send-off and this got worse when, straight from the kick-off, Scottish scored without a Carnegie player having touched the ball. Their kick-off went over our forwards and their no. 14 managed to get to the ball before our defence, making a clean catch and scoring. With the extras added we were 7-0 down.
To my surprise we went straight onto the attack. Callum Irvine, abley fed by young Ollie Fox had the backs moving sweetly but it was centurion Dicky Beck who dotted down in the corner. Wee Stevie McColl converted from out wide and my nerves settled. the lads then played some of the best rugby of the season with the pack linking well with the backs, keeping the ball alive through the phases. Our second try was a gem! The halfbacks created an opening which Forsyth hit at speed, splitting the defence before delivering a crisp pass to Fox who went over under the sticks. Stevie converted and we were on our way.
The third try was a bit more like the fayre we have had this season when Mike Mayhew was driven over for what proved to be his last try for Carnegie. Stevie again supplied the extras, making him our leading points scorer this season and we were in control at the interval.
J-Lo must have given one of his demotivational speeches at halftime as we did not get much of the ball for 15 minutes after the break. The Exiles scored a second but we did not look in danger of losing, yet! When Callum went off with a head injury we got a glimpse of the future when Harry Davey came on at 10. This lad has been DR at Huddersfield all season but showed bags of confidence and flair wto his very high standardhen he got his chance.. Happily cvallum was able to resume and we pressed for the 4th try. I thought it had come when wee Stevie took a crash ball only to be held up inches short. Scottish scored from an interception as we were going for the kill but Stevie rounded off his final game with a second penalty to leave us 27-19 winners.
All the lads who are leaving us this summer gave a good farewell performance. Charlie Beech played well. Our Scottish prop McQuillin went off early & was probably happy to see the back of Charlie. Of the lads who have been re-signed Chris Elder always looked dangerous and Forsyth looked sharp in both attack and defence. The lad who excited me most and gets my MoM award is Ollie Fox who had a flawless game. When he was partnering Davey whilst Callum was off I could envisage a future halfback pairing good enough to bring the crowds flocking back to Headingley. Time will tell.
More Yorkshire Carnegie headlines
Yorkshire Carnegie Poll