Darlington MP preseason friendly preview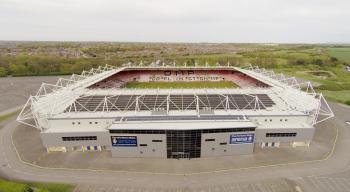 Northern Echo Arena
By Almo
August 12 2018
In the starting blocks: We are in the "phoney" part of the new season: we can't wait for the rugby to get going again but it hasn't really started yet.
The first pre-season affair at Otley was a pleasant enough experience, but I am not sure it told us anything. I, for one, recognised more of the Otley players than our team of new squad players, academy starlets and trialists. However, it was good to see and speak to some of the spectators including no doubt a few posters on this forum, and some of the first-choice players who were seated at the end of the stand.
It was also interesting to compare a traditional rugby club, with a clubhouse, real ale and volunteers, with the very different atmosphere at Emerald Carnegie. As the Otley ground is going to be redeveloped as housing, any money spent maintaining it is largely wasted, giving it a "lived in" appearance which should be a stark contrast to the shiny new South Stand waiting for us soon.
So, whilst we may not have learnt much at Otley, the forthcoming friendly at Darlington should be more informative. Darlington Mowden Park finished second to promoted Coventry last season so should be a challenging opposition. They inhabit the 25,500 seated capacity former Darlington Football club ground which was originally financed by famous Darlington ex-safe-breaker George Reynolds. So no problems with finding a good space to view then!
I look forward to comparing the Darlington ground with the redeveloped Emerald Headingley in due course, and it will be quite rare to see our team play in a bigger stadium than Headingley.
The match kicks off at 3.00 p.m. on Saturday 18th August and is followed by a female match between Darlington Sharks and Loughborough. Entry is £5 and £2 for concessions (free for U16s). The ground is about 20 minutes' walk from Darlington Railway Station and I believe there is plenty of parking at the venue. Darlington MP request that you park in the North West corner of the car park, near to the corner bar (but not past the barrier).
The teams have yet to be announced and so plenty of scope for discussion on this thread as the squads are revealed. Hopefully there will be plenty of Carnegie support on what should be a good game and a first chance to see our new recruits in action.
More Yorkshire Carnegie headlines
Yorkshire Carnegie Poll