In the land of the prince bishops.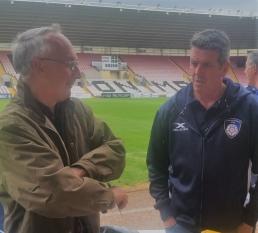 D.o.R
By WW
August 17 2018
I always enjoyed going to County Durham as a child. There was something magical about travelling in the land of the prince bishops. On Saturday I once again travelled north, returning to Darlington for the first time in over 40 years to see Carnegie play a pre-season against Mowden Park.
There are great rail links from Leeds to Darlington. The journey takes less than an hour. We arrived in good time so that we could have a look round this historic town. A twenty minute walk from the town centre brought us to the Mowden Park arena. What a magnificent stadium it is. The first person we met was Chris Stirling who was happy to stop and chat about rugby. Chris exudes positivity and 10 minutes with him left us feeling as though we might well be at the start of something considerably better than we have been used to.
I had travelled north mainly to see how our new halfbacks fared. I was not disappointed. JB is a proper scrumhalf with an incisive pass. He gave Brendan great service enabling him to dictate the play. Our backline was always getting good ball at pace with Forsyth & Elder prominent. The first try belonged to the forwards when Matt Smith hit a gap at pace before offloading to the skipper to cross the line. Smith and Beck dominated the lineouts and our new props wore down the home pack who were spent by the half hour. Park fought back to get on the scoresheet but our new look team were scoring every 10 minutes or so.
The best move of the game involved a diagonal kick from Cope, picked up by our winger who dibbed a kick inside for the onrushing Elder. He unselfishly passed inside for Forsyth to race in for the first of his brace of tries.
We turned round 26-5 ahead and replaced our props. The scrums were so one-sided that it was a relief for Mowden when the ref went to uncontested scrums. We brought lots of subs on including our backup halves. Both youngsters did enough to suggest that they will get plenty of game time this season. Indeed we have two young 9's and two young 10's to cover for JB & Brendan.
Mowden scored another try near the end through Chris Georgiou against the seven or eight that we got. At full time I felt that we had seen enough good stuff to give us hope for a good season. This was echoed by some of the other Carnegie fans who had made the trip up the A1. As for our hosts I think that they will do well again this season & their stadium would easily be the best in the Championship if they managed to get promotion!
So it was a very satisfactory afternoon from our point of view and we have good cause to be optimistic for the coming season.
Bring on Harpury!
More Yorkshire Carnegie headlines
Yorkshire Carnegie Poll