Can we fix it?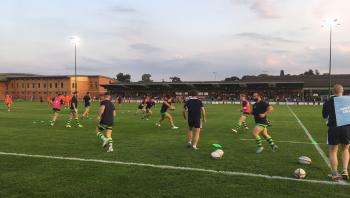 Our team warming up
By Gelbel
September 1 2018
So, after an evening of agricultural and BBQ smoke odours wafting about, several layers of said smoke drifting like cirrus clouds across the pitch, bat dodging and having to wait for 10s of parking stop signs going down and up between every car to get out, I'd say Hartpury could be a good venue if they fixed a few things.
Judging the ages of the paying public is another area for improvement; on a bright, sunny evening I was asked if I was a concession – and I don't think they meant a student.
The same needing to fix things could be said about Yorkshire Carnegie. I can see by your comments you listened to the radio commentary, followed Twitter and, probably read the offy match report and, I see there is, a BBC report too – so you know the result. I've not had the pleasure of any of that but I watched the match so rather than a blow by blow account of what happened, here's my thoughts on why it happened. And most of it is down to stuff that can be fixed but you do have to wonder why it wasn't fixed ahead of the match. Though I suppose you can't test match intensity in training and playing opposition in lower leagues in preseason is not much of a gauge of readiness.
First off, the whole night was in the honour of Rhys Oakley, raising money for his cause and the In The Bag charity and the stadium announcer made it very clear Hartpury (Perry for the rest of this report as the locals call them) were going for the scalp of a former club in his honour and a good performance would see more money put in the coffers. To say they were up for this match was an understatement – not that Yorkshire Carnegie weren't, but when one of your own is having the worst time the effort level has some unique force guiding it.
Anyway, first half and we were trying too hard with our play becoming forced as a result. It was also very fast and it caused us to lose control which happened most of the match. Some very good chances to score were scuppered by poor handling at pace. We were also kicking the ball away way too early – keeping possession and going through a few more phases before kicking if nothing was happening might have been more fruitful. Though how we were knocking on in mauls is a new one to me.
The overturned penalty was due to the Perry players putting pressure on Sir. OK, Bruzulier shouldn't really have a boxing match with a Perry player but it was provoked. What a lively terrier he is! Actually, there was more handbags in this match than I saw most of last season, so there was obviously some needling going on.
In summary, they tried it, it didn't work, if it had we'd be happy. Not a case of must try harder but attention to detail to be able to complete the moves because if they get it right then we're in for some entertaining rugby.
A few players were huffing and puffing – notably Buckle was in the first half, Watkins in the second though I think he picked up a knock. Best players for us – a toss-up between Bainbridge who was a battering ram all night, Cope for conducting play though you could say it was the right notes, just in the wrong order. Wooden spoon to Gibbings who totally messed up (being polite there) two line outs both in good attacking positions when on the whole it had worked most of the evening.
Final thing that deserves a mention, one of our own won the 50/50 raffle, meaning he won 50% of the raffle money raised on the night. Usually the club's 50% goes to the club, this week it was for Rhys' fund – our generous fan handed all his £87 winnings over too.
More Yorkshire Carnegie headlines
Yorkshire Carnegie Poll