Munster away victory !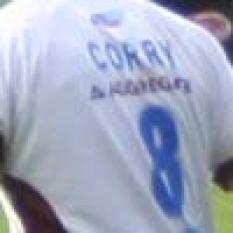 By Stopsy
January 22 2007
My thanks to Sandbach RUFC for providing the screen upon which to watch the game and also some horizontal lubricant to go with it. Last week I inadvisably stood next to Inky at the game and was cunningly lured into doing the match report, so its all his fault ... Here we go. I dutifully took notebook and two pens to the club to note down the salient points, read on until the next asterisk to see my notes in full *.

Short version: YES!

Longer version: 6 : 13 !!

We should all start with an apology to the club. We bottle big games, we canít play away, we canít play in the backs without Gibbo, blah blah blah. (Me included!).

From the off the team looked fired up, the initial ruck formed from the Munster Kick Off gave us a stable platform from which to find touch, oh no, Humph goes for a meander and slips the inside pass to the Hippo who breaks up field to the Half Way line. Adventure, pace and physicality, as we will see later, is the name of this game. Tigers look slick, aggressive, physical and fast and drove Munster backwards at most of the collisions. Three minutes gone and we are 3 points up, Munster and more importantly the crowd, seem shell shocked.

Munster then rallied and with that wind they should have done, and levelled the score after putting us under considerable pressure. The response was brilliant. Bosh Bosh Bosh up the field we go, Scrum Tigers, Harry sets off directly at ROG, splat!, Mad-Eye then takes it up, through the tackle and passes exquisitely (see, Iím not that drunk yet to be able to spell!) to Geordan who goes over to score.

This is a hugely physical confrontation and we are winning every aspect of it by the slimmest of margins. Munster players are injured and taking longer to get up, a sure sign of the way the physical game was going.

Going in at 6 Ė 8 up at half time felt good and bad at the same time, knowing the wind would be behind us in the second half felt better.

All credit to Munster, they took it to us in the second half and we showed immense discipline and skill in repelling them.

The scrum was generally our friend and the sight of Julian lifting Flannery off his feet on their ball was a joy to behold.

Bish bash bosh, no quarter asked nor given, this was a game for the purist but Tigers always looked that bit more lively in attack.

Ollie, welcome back by the way, went over and cleverly used his body to wrench the tackler and ball over to score.

We then withstood a pounding on our line but withstand it we did.

My thanks to the club for another fantastic HEC experience and also to the rightly proud Munster team and their supporters.

Just a quick rant at the end, if the aerosols at the RFU think that Coventry Mercians would serve up a better game than this then their heads must be so far up their collective fundamental orifices as to be able to kiss their own tonsils.

Now, can I remember how to construct a hangover?