Tigers v Sarries Match Report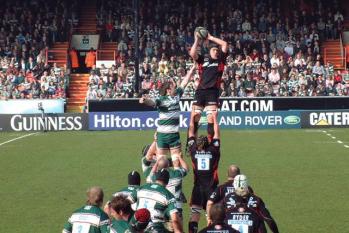 By Stopsy
September 26 2011
That hurts, well played Saracens, they did what they needed to do and no more and stuffed us. An inept performance from Leicester and I can't remember a worse score line unless it was one of the more one sided Barbarians fixtures of yesteryear.
The gentleman behind me summed it up well when he said there were an awful lot of individuals out there. They were talented individuals but did not play as units let alone as a team.
I travelled in hope that we could possibly pull off a win, however I expected a loss. I also expected Saracens to try and rough up the new boys and wasn't disappointed. The worst example and one I hope (but doubt) the citing officer will take a look at was at about 4 minutes in, Stanko takes the ball up on the right wing, goes to ground and Nieto stamps on his back and runs off. That said I am unsure whether I saw the event when Leicester were penalised for the same event, if it were the bit I saw on the big screen then I do not believe it to be anything but an accident, if it were more than that then I apologise although this isn't a Wengeresque "I didn't see it".
If anyone doubts what Allen brings to the back line, I would suggest that the utterly shambolic defence that followed his departure is indicative. That said, the defence this season has been appallingly polite from the "after you" school.
Saracens made ground at will and we were spared the high ball as it wasn't needed when you can just go forward with ball in hand. The visitors applied good width to the game and there were some fine fast hands in the Centres. At one stage I found myself counting as it appeared we were always at least one player down.
The line out was generally better this week although one overthrow lead to lost possession, however seeing as no jumper left the ground I suspect communications were at fault.
The sight of a scarlet, green and white scrum being shoved around as though it were on casters is not an edifying one, nor one I would elect to see again.
I had a Japanese guest with me for the game and thankfully she enjoyed the day. She also knows quite a bit about the game in general and on hearing me wish that Billy would pass the ball, she enquired "is that number 13?" so it wasn't just me who thought he took contact too often.
How the ref and touch judge failed to see the Boris Johnson impersonator wrestling our player 2 metres ahead of the breakdown I will never quite understand, whether it had a material effect on the try is open to conjecture except that the whistle should have blown for a penalty. I doubt that would have had any impact on the over all rogering we received but it was one of the more blatant offences of the day.
Ford looks aggressive and is certainly capable of stopping big runners in his channel, I hope he now analyses the game and starts to understand the areas of the pitch where some of his moves should and more importantly, should not be made. We do seem to favour the aimless return of possession kicks down field rather too much for my liking.
Salvi looked good again as did Tait on his debut, there were glimpses of speed and agility that may lead to a shortage of Kleenex in some households. Slater had an industrious game spoiled only by losing the ball in contact and a needless penalty at a line out, let's face it we didn't challenge their ball all day so giving away a penalty simply compounds the issue.
My Leicester man of the match was Stanko who played nearly all of the game in a scrum under immense pressure and really stuck it to Vunipola in the second half, I was expecting more from the new boy, the poor lad appeared tired as he seemed to spend a lot of the time lying flat on his considerable belly.
So all in all a training run out for Saracens against token opposition, they even started to look sheepish over their try celebrations such was the ease with which they were scored. Joubert again impressed, running in another 2 tries against us, I must confess I like him as a player. Hodgeson chose his options well and kept the movements going.
Although I was frustrated that we allowed 50 points to be scored against us I was disappointed in sections of the Cat stand booing Saracens at the final kick. If success on the field breeds this sort of behaviour then the sooner we get a few more kickings, the better. Equally I trust no Leicester fan will ever goad the opposition for leaving early in the face of defeat as many in the Cat stand exercised their right to leave early, even missing Woods try.
It was good to see the Saracens team thank their travelling support at the end.
The finest bit of the game for me was the cheers from the Crumbie faithful as the team took the steps back to the dressing room, real supporters of the club.