Worcester v Tigers Match Photos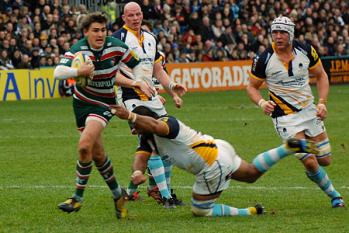 Flood running in
By Ian B
December 27 2011
A few weeks ago when I went online to buy tickets for this game, to my dismay, the site said that the game was a sell-out! I rang JG at the Away Supporters Club - "Yes", said John, "...we have space on the coach.... but there no spare match tickets!!!!" So saying, we put our names down as 'first reserves', and as time passed we were resigned to the fact that we would be watching the game on TV.
Worcester v Leicester Gallery - PR12_R11
27 December 2011
At just after 10:30 on the day of the match, we received a call from John - the LTASC had two tickets - did we want them?
Errr, yes please!
There was a bit of a mad dash to get to across to Sixways for the 2:00 kick-off, but we made it. Here is a small selection of my pictures. Hope you enjoy them.

Flood running in for his try
The decision and celebrations for try No. 3 - Deacs
Goodeh....Goodeh!

Try No.4 - Agulla... and Scott trying to start the 'YMCA' song