Quins v Tigers LV Preview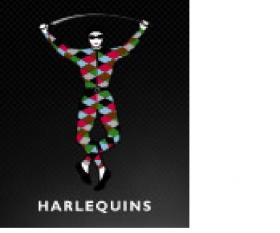 By SK 88
January 25 2012
This Saturday Tigers head down to south-west London to play Harlequins at the Stoop, named for Adrian Stoop a former RFU president and long serving Quins player, where they moved to from Twickenham (or as some of their wittier fans call it Big Stoop) in 1963.
This would in the normal course of events be a clash of the Titans fixture as, domestically at least, Tigers are in stonking form whilst Quin's early season form has been replaced with a case of the London Irishes as early season promise flounders on the muddy pitches of winter. But of course this is the LV cup, so it is more likely to be a repeat of Last year's A league semi or the year before's final, which would suit me down to the ground as we won both of those!

Even if either side wanted to pick it's best side it could not, thanks to the RFU arranging a lovely holiday in Yorkshire for the countries best 70 players or so. This Butlin's style week long bondage trip (bonding surely?, Ed) has hit both sides hard especially with the last minute party invitations dropping through Ed Slater and Matt Hopper's letterbox. Quins will be missing mohawked prop Joe Marler, both first team hookers Chris Brooker, another product of Colston's, and Joe Gray the former Nottingham player, lock west midlander George Robson, jolly posh captain Chris Robshaw, centres Matt Hopper, making such an impact in his first season from the Cornish Pirates, and Brighton born Jordan Turner-Hall, Lions winger Ugo Monye and that ball of rage full back Mike Brown. Good job Stuart Lancaster has taken against Nick Easter and Danny Care or Quins would be in an even worse state. Although I'd be flabbergasted to see either of those two on the team sheets come Saturday afternoon. Tigers will of course be missing Cole, Slater, Parling, Croft, Waldrom, Youngs and Billy Twelvetrees to Lancaster's tea party as well as Castro as Italy's new coach Jacques Brunel undergoes similar team building exercises, building bridges or railways I suspect. This is before we get into injuries with not only deny us of the otherwise unavailable Flood, Manu and Deacon for Tigers and Karl Dickson, brother of Saint's Lee and as under rated as he is over, for Quins but also players such as Crane and Quins bright young outside centre George Lowe who must be cursing his luck at the timing of his injury allowing Trinder and team mate Hopper to jump ahead of him in the England reckoning.

So much for who won't be there let's have a look at who could, should or will instead. Working out the extent of the rotation both sides will undergo is somewhat harder than usual as earlier rounds of the LV cup were just after England's brave/unlucky/humiliating exit from last year's world cup. Quins picked a pretty similar side both times with just 5 changes between the two matches whilst Tigers decided that feast and famine was a better tactic making just the 13 changes going from what would be considered a weak A team to the strongest possible XV, arguably one stronger than appeared in Ulster. I think Quins will stick with a similar side, call ups withstanding, whilst tigers will end up somewhere between our two earlier selections.
In the front row Ayerza will surely be rested, but who comes in? Stankovitch, Mulipola and Harris are the options; I'd think Mulipola will probably get his first start for the seniors, Cockerill generally is over cautious with his resting of potential first teamers in the LV cup so I don't think we will see Stankovitch before Exeter. Now that argument could be extended to Mulipola who may well be starting tighthead in Exeter or Julian White (I'll get there) but they are in need of game time before Exeter so I think will start this week if not next. With Marler away at the tea party quins will probably go for Mark Lambert, Stanko to his Ayerza if you will. Backing him up is likely to be one of Quins' younger prospect such as Nic Mayhew or Darryl Marfo, neither have really got a look in so far due to the Lambert/Marler duopoly so it's hard to say who.

At hooker Tigers will surely go for Stevens with Chuter on the bench, unless Hawkins injury against Ulster was not too bad in which case he may take his place on the bench. With England Saxons liking the look of both Quins hookers they will be down to ex-Sarrie Matt Cairns and young thrusters Rob Buchanan who I'd expect to start. Due to injuries and tea parties I can't really see much wiggle room in these selections it's just a matter of who starts and who rides the pine.

On the tighthead side Quins have both Fairbrother and the mighty man mountain James Johnston available, previous form does suggest these will again be the men with Fairbrother taking his turn as the starter. Young Kyle Sinckler a pup at just 18 might feature on the bench but I doubt it especially as Quins will have to be having young prospects on the bench covering both loosehead and hooker. Tigers have a smorgasbord of options with the veteran sometimes farmer Julian White, Samoan beast Logovii Mulipola and Hinckley colt Ryan Bower providing the options, this without Castro, Cole and Brookes as well as last year's National Division 2 prop of the year Camilo Parili-Ocampo shows that we have absolutely mental depth in this position. My bet is for White to start to get some more game time under his belt before cooling his heels next week before the onslaught at Exeter. I can see Mulipola on either side with Harris/Bower being the chosen couplet as well but might as well nail my colours to the mast. If we go with Mulipola/White I'd expect Tigers to have a big advantage at scrum time, but if we go with a Harris/Bower along with Mulipola this advantage will be a lot less if at all, especially if Johnston gets the nod over Fairbrother. A Samoan sandwich of Mulipola vs. Johnston would make the game worth the admission price for the inevitable scrum battle alone.

Quins have gone with promising pair Charlie Matthews and Sam Twomey for both LV games this season and I see no reason why this would change, Matthews especially is one to watch as he has impressed for England U-20s before. Kohn is now fit and Vallejos is available after the world cup so I suppose one of these could step into the side but with Robson taking tea I would presume they will keep their powder dry for the return to league action in two weeks. Tigers lock pairing is probably going to be Skivington and Kitchener, just back from fitness it is likely to be thought counter productive to give Skivington another two weeks off and Kitchener will be bursting at the seams to make an impression and earn another chance. Perhaps he should cut his arms off as this is clearly an important sign of desire to Cockerill. On the bench will either be Callum Green finally back after an eternity out with a broken back or one of the academy boys who have impressed in the A team, Joe "Co" Cain or Harry Wells. I'd think it will be Green, but if he is deemed not fit enough I'd plump for Wells although "Co" Cain has started the last two A team matches.

Quins young pairing, with experience likely to bolster the bench will be testing but if Skivington and Kitchener play to the level they can surely this must be an advantage to us?

The back row looks to be a much tougher test, although Easter will probably be rested and Robshaw is looking like he might be king of the red coats Quins rotation and has given academy players lots of opportunities and they have taken them. A back row of York, Guest and Wallace has no lack of dog, even without Gromit, and has bulk with pace to burn. Or they might go with Rah-ther posh Will Skinner once of this parish, its hardly a weakness, or Mo Fa'asalavu the Samoan flanker who played league (no idea either apparently they play it in Yorkshire) for Great Britain, where league goes rugby inevitably follows with the like of Paul, Vainakolo and Hape making the opposite switch. Quins have a veritable number 8 factor with Joe Trayfoot being another option at the base of the scrum.

Tigers have announced that Craig Newby will be making his long awaited come back in this fixture, although whether it is from the start or off the bench we are yet to find out. With 20 minutes under his belt I'd wager he'll start and probably captain the side too. With Waldrom being entertained by Robshaw's red coats this week and Slater likewise we're left in something of pickle at number 8, there is Richard De Carpentier but he was last seen limping off a field somewhere near Penzance beach front, Julian Salvi who looks dead on @#$%& and desperately in need of a rest and Super Steve Mafi who I would think will also be putting his Australian-Tongan feet up and perfecting his magnificent chin beard. Likely to fill the gap is Ben Pienaar, a perennial reserve who's played in some massive wins (Bath in a Heineken Cup quarter final, South Africa on the Glory Day) but also does look worse than awful sometimes. Tom Armes will probably have the unenviable task of trying to beat Wallace to the break down, he should be helped by having such mobile partners and such a dedicated work ethic but still. Or we might see Kiwi trialist James Doyle getting a crack, he looked decent enough in his any level Tigers debut against Leeds A but too soon to tell really.

This is an area I can't see anything but total Quins domination and subjugation. But hope springs eternal.

With Karl Dickson out Quins will either go for drunk driving Danny Care or young buck Richard Bolt, I'd prefer them to go with Bolt but I don't know half backs rarely need rest and they might want Care's experience to guide through what will have to be a young backline. The other half back slot is an equal conundrum with Nick Evans and Rory Clegg. With so many centres out injured it is not out side the realms of possibility that both will play with Clegg wearing 12. I'd think they will go for Care/Clegg or Bolt/Evans with the other pairing on the bench. Although Argentine Benjamin Urdapiletta can operate at both centre and fly half so might negate the need for a specialist fly half on the bench, just as they have done in both LV games so far. Tigers will have to go with Sam Harrison and James Grindal at scrum half as Mickey Young seems determined to play as little as possible, you'd think Harrison will start but now he's first choice scrum half during the 6N will we risk him? Possibly not. So anyone reading is implored not to go wappy should Grindal be named starting 9! Fly half is between Ford and Staunton, with Flood still at least a week away. I think we should go with Staunton but if Cockerill wants to keep him back for Exeter Ford might start. As I've sat so firmly on the fence in this section I shall continue and say since I've no idea who will start I've got no idea who will have an advantage! But the gut says Quins.


Quins centres have been left threadbare by the party invitations from Yorkshire and George Lowe's continuing injury. Former Sarrie Tom Casson is the likely twelve, unless Clegg is deputised into the roll, with versatile Argentine Bennie Urdapiletta in all likelihood taking up the 13 baton. Tigers midfield will probably feature Andy Forsyth but who will partner him is anyone's guess. Tony Allen, fresh from seeing off rival Billy Twelvetrees has promptly been dropped from the Saxons in favour of the very same Gloucester bound centre, could make up the midfield as he comes back from injury or Matt Smith, rested last week, could partner Forsyth. Or we could delve into the academy with Zimbabwean Dante Mama, Forsyth's most recent A team partner, or go another level down and give the young Cornish-Maori Javiah Pohe a crack of the whip. I think Smith is the most likely partner and should that indeed be Tigers will have an advantage.


In the back three Tigers are completely unhindered by Lancaster's week of mud treatments and pedicures due to having a unit full of foreigners. Although with the rumours of Miles Benjamin and Adam Thompson joining this will not be a situation we are likely to encounter again. Although where Lancaster fails to disrupt we're more than happy to oblige ourselves, the chances of Agulla, Murphy or Alex Tuilagi playing are similar to the chances of the good Dr.Venter opening a free clinic offering vigorous facial massages with his elbows to women pensioners in Leicester. Irishman Niall Morris is highly likely to get a go in the 15 jersey so often occupied by compatriot Geordan Murphy, there is a chance Scott Hamilton will get a start, as we will be missing no one during the 6N so this could be his only chance to stake a claim. Either way hopefully Nottingham raised Alex Lexington will get a chance to impress in a slightly stronger backline than his other starts for the first team. Big Lee Robinson is not to be discounted by I think we might be saying Au revoire to Lee at the end of the season and young Lewington is playing well. Quins back three is somewhat more affected by the need to be shouted at by grumpy northerners like Gary Neville, Kevin Sinfield and Jamie Peacock. Why our best players need to be lectured to by some Leeds league players is known only inside the recesses of Lancaster's mind, where all the rugby players like Jason Leonard and Brian Moore busy? Anyway back on topic whilst Mike Brown and Ugo Monye are told what it feels like to play in front of one man and his whippet during an Anglo-Welsh international match at Leigh as preparation for Murrayfield Quins will have to make do with players such as the dashing Sam Smith, the almost dinosaur sounding Seb Stegman and the bloody Tom Williams. Big framed Ross Chisholm has impressed me when I've seen him and if not starting is sure to make an impact from the bench. The other Quins option is Charlie Walker. Now when people talk down our academy normally they're wrong but serious questions have to be asked how we managed to lose such a prospect that grew up in Leicester and was educated by people such as "Dosser" Smith and Glen Gelderbloom at Oakham. Whatever the exact ins and outs of it, surely we should have been a bit more flexible for such a talented local boy and not let him leave to a rival.


The back threes seems to be quite even and are very rarely the deciding factor anyway. This match will be decided by the battle between our front five and their middle five. I can see us dominating the scrum but losing the breakdown battle. As I write this the referee is yet to be announced so which will find favour is unknown. With the crazy structure of the LV a bonus point loss could be good enough, which is rather fortunate as I fear this is all we will get. But If White gets a rage on, Ford or Jezza pulls the strings and Morris cuts some shapes at the back I could also see us winning this, a home fixture against Newcastle should navigable and suddenly we're in the knock out stages on a roll ...

But first things first and on we roll to the Stoop on Saturday.