The Rugby Oscars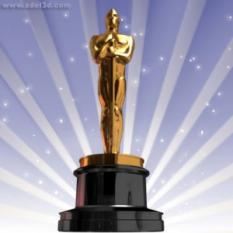 By SK88
March 5 2012
Rugby's answer to the Oscars? People often remember the Oscars for the Best Picture winner or the Best Actor's speech. Occasionally a minor award winner like Michael Moore causes a stir with a radical speech but generally the technical awards get little coverage and only the people with the statuettes and their mothers remember who won them. But at least they get their moment in the sun, rugby's award season isn't for another couple of months but even then they generally only include the major awards such as Player of the season, Coach of the season and Young player of the season. Occasionally you'll get a most improved or a best new signing but the awards have a pretty thin scope.
But I'm going to change all that with the first (annual if I'm lucky!) "Stuarts" awarded to the media and any others I can think of!

Broadcaster of the Season
The nominees are: ESPN, SKY, BBC, ITV and S4C.

ESPN have been a breath of fresh air these last two years, their formula of having the core three of Kay, Healey and Durden-Smith along with a changing cast of thousands depending on who is playing and available mean you know what you're getting whilst also always having a new voice and keeping Healey and Kay honest. The willingness to challenge opinion and justify it is very good and leads to considered opinions which can change as the evidence changes. ESPN have also brought increased coverage of the French Top 14 to our screens with the excellent Martin Gillingham and the occasionally annoying Andy Gomarsall providing a good round up of the wider French game along with a pleasingly different tone to that of Mullins/Healey and Kay.

SKY might be accused of having a stale product but the amount SKY offer is still hugely impressive, as well as England tour and AI games they also show the Aviva Premiership, the LV= Cup, the RFU Championship, the Super 15, the Currie Cup, the New Zealand Provincial Championship as well as their Northern Hemisphere showcase of Heineken Cup and Amlin Challenge Cup. They easily show the most hours of Rugby coverage in this country and this must be applauded. In Dean Ryan they have the most tactically aware pundit on our TV screens, the lesson that former coaches are more interesting than former players must surely be heeded in future?

BBC broadcast a lot of Rugby as well, providing you know where to look for it; BBC NI shows Ulster games regularly, BBC2W has a regular slot to show games from the Welsh regions and BBC Alba provides Scottish coverage for the millions of Gaelic speakers. International Rugby is perhaps their forte with the annual Six Nations being the jewel in the crown that also includes Autumn Internationals of Wales, Scotland and Ireland.

ITV of course are our World Cup broadcaster but they also provide a weekly highlights programme shown on both ITV4 and ITV1, this is the only terrestrial broadcast of almost all premiership games and that vital window is to be celebrated. Martin Bayfield and Craig Doyle provide excellent summaries of the Premiership, LV= Cup and the Heineken Cup once the constraints of a 45 minute programme (excluding advertising) are considered. The World Cup coverage might have been improved had they stuck with their regular highlights crew rather than use the more familiar face of Steve Ryder. The breadth of the World Cup coverage was good with almost if not every game shown on either the main channel or ITV4.

S4C, the Welsh language channel, provide coverage of the Welsh teams in the RaboDirect Pro12 as well as the LV cup. They also provide an English language commentary which is much appreciated in the handful of homes where Welsh isn't a fluent language.

And the Winner is: Sky!
Sky's huge amount of coverage nets them this award as that amount of dedication deserves recognition.

Matchday Programme of the Season
The nominees are: ESPN (Aviva Premiership), SKY (Heineken Cup), SKY (RFU Championship), BBC (Six Nations) and ITV (Rugby World Cup)

ESPN's coverage of the Aviva Premiership has been excellent and innovative. Ben Kay and Austin Healey's pre-match on pitch demonstrations are a clear example as they push the boundaries of analysis and explanation farther than they've ever been. Along with Nick Mullins they provide a triumvirate commentating style that is unique within English rugby but surely will be copied by their rivals soon. This set up allows the two "experts" to contradict and argue showing both sides of any incident and preventing the editorialising that Stuart Barnes, in particular, seems partial to. The after match interviews in the kebab van with the victorious coach are a particular delight as is the ever changing third pundit. This set allows a huge variety in the broadcast that others lack giving such men as David Flatman, Andy Goode and Mark Foster equal space with the regulars.

SKY's coverage of the Heineken Cup is wall to wall and where they whip out the top draw of their punditry ranks with Michael Lynaugh, Sean Fitzpatrick and Paul Wallace. The scale of the coverage is vast with all English teams away games on the "Red Button" at the very least. The promotion they've put into the tournament to make it the biggest event in town is truly admirable.

The same corporation's coverage of the RFU championship has been a bit thin but makes up for that with its access and innovation. Interviews with coaches whilst walking to the changing rooms is a novel change to the usual sponsorboard backed fare, access to team's half time tactical talks is revealing and a good feature, though I doubt Premiership coaches would welcome its introduction at a higher level! The pundits are often newer voices such as Pat Sanderson or the excellent Rob Baxter alongside younger commentator Johnny Hammond and this brings a welcome change in tone.

BBC's coverage of the Six Nations is very heavy in pre recorded features, usually recalling a famous victory or perhaps an historic event but occasionally they do player profiles. The quality of these is unmatched and a real sign of the time and money the BBC put into the annual event. The main presenting and punditry team is old and tired now with Jonathan Davies, Eddie Butler and Jeremy Guscott well past their sell by dates. Andy Nicol annoys intensely but is better whilst Keith Wood is very good indeed. Second string commentator Andrew Cotter is surely due a promotion.

ITV come in for heavy criticism every four years when they branch out into live rugby but in reality they did very well. The coverage of the so called minnows was particularly good and the ITV4 coverage with the smooth Craig Doyle was much better than the overly safe handling of Steve Ryder on the main channel. The commentators were mostly the solid professionals employed on the satellite channels of ESPN and SKY but were perhaps let down by the pundits who were in a very real sense anyone left over.

And the Winner is: ESPN! Their coverage is head and shoulders above anyone else's mainly down to their format of two co-commentators, something which might liven Stuart Barnes of SKY up and revitalise the great wasted talent of rugby punditry.


Highlights programme of the Season
The nominees are: ITV4 (Aviva Premiership, LV=Cup, Heineken Cup), ESPN (Aviva Premiership), SKY (European Rugby Special) and ESPN (Top 14)

ITV4 produce a weekly highlights programme usually broadcast at 8PM containing highlights of that weeks action from whatever competition the main teams are playing in that week. Presenter Craig Doyle is a smooth presence who knows his rugby and makes for a very visual distinction with the already tall Martin Bayfield lead pundit cum secondary presenter. They take the ESPN commentary for the two applicable games and have a solid team with the likes of Simon Ward providing the others. They change it up with features every now and then without ever being in danger of becoming a magazine show.

ESPN produces the longest highlights show of the four at an hour and a half and thus can go into the greatest depth although this is at the expense of tempo and frankly sometimes there isn't the rugby to fill that amount of highlights. The coffee bar setting of the analysis is good change and the fact it is never explained adds a nice bit of mystery. The usual team of Healey and Pete Richards has great chemistry and good rugby knowledge as does stand in Andy Gommarsall.

SKY's European Rugby Special has undergone format changes in each of the last three years lasting 3 hours, half an hour set to chart music and the current one hour studio chat format respectively. This means the format has never really had a chance to bed down and improve but it is good none the less. Presenter Alex Payne is typically joined by a different pundit from SKY's usual stable with people such as Martin Williams and Bob Casey giving their thoughts to the weekend's action. Nicely paced with plenty of rugby to rifle through they sometimes don't show all the tries especially in the thrashings.

Not technically produced by ESPN but under their banner none the less the Top 14 round up show is the shortest of the candidates at just half an hour and with 7 matches to pack in has to go with a faster pace than the ITV4 offering and a completely different style to the others. There is no studio of any kind just a faceless voice over/commentator who provides all the information and occasional translations too! With no room for fat or filler it is an all action programme featuring some of the best talent in world rugby.

And the Winner is: ITV4! It is the only offering which is on every week of the season and is a good compromise between extensive slow paced shows and the more wham bang thank you mam fast paced shows.

Pundit of the Season
The nominees are: Dean Ryan, Austin Healey, Ben Kay, Will Greenwood and Michael Lynaugh.

Dean Ryan was of course head coach at Bristol and Gloucester before taking up his mic at expense of his whistle. Unlike most other pundits on TV he's actually had his thoughts and opinions tested in the white-hot cauldron or top level rugby and was found right more often than not, so perhaps it should not be surprising that his sensible yet in depth analysis is consistently excellent. A very good example I recall is when he got a white board out on the rugby club to show what he meant, backed up with clips, when discussing London Irish's different attacking style rather than just prevaricating and blustering as Barnes and Morris and liable to do.

Austin Healey and Ben Kay are really more of a double act but are nominated individually, their pre match demonstrations have already been mentioned but are very good and along with Ryan's analysis consistently better than most available elsewhere at actually attempting to explain the current tactics teams employ. Healey specialises in defence and the back line utilising space whilst Kay's domain is in the tight spaces of the scrum, the ruck and the lineout. Each is good in their own area and willing to challenge the other to justify their opinion, which greatly improves the quality of the discussion as only good ideas are allowed to stand.

Will Greenwood could be accused of being the last walkman in an age of the iPod with his blather and bluster in favour of hard analysis with facts. But he is good and entertaining with his blustering often providing good points and always willing to offer an opinion. In time as we get used to his agendas he will go stale as Stuart Barnes has but that time has not yet come.

Michael Lynaugh is almost SKY's safest pair of hands, able to turn his hand to Premiership, Heineken Cup, Super 15 or Italian rugby with ease. He is sensible and scrupulously fair in his judgements never noticeably favouring his old sides. Very perceptive and with a lovely speaking voice he is often under-rated or forgotten when pundits are discussed.

And the Winner is: Dean Ryan! Consistent excellence rewarded.

Commentator of the Season
The nominees are: Andrew Cotter, Martin Gillingham and Nick Mullins

Andrew Cotter is the young Scottish commentator who works with the BBC and also turns his hand to Golf coverage. He filled in on ESPN to great affect whilst Nick Mullins was in New Zealand and is always the best BBC has to offer during the Six Nations championship, surely his promotion ahead of Eddie Butler is inevitable and overdue. Knowledgeable and adaptable he is a solid pro.

Martin Gillingham is ESPN's usual commentator on their French rugby coverage and is also often on hand to commentate for SKY during Heineken Cup or other busy weekends and completes a treble by working for ITV during the World Cup. Leicester born Martin represented Great Britain at the 1984 Olympics in the 400m is highly knowledgeable on rugby with barely a game going by without an interesting anecdote about a new player.

Nick Mullins is ESPN's lead commentator who also took the reins on ITV's World Cup coverage alongside Phil Vickery. His chatty style works well with Healey and Kay but falters with lesser co-commentators.

And the Winner is: Martin Gillingham! For the variety of his work and his unfailing knowledge on the wide variety of players he is charged with describing, a nerd's nerd!

Website of the Season
The nominees are: Rugby Transfers (rugby-transfers.blogspot.com), ESPNScrum (www.espnscrum.com), NewsNow (www.newsnow.co.uk/h/Sport/Rugby+Union), Rugby Roundup (www.rugbyroundup.com) and the Cornish Pirates (www.cornish-pirates.com)

Rugby Transfers is a blog based site based unsurprisingly on Rugby Transfers; the basis is the three main Northern Hemisphere leagues with the two English speaking leagues gaining slightly more coverage. Round ups of all rumours for all sides is very impressive, definitely a site to keep tabs on the movements of all Heineken Cup sides.

ESPNscrum is the market leader in news, live scores and international match stats. A good side line in opinion pieces but their real speciality is live scores where they are significantly better than the only competitor the BBC.

NewsNow is an RSS service which tracks articles released on almost all websites on almost any subject. They have both wider Rugby or Leicester Tigers pages and is an Aladdin's cave of news from around the world.

Rugby Round Up is a fantastic site to find teams sheets, scores and scorers for the lower leagues quickly, from Internationals to Level 7 where Coalville reside it is a one stop shop when trying to find information on lower league players.

The Cornish Pirates web site isn't nominated because it's a particularly brilliant club web site but because it manfully stepped into the breach and is the only place to provide a thorough pre-view of the RFU championship complete with announced teams and general news from each teams local paper. Pirates TV is also a brilliant idea, which will unfortunately bite the dust should they ever get promoted, providing live video coverage of many games both home and away.

And the Winner is: NewsNow! For its shear scope and treasure trove of stories.

Forum of the Season
The nominees are: Rolling Maul (www.rolling-maul.com), Tigers Unoffy (www.theleicestertigers.co.uk), Bath ERE (www.bathrugbyere.co.uk), Planet Rugby (forum.planet-rubgy.com) and 6o6 V2 (www.606V2.com)

Rolling Maul is the message boards of the Championship and National Leagues 1,2 &3, covering teams from Bristol all the way down to Hinckley, Syston and South Leicester. You'll get no relegation sympathy on here but is a very good place to find scores and opinions on the Championship and lower leagues.

The Tigers Unoffy is of course our own board and needs little introduction. Although dogged by allegations of cliques its debate style is generally free of personal abuse but high quality rugby chat mainly but not exclusively Tigers related.

Bath ERE is perhaps the standard bearer for the sportsnetwork series of sites. It covers the widest range of topics both Rugby and non rugby and has perhaps the biggest pool of regular or semi regular posters.

Planet Rugby is perhaps the busiest rugby forum on the planet; I has to go back 7 pages to find discussions from the previous day and passed threads covering everything from the 6 Nations, Premiership and Super 15 to both Canadian and American domestic Rugby. A less prudish site than many they aren't afraid to call a spade a spade.

606v2 is the phoenix from the old BBC ashes, less busy than the others but generally good for insider tips and leaks.

And the winner is: Rolling Maul! Not the busiest or widest scope but good quality banter and a grounding effect give it the nod on this one.

Paper of the Season
The nominees are: The Rugby Paper, The Daily Telegraph, Rugby World, The Times and The Sunday Times

The Rugby Paper provides excellent coverage of most aspects of the English and Welsh game, with match reports from all of the games in the top four leagues of English rugby. After swallowing the
Rugby Times they also have the "Fissler Files" as well as Neale Harvey and Jon Newcombe's excellent feature articles. Perhaps a tad over interested in Wales and the North.

The Daily Telegraph, particularly on Mondays, has very good coverage of the top tier and good columnists in Brian Moore and Mick Cleary. It is also the only main paper to give any coverage at all of the Championship, even if it is a bit limited.

Rugby World, the monthly glossy magazine, is by its nature a features driven magazine with a good length piece on someone from each of the home nations every month. Quality interviews and opinion articles keep this monthly as a very worthwhile purchase.

The Times leaked the World Cup report and has been very good at reporting from the murky World of RFU politics.

The Sunday Times has a good spread of columnists with the likes of Stuart Barnes, Stephen Jones and Lawrence Dallaglio providing interesting reading even if it a lot of it is bollocks. It has ample coverage of the Saturday games from the Premiership too.

And the Winner is: The Rugby Paper! The only weekly rugby dedicated paper is unsurprisingly the one with the best coverage and the best range of opinions as well as being very good at breaking stories.

Writer of the Season
The nominees are: Martin Crowson, Mark Souster and Stuart Barnes

The Leicester Mercury is home to Martin Crowson one of the nation's best young thrusting Rugby reporters. His output is impressive and varied and his match reports never fail to delight. Good contacts within the club make his transfer predictions the most accurate.

Mark Souster is the Times' rugby correspondent and responsible for the leaking of the England World Cup report and that paper's general excellent coverage of the World Cup campaign. Often found to be writing opinion pieces against the current low salary cap he is a top reporter at the top of his game.

Stuart Barnes has come in for criticism in this article for his punditry but his writing is as brilliant as ever. A true wordsmith his bewitching prose belies his former life as a bank manager with a ridiculous moustache. You don't have to agree with a single word but his writing is a pleasure to read.

And the Winner is: Mark Souster! His coverage of the RFU chaos just gets him the nod in perhaps the tightest category, Martin Crowson is destined for greater things on a broadsheet newspaper should that been the route he chooses.

And so the first annual "Stuarts" are over, like the Oscars they were over long with too many tedious categories abour people you've never heard of, but at least as this is print you haven't had to listen to any of them witter on for ages thanking their agent, their mother and their masseuse!