Northampton Saints v Tigers Preview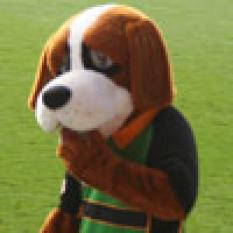 By ChrisC
April 5 2012
There's a Kind of Hush I'm not thinking about the opening line of the iconic 1970's hit by the Carpenters but of the hush that permeates certain days. As I write this I am reminded of the strange quietness that some days somehow have about them.
Christmas Day has that special feeling (in spite of mercifully abortive attempts to have the larger shops open for business) and so does Remembrance Sunday.
When I was child there was a day like this every week – it was Sunday and was truly a day of rest for almost everybody. Shops didn't open, apart from the newsagents who closed promptly at noon, there were no sporting events and the pubs opened for just a two hour session that ended at 2pm so that the universal ritual of the family Sunday Lunch could take place.
Now though the remorseless advance of secularism has seen Sunday become little different from any other day and even on Easter Sunday, the most important day in the Christian calendar (and in spite of what the chattering classes may wish us to believe this is still a Christian country), we see sporting events taking place and quite why, for example, Saracens were obliged to play on this most Holy of days is a mystery.
In a noisy world I loved these days of quiet. I cherished the time to reflect and to just be peaceful for twenty-four hours with the ravening hordes of secularists silenced for just a while.
The other kind of hush that I like is that still sometimes observed in our sport when the designated kicker takes up his position for a shot at goal regardless of the shirt he's wearing. It's a mark of respect and good manners both sadly rare commodities in today's society and provides a dramatic counterpoint to the hullabaloo.
At too many rugby grounds though this respect has withered along with good manners but at Welford Road the tradition has been maintained as it has at Franklin's Gardens, two hard core rugby venues where the supporters know their rugby and take pride in its traditions, so whenever Northampton Saints and Leicester Tigers meet it's an occasion to relish.
Of late though these occasions have too often been marred by bad behaviour from the players of both sides and I hope that this weekend's encounter will be free of such events. No punching, kneeing, hair pulling or arm wrenching please, just good, hard and fair rugby for us to admire.
It has been an odd season for both of Saturday's teams who were grievously affected by the demands of the World Cup but both have recovered and find themselves amongst the top four positions in the league, in spite of mutually awful starts to the season.
Tigers thus far have the bragging rights this term with a win at Welford Road in the league and victory in the final of the LV= Cup securing some much needed silverware after a fallow 2010/11 season.
Against Worcester Tigers were inaccurate at times and, until Andy Goode lost control of himself and received a Red Card, the team from Sixways were giving the hosts a real workout.
The following day a similarly inaccurate Saints still managed to dispatch Bath although to the visitor's chagrin they were unable to nab the try bonus in spite of copious amounts of both territory and possession.
This latest local derby is a pivotal match for Saints as failure will see them become detached from the top three teams in the league and exposed to the chasing pack, where Exeter are making a strong challenge.
It is no less key for Tigers who can now smell camel as they share second spot with Saracens who, in spite of Mr Garner again spotting every transgression committed by their opponents and being largely blind to those of Saracens, were thwarted by a resolute Quins.
In the LV= Cup final Tigers' Mulipola gave Saints' Soane Tonga'uhia some tough competition and so it will be interesting to see which of Tigers' stable of international tight-heads gets the start against the Tongan but either way he'll know he's been in a contest, especially if the match officials are on their mettle in spotting his sometimes unconventional scrummaging tactics.
Marcos Ayerza has been in quite splendid form since he returned from the World Cup and he'll doubtless face Springbok Brian Mujati who's back in full harness, while with Rob Hawkins excluded from further action while he recovers from the surgery occasioned by the actions of Calum Clark, George Chuter is sure to start with the thankfully recovered Tom Youngs in reserve to oppose the evergreen Andy Long who's doing an extended shift while Dylan Hartley serves out his latest suspension.
I think the front row while be the customary tight contest however the key may be in the strength of the respective benches, especially if the scores are close as the match enters its final quarter.
I've been a little surprised not to see more of Saints' splendid American Eagle, Samu Manoa, who really is a splendid player both at the set piece and in the loose where he runs and tackles with devastating effect. For me that arch pilferer of opposition ball; Christian Day and the ex San Francisco player, who I prefer to either Sorenson or Craig, make an ideal combination while Courtney Lawes nurses his shin splints, which I know from personal experience to be horrible injuries with a tendency to recur if a full recovery is not first secured.
George Skivington continues his farewell tour by playing the best he has in a Tigers' shirt and I expect to see him in combination with Slater who's also back from injury. Kitchener has shown us what the fuss was about over the last few weeks so I expect him to be in reserve and for the contest between the locks to be a tight one although at line out time Saints' will miss Tom Wood if he's still hors de combat with his troublesome and persistent foot injury as the England player brings something extra to the Saints' set piece and they'll need to combat the threat of Croft and either Salvi or Newby.
In the Saints' breakaway forwards, with Calum Clark taking a long and well deserved rest, Phil Dowson will probably be nailed on for the blind side berth bringing his mobility and excellent running lines to the fore while the homeward bound, and ever excellent, Roger Wilson will be at #8. The Belfast bound Irishman will be sorely missed by Saints as he is one of the most effective #8s in the Premiership and the visitors will need to stop him if they are to stop Saints. I hope that Tom Wood is back to fitness as he's one of those players I just like to watch and his presence can only add to the contest.
Tigers have found a new aggression and doggedness at the breakdown after their early season travails and I expect to see Tom Croft continue to shake off his time with England and be a thorough nuisance at the line out while Steve Mafi makes a cameo appearance later on either as understudy to Croft or Waldrom.
With Craig Newby blessedly back to fitness after a long layoff one of Tigers' signings of the season (with Muilpola) Julian Salvi has had somebody to share the load, both getting the nod over Ben Woods due to the ex Falcon lacking the ability to be equally effective on both sides of the back row.
Waldrom continues his impressive record of ball carrying and he will be head to head with Wilson who's similarly effective, so that'll be another confrontation worth watching.
Overall though I sense that the Tigers' breakaways may get the nudge here, especially if Wood is absent.
Behind the pack Lee Dickson is back to his club form after latterly struggling with England. I really don't know what the England coaches do to scrum halves. When at Saints' Dickson is swift, decisive and accurate whereas for England he followed the path opened by Ben Youngs and vacillated at the scrum and ruck, fiddled about at the maul and just didn't look the same player as he does when with Saints. While he was away on Six Nations duty Welshman Roberts was excellent and while it can't be a straightforward call for Mallinder I expect Dickson to start.
If Saint's cup of scrum halves is overflowing then Tigers' is gushing, with James Grindal playing some of the best rugby of his long career and Sam Harrison once again fit. I was impressed with the increase in tempo that Harrison generated when he made a late appearance against Worcester. Ben Youngs is still working his way back to form having lost his head when fouled at London Irish (the perpetrator of course walked away scot free) and poor Micky Young must be counting the days until this most horrible of seasons for him comes to an end, blighted as it has been by injury and a ludicrous and draconian suspension.
With Youngs free to play I expect he'll start with Harrison on the bench snapping at his heels just as he and Dickson will be similarly engaged with each other. I can't decide who'll prevail as both should enjoy good quantities of decent possession from their respective packs and both have points to prove.
At fly-half Jim Mallinder seems in a quandary as to who his first choice is, maybe he doesn't have one?
In Ryan Lamb and Stephen Myler he has his own ying and yang. Lamb is possessed of a lovely touch and superb vision but can be as flaky as a soon to be taxed pasty and still has a propensity to turn into road kill around the tackle area if a swift turnover doesn't give his colleagues enough time to regroup defensively. Myler meantime is a deadeye dick with the boot but more stolid in attack and the pass in the LV= Cup final that saw Scott Hamilton snaffle like a hungry Labrador and dash down field for the deciding try will long haunt him. Defensively he's strong though. So it'll be interesting to see if Jim Mallinder goes for the (usually) safe option of Myler who will need to play his natural game and not throw speculative passes or whether the quirky Lamb will be plat de jour.
Richard Cockerill has a similar dilemma in whether to start the precociously talented George Ford or the elegant Toby Flood who's form with the ball in hand is restored to that before he was demoralised by successive England management teams.
I rather expect that Toby Flood will again start with George Ford emerging for the final quarter although if the place kicking aspect of Flood's game doesn't improve as has the rest of it then the youngster's appearance could be sooner rather than later.
It's hard to though to see anything other than an advantage here for the visitors.
Another departee; James Downey, continues to crash the ball up and for me looks more in tune with Myler than Lamb who's more effete style doesn't seem to entirely suit the robust Irishman.
Outside him will surely be another of the season's stand out signings; Samoan international George Pisi who's not just tough in the style of all his compatriots but shows some nice subtlety with hand and boot.
For Tigers Gloucester bound Billy Twelvetrees has made good use of the enforced absence of Tony Allen who is also now recovered from his latest injury, although this time he didn't need the help of B&Q (it may have been another DIY supplier that let him loose with sharp tools and I hope that a bulletin has gone out that he needs a note from a responsible person before being let near such implements in the future).
Here too Cockerill has an interesting choice to make but I think that, after a good showing against Worcester, Allen will get the starting berth and, especially if Lamb starts, he'll find some space in the 10/12 channel as Downey has a propensity to come up fast in defence.
Manu Tuilagi and his brother Alex will be looking forward to meeting up with their old pals and the contest between Pisi and Tuilagi junior is yet another pivotal area that is too hard to call.
Out wide Tuilagi senior will doubtless join with his sibling in targeting the Saints' half backs in an attempt to create space for Allen and Flood in particular and while Scott Hamilton has been given some starts of late I expect Horacio Agulla to be preferred this time to oppose Paul Diggin who is relishing his chances to perform and with Vasili Artemiev having a somewhat patchy cv when it comes to dealing with big wingers. Alex Tuilagi will be renewing his acquaintance with Chris Ashton. I wonder if the Japan bound Tuilagi will be wearing a hairnet!?
I thought Ashton looked more involved against Bath than has been the case of late but in the main these days he's plying his trade out wide rather than making those trademark devastating bursts through the centre. Though, to be fair to the putative Saracen, without a Toby Flood off whom to run those lines it's been difficult for him at club and international level. I bet he's hoping that once at Vicarage Road or Copthall or Wembley or Twickenham or Cape Town or Abu Dhabi or wherever else his new employers decide to play their matches he has the talent of Hodgeson at fly-half to help him rather than Owen Farrell.
Finally at full back Ben Foden is looking both hungry and dangerous, perhaps it's due to sleepless nights, but whatever the reason he's looking in fine fettle. He persists though in taking the ball just that yard too far at times and runs out of his support who often are as wrong footed as the opposition by the England full back's mazy running.
Geordan Murphy continues with his 2012 renaissance and while he doesn't have the pace of his youthful opposite number he makes up for it with wonderful game management and since he's stopped asking too much of himself physically the prodigious rate of turnover ball that he was conceding last term has reduced to a dribble.
As always with Saints versus Tigers matches this is very hard to call as the sides are well matched as their respective league positions demonstrate.
I've checked in the mirror and both my eyes are open so it could be holiday euphoria that is making me feel that Tigers may just sneak it but hush – don't tell the Saints' supporters I said that!