Tigers v Saracens Match Report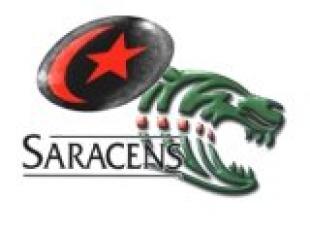 By TigerR
May 14 2012
Tigers Depose the Champions The roads were clear and the South Leicestershire countryside looked stunning in the sunshine. This was a good omen as the main fear I had was to have to take on Saracens with their kick-chase game in the rain. The sun encouraged me to enter the Weldford Road stadium without a coat. The terrace was already quite full a hour before the game and there were about fifty or sixty Saracens supporters who had taken up the space beside the half way entrance/exit way. There was also a gaggle of Saracens behind the dug-out. They were all wearing red and waving flags. Many of them seemed quite youthful and I wonder whether some of them might have been members of the Saracens Academy.
At the entrance of the Saracens team they threw red and black confetti into the air. This seemed to backfire ask it goaded the Tigers supporters into making lots of noise: something that didn't seem to stop during play. I swear that on at least two occasions I heard the Tigers supporters in the CAT stand making themselves heard.

As expected, Tigers replaced Julian Salvi and Toby Flood with Craig Newby and George Ford respectively.

Saracens kicked off deep and tried to pin the Tigers in the Welford Road end. With the wind behind them, this proved possible although some ferocious play was also involved. Saracens were the first to score through an Owen Farrell penalty from near halfway after a scrum collapsed and Marcos Ayerza was adjudged to be at fault. This was a first of a series of penalties at scrums which went first one way and then the other.

Tigers from the kick off managed to keep Saracens in their own half and Saracens were penalised for not releasing. Ford brought Leicester level with his first kick at goal.

Next Saracens went close to scoring a try. Will Fraser broke down the right wing, drew Ford and passed to Strettle who scorched down the line, but he was tap-tackled by Alesana Tuilagi causing him very nearly to put a foot in touch but also to stumble and video replays showed that he dropped the ball in reaching for the line.

A tactical kick from hallway forced Manu Tuilagi to field the ball close to the Tigers line. He passed to Murphy who just failed to find touch. As Saracens ran the ball back at least one of the Tigers defenders was judged to be offside. Farrell kicked Saracens back into the lead.

Tigers hit back straight from the restart when Saracens conceded a penalty for not releasing. Tigers opted for the corner and a long throw went loose with no Tigers player seeming to jump and mysterious problem on several occasions. The ball was gathered by Tigers in front of the posts and quickly made available. Manu's decoy run created space and Ford found brother Alesana who cut a telling line to score behind the posts. Ford converted to give Tigers a 10-6 lead.

Saracens with the wind behind them continued to dominate territory. The almost inevitable penalties first cut the lead to one point and then put Saracens two points in front. But there was still time for Tigers sneak back ahead before half-time through a long-range kick.

Tigers were first to show in the second period, inching their way up to the Saracens 22 where the visitors conceded a penalty, but Ford was wide with his kick.

Tigers started the second half well and North wriggled free of a tackle on half way and made good ground into the 22 where he passed to Manu Tuilagi who ran inor Botha and Goode leaving them both injured. Quick ball was obtained and Ford fed Newby who offloaded in the tackle to Murphy who drew the last defender to give Mafi a free run to the corner. Ford missed the conversion. A penalty put Tigers 21-12 ahead with 30 minutes remaining.

Saracens were next to dominate territory, but Tigers defence held firm until they were disrupted on their own put into the scrum and conceded a penalty as they tried to retain possession allowing Owen Farrell to cut the lead to 21-15.

An Alesana Tuilagi kick took Tigers downfield and the covering defender was forced into touch. Tigers caught and drove over the Saracens line but with at least one Saracen under the ball. The ensuing scrum was reset three times, once via a penalty to Tigers but referee Pearson then penalised Tigers apparently on the advice of one of his assistants.

Newby won a penalty on halfway, but Ford's kick hit the crossbar and came back into play. But with five minutes left, Ford landed another long penalty to give Tigers a two score lead. Saracens threatened one last time. But with two minutes to go Brendan Venter decided to leave the stand to a chorus of 'cheerio, cheerio cheerio' from the supporters on the terrace.

The final whistle went, the crowd went potty and stayed for many minutes to cheer the victors and clap the losers and say farewell to several favourites who will be moving on next season. Farewell Horatio Agulla, Alesana Tuilagi and George Skivington who played. Farewell also to Billy Twelvetrees, Julian White and others who have played their part well.