Tigers v Ospreys Match Report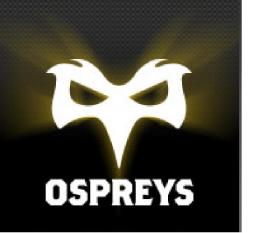 By Stopsy
October 21 2012
On Saturday I went down to Sandbach to watch them against the league leaders Sutton Coldfield, a beautiful afternoon and a superb game of rugby. After a few minutes Sutton moved fluidly down the right flank and scored a try, it looked like it was going to be a long afternoon but Sandbach had other ideas, final score 21 – 27 and the closest Sutton have been taken this season.
After power washing the slabs I settled down to watch the Tigers, after a minute Ospreys moved fluidly down the right flank and scored a try, it looked like it was going to be a long afternoon.

0 – 10 and we looked distinctly second best in all aspects of the game. The Tigers then clawed their way back into the game through Flood's meticulous boot and a wonderful try which although scored by Manu owed a lot to Tom Youngs and Allen. Superb. The Osprey's Loosehead was in the bin but we failed to capitalise.

10 - 10 at half time and I had to abandon the internet feed for the commentary from Radio 5 Live Sports Extra featuring Cozza alongside Ian Robertson. I did regain video but it was somewhat disjointed and 90 seconds behind the radio.

Biggar was playing well and from what I could see both sides were going at it hammer & tongs but generally within the spirit of the game which made a pleasant variation on past meetings.
We seemed to be getting the upper hand much assisted by the leaving of Adam Jones, I remember years ago being dismayed at him being selected for Wales, he was unfit, how wrong have I been proved over the years.

It was still tense and as we edged out to a 19 – 13 lead it felt more comfortable but 2 Biggar penalties later, the latter of which was a carbon copy from last week from Tom shoulder charging the ruck, I am blinking sure he was not the only one to do this in the game!. 19 – 19 with all to play for.

My nerves fraying we entered the final quarter, Ben broke, TTTE broke, Scott broke, not enough support. Floody intercepts and dots down, brilliant, but again the Ospreys come back through Biggar's boot.

Ben, looking well on his way back to his best form with a far more varied offering and better option selection finished off another try.

With time all but up we went for it again, irresistible. Manu pops the ball up to Steve who cuts inside and nears the line with Manu copying Ryan Jones' opening effort to pick and score from a ruck on the line.

A great game, great entertainment, great result. I also won the raffle at Sandbach and the bottle of Famous Grouse might well have contributed to inaccuracies in the above.