Worcester v Tigers Match Report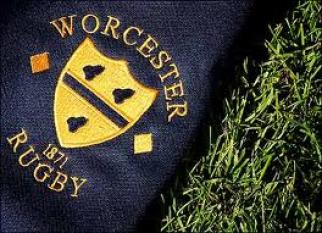 By Stopsy
January 10 2013
A Wonderful Winter evening in Worcester . On seeing the team sheets I was struck by just how good a squad the club has built, to read down that squad of players and think that we are definitely resting the majority of first picks for the Ospreys says something.
A welcome short commute at the end of work from our Redditch site where amazingly I had meetings all day, what a coincidence! Saw me in the Barn Owl to meet up with some colleagues one from Worcester and one who supports whoever is playing us, and their friends & family.
This was my first visit to Sixways, I have often thought it is only a relatively short hop from home and more to the point, an easy one as long as the M6 & M5 are running OK. Based on the evening I will be visiting again.
It is a good stadium and all the better for being full. I suspect there is not a poor view in it, we certainly got a good view from our seats. The big screen was useful but also potentially distracting.
The crowd was partial, passionate and in places noisy. It was my misfortune to be seated within earshot of one lady who seemed preoccupied for a good 15 minute with screeching in tones that would have made a fishwife sound dulcet "get off the pitch", "he's on the pitch again", "you aren't allowed on the pitch, Touchy" all in reference to the touch judge. She was also very keen on admonishing the referee for his inability to see Leicester offences even though he clearly signalled that this was the case and subsequently awarded them.
Thank goodness the weather was dry and mild and that the preceding days had been dry as the pitch, although looking great, cut up fairly badly.
The opening exchanges showed that we had scrum dominance and self belief in our ability to out wrestle a very big and powerful Worcester pack. We only waited for 2 minutes for the first scrum albeit without Thomas who took a bang to his not inconsiderable schnozz and resultant claret. Enter Salvi.
Worcester looked fast and wanted to keep the ball away from a grapplefest. The ball moved fast to the wings and was generally snuffed out, however Lemi went over, he's one for the future that lad, obviously we were not aware of the threat he posed. Goodey of course obliged by not scoring the extras from out wide out. That said he was really fizzing out flat passes to get the Worcester backs attacking in space.
We got into a good attacking position on a number of occasions but couldn't be accurate enough, talking of which, Toby was well off accuracy with his kicking from the tee and up and unders which were made all the worse by abysmal to non existent chasing. In particular, our restarts were dreadful, no pressure.
In all of this Kvesic repeatedly impressed in what I hope was a successful audition! However Croft on his return to action was simply imperious, turning maul ball over while all the time engaging Mr Doyle in a dialogue to ensure he was legitimate.
I saw Castro's challenge and while clearly illegal it did no harm and certainly no more harm than had he done a legal challenge at that height. No problem with the penalty, I thought a yellow card was harsh and the use of the TMO simply gives us a better chance of an official seeing something.
A the game wore on we looked increasingly clueless and our punting game (not just the kick) was just not up to standard. Worcester were growing in confidence and they kept accumulating points. Then, just to give me hope we upped it a gear eventually the ball moving rapidly right for Scott to juggle and go in for the try. Goode showed one of his less admirable qualities in using the knee to express his displeasure at the score.
So my half time hopes were for a tightening up and to take advantage of Goode's absence to really turn the screw. However, we ended up on the wrong end of 3 points after the very good Pennel put one over after hitting the post with a previous attempt.
60 minutes, pressure on Worcester and the screw was eventually turned with Castro giving way to Cole and Logo giving way to Ayerza. The 5m scrum simply rushed over the line to collapse and Mr Doyle awarded the penalty try. 14 – 12 all to play for, Allen came on for the largely anonymous Bowden but the punting game still was letting us down and letting Worcester return kicks with interest. Schofield has only enough gas to be a thorough nuisance for 60 minutes and his departure made a difference to the grunt equation where Ed Slater suddenly flourished.
In the meantime Toby found Herculean strength to lift Goode in the tackle and then lost control in what looked messy and dangerous, tip tackle yes, spear tackle no, lots of fuss, certainly.
A Worcester punt was received by Tait and having eluded the first player, received a mighty smack on the nose that was audible from the far side of the pitch, we then saw him bravely call for the next high ball only to fluff it badly, I wonder how many balls he could see at the time.
My Leicester hating colleague was beaming, and ensuring that I was aware how few minutes were left. We were awarded a scrum between our 22 and 10m lines. The scrum was comfortably won but seeing Mullen and Cole straining every sinew to attain stability it looked like our scrum dominance was over with the arrival of Mullen to replace the largely uninvolved Murray who in spite of not appearing to do anything was highly vocal and demonstratively pumped up whenever the ball was dead.
The ball swang left rapidly and found Waldrom and Mafi at pace on the wing, then Waldrom punted ahead, NO! We've kicked our last chance away badly, aaaaagh the story of the game. And that, dear reader explains why I will never achieve anything in this game. Mafi's chase was great, the ball was touched down, I couldn't see who took it over, then the ref awarded us the scrum! My Leicester hating colleague reminded me how solid Mullen was, Crouch, Touch, Set, Bang, crash wallop, penalty try (I am looking forward to watching that).
Daylight robbery? No, it was dark! But they played to the very end and just to prove what a consummate professional he is, Dan realised that him kicking the ball dead was too much of a risk and so a stately trundle to the touchline brought proceedings to a close.
And for those that were worrying, the M5 and M6 were wonderfully clear.