Tigers v Montpellier Match Report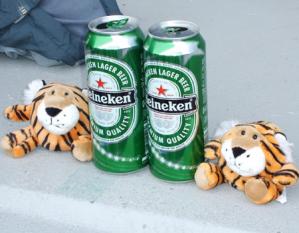 By TigerR
December 10 2013
Tryfest Tigers 41-32 Montpellier After the stodge of Tigers' performances in the Premiership, this game came as a shock. Gone was the forward dominated grinding style with the backs rarely getting the ball. Tigers attacked from the off and with almost immediate success. The return of Goneva seemed to add immediate guile and speed and Tigers ran in three tries in the first twenty minutes.
The first was from Goneva himself and the second two by Benjamin, the first being celebrated by most of the players who ran to congratulate him on his first in a Tigers' jersey. However, whilst Montpellier seemed to regard tackling as a bit optional, they were certainly keen to enjoy attacking whenever they could get the ball.
They replied with tries through Gorgodze and then with half time only moments away scored through Nagusa to go in only six points behind. This will have given Montpellier belief that they could get something from the game which had seemed unlikely after twenty minutes. Tigers were left feeling deflated; they had butchered at least five more points when the otherwise excellent Goneva delayed his pass too long with one man to beat.
The second half began a little more tightly with Tigers pack well on top in the line out and in the loose. Penalties were kicked by Flood and one of Tigers' several attacks led to a close range try for Gibson. Once again Tigers seemed to be well in front. However Montpellier were capable of sweeping the length of the field with just two or three backs involved. Berard scored once.
Then with two minutes to go Tigers swept down the left through Bowden. Bowden lost the ball in contact and Montpellier counter attacked into the Tigers 22. Lamb, who had replaced Flood with five minutes to go, had the chance to clear but was caught from behind before he decided to kick. From the ruck Montpellier had a huge overlap and Berard again scored.
This gave Montpellier a bonus point for four tries and a potential one for losing by 7 or less, an excellent haul of points should the score remain as it stood. Tiger kicked long straight down the pitch, an unexpected angle, and a Montpellier player stretching to catch the ball knocked on in front of their posts. Tigers won the ruck, Young found Lamb and he dropped a goal to deny Montpellier the second bonus point.