Tigers v Gloucester AP Match Report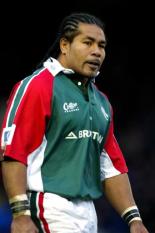 Freddie Tuilagi
By Stopsy
February 17 2014
Tigers 11 – 8 Gloucester. Firstly my thanks to BT for their free provision of this game to my PC even if it is via the somewhat slender "broadband" provided to my house.
Gloucester at Welford Road always transports me back to the game where Freddy Tuilagi scored down the left wing at the old A&L stand end in the last minutes to rescue what had looked a reverse. A few years later at a Tigers Training Camp where our respective progeny were attending, I saw Freddy in the pavilion at Leicester University's Stoughton Rd sports complex watching a video showing that same moment. I suspect he enjoyed watching it every bit as much as I had.

So two sides with "we must win every match from here" ringing in their ears, take to the pitch. Leicester looking even more like a first choice team selection than the previous week at Sixways, let's hope they get the same or better result and that we curmudgeons have less to moan about in the performance.

I note that another Freddie, Burns of that ilk, is on the bench for Gloucester, apparently there is a rumour that he is joining us next season, you heard it here last!
And so to the game, I'll start with the positive points: 4 points in the bag; powerful scrummaging; less aimless kicking away of possession; and wonder of wonders, some effective chasing of kicks.

The chorus of what follows will be annoyingly familiar by the end of this write up "we lose control of the ball".
Gloucester kick off and facing the low sun, they catch it and we are immediately under pressure. After a number of phases Flood tackles and Smith follows up on the supporting player and drives over to win us a penalty. We then see what is to become a common feature of the game, we are spraying passes around with no accuracy. Tait then collects a high ball, puts up the kick, chases and tackles the receiver, what a novelty for us.

We lose a lineout and thankfully the ball is knocked on before Gloucester touch down over our line but they are showing a dangerous use of width and speed down the left wing.

The first scrum yields the first penalty as Gloucester try and walk the scrum around, Flood clears well to touch and we opt for the long ball in the lineout which is well won. We get what looks like a kickable penalty but Toby misses and we have 7 minutes of the game gone.

We seem to be going too wide too early leaving the outside players no velocity and facing covering defence. We repeat the go wide early to find Crane and Kitchener on the wing who lose control of the ball.

Gloucester then get the ball out wide fast and once more show the ability to get over our line but Kvesic had thankfully knocked on. Scrum to us and Free Kick to us for "pulling out" presumably this is not taking the pressure on the engage.

We then stole the first of a number of Gloucester's lineout throws but Crane, trundling up the park get's held up and we lose control of the ball. We shunt Gloucester back at the scrum and then at the next lineout we again lose control of the ball. The next scrum goes down and we were lucky as Marcos went straight to the deck. From the reset we splinter their scrum and Salvi get's over their player who holds on and we get a penalty. We put up a kick and chase it, not only that, we regain the ball and then throw a dreadful pass, so dreadful that it wrong foots everyone and Tom Youngs bursts forwards, Logo continues, Allen breaks but we knock on and lose control of the ball. The resulting scrum goes backwards but Morgan picks and goes well, we recover the ball but yet another dire pass sees us lose control of the ball.

We have had 20 minutes of this low calibre fare so far.
Tait then catches a high ball and increasingly looking like the player at the end of last season, sets off up the pitch, Ben gets flattened by their 3 and we get the penalty. We go for touch and again throw to the back of the lineout and Thompstone sets off but in scrabbling to keep going he knocks on and we lose control of the ball.

Ben then throws another awful pass about 2 feet above Toby's head, fortunately no one was in a position to smash his ribs. Allen is then floored by what I thought was a no arm tackle but in referring to the TMO it looked 50:50 and no problem. Kitchener steals another Gloucester throw, so Gloucester decide to throw in squint on the next one and get away with it. Gloucester storm down the left wing again fortunately an obstruction brings the move to a halt. The scrum is now so dominant that Logo appears to be almost jogging forward. Niki then takes the loose ball from a Gloucester knock on and sets off, this is looking better, we get to the half way line and another poor pass from Ben leads on to Nikki obstructing, we lose control of the ball and Gloucester fall short with a kick from 1m inside their own half.

Another poor pass sees us penalised for holding on, we lose control of the ball and this time Cooke converts 3 – 3 after 37 minutes.

We then attack, Thompstone makes ground, Smith passes and after the breakdown a poor pass to Crane means the move loses all momentum and Jordan chips through.

Ben is now worryingly starting to @#$%& about at the breakdown pointing at things, we make a half break and then lose control of the ball. That has been a dreadful first half.

The second half sees Marcos counter rucking brilliantly he then goes through to tackle the ball carrier. Tom takes the ball and smashes up the middle of the field, we are behind them but Jordan decides to trundle it up further and we lose control of the ball. We steal another not straight Gloucester line out and in kicking it away we lose control of the ball, Gloucester run it back to the half way and then kick to our 22m where in losing our lineout we lose control of the ball. At least the scrum is still working and despite being fed, we shove them back and win a penalty.

Smith then breaks straight and makes yards, the ball is played left and Flood seems to lose the plot and is smashed by their 3 and we lose control of the ball. What happened next was possibly the worst element of this game, Flood and Logo arguing, for the life of me I couldn't understand what about but it was unedifying and must have really lifted Gloucester.

Kitchener is replaced by Louis.

Gloucester then score a sublime try down their right wing, speed, accuracy and some wit, all executed to the highest level. Thankfully the conversion is missed and we are 3 – 8 down after 52 minutes. The restart is gathered and sent straight back for a lineout on our 22m. From the lineout there is a choke tackle and we lose control of the ball. We do however get a penalty from the scrum again. We appear to be too flat and shuffle on bad ball to players who receive the tackler at the same time.

Gloucester are nearly in again, Ben misses touch with a clearance and they come again, only for another obstruction.

Scully replaces Smith and Waldrom replaces Crane. Gloucester think they can win this and with good reason.
Another scrum penalty leads to a lineout, we catch and drive and then hold on for a penalty and we lose control of the ball. We then charge down a clearance kick and the ball bounces wickedly, Sharples breaks but thankfully knocks on. We lose another lineout and Gloucester get away with another squint throw in. Ben then breaks and suddenly we come to life, the ball goes through quick recycling and Toby delays his pass for Tait to stroll through a massive gap to score. Toby then misses a pretty kickable conversion.

Mele on for Youngs and immediately the pace picks up, Scully takes the restart securely and we play fluently from our own 22m to theirs, only for a pass to Logo's knee to be adjudged a knock on, the reset scrum is again fed, Morgan does well at the back. We then play our ace tactic and knock on again, Roberts puts the ball in straight although not down the middle of the tunnel and the touch judge calls feeding. Certainly not his worst of the day, we opt for the scrum and after a reset Mele feed in much worse than Roberts effort and gets away with it. Another reset and the Gloucester loosehead shows what he thinks of the touch judge and points his bum at him, so not quite straight! Penalty and Toby nails it 11 – 8 with under 3 minutes to go. Scully marks a magnificent high ball under pressure and then fluffs the clearance, fortunately the play is called back and he makes no mistake. I watch nervously as the seconds tick away until the game is ended by a Gloucester knock on.

What a dreadful performance, we didn't treasure possession, we played too flat, too wide, the lineout was iffy and thankfully the scrum was decidedly not so. There were glimpses of what this team can do but we need more than that.