Memories....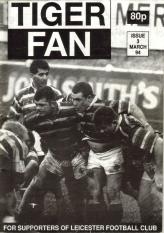 By TigerR
June 28 2014
Start of a series of personal memories of Tigers. Thanks to Rex for starting us off.
I remember having a special season ticket for schoolpupils. This was great for me becuase my school didn't play matches after Christmas so I was free to attend Tigers matches for half a season a year. Less than 2000 would attend a home game in those days. There were cinder mounds at either end where you could stand but they were only used for the annual match v the Barbarians and for matches against touring teams (e.g. Midlands versus New Zealand) when people would come from Northampton and beyond.
For Tigers games there would be a knot of people in the middle of the Crumbie Terrace. There was the odd crowd barrier but no central walk way becuase the teams changed in the Club House on Aylestone Road. I was therefore free to roam round the rest of the terrace follwing play. I knew at every line out whether it was not straight. I could even see tries scroed in all the corners because no-one would be standing in the way.