Memories Part 2...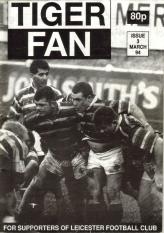 By John Sawbridge
July 7 2014
My first memory of Welford Road, was when I was about 8 or 9 (in the late 40s). My dad, who did not have much of a clue, took me to a match against a Touring Team - Australia I think. The only incident I remember was when one of the players had his shorts ripped off. The players made a circle around him and someone shouted "paaaaaaants".
My next visits were at about the age of 13 onwards. We had started playing Rugby at school and got free tickets for every home game. We stood on the old mound (now the A/L stand) and had it almost to ourselves. There was no "elf n safety" culture then. Tigers won some and lost some, but the main memories were the inevitable drop goals from Mel Channer. He was a SA fly half who eventually went to Bath, I believe. We also saw the great Tony O'Reilly, who later became Mr Heinz.
My great thrill as a lad of 17, was to play there in the final of the Junior Alliance sevens for Westleigh against Highfields Medway. We lost narrowly, but had a few useful players, including future Tigers Bob Beason and Bob Small.
Later, I saw an East Midlands Team beat the Tourists (All Blacks I believe) thanks to a couple of drop goals from halfway by Dusty Hare.
Some great memories were when Woodward, Dodge and Cusworth were at their pomp, with the blistering speed of Barry Evans. Tigers supplied all but one of the England backs for one match. One particlular move against Bristol saw Cusworth simply place the ball on the ground and run to the side, then, among the confusion, Woodward would pick it up and race through. It was pure fantasy!
Sadly, I now live in the Rugby desert of Surrey, and have to rely on BT Sport (no more Sky hopefully!!). But I did manage one visit with my wife who was thrilled to say hello to Josh Kronfield and get a response.
As you will appreciate, I am a bit ancient now and my memory is going (especially recent events), but writing this is helping to alleviate the withdrawal symptoms of June, July and August.