Memories Part 4...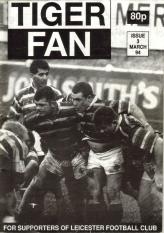 By RichW
July 31 2014
Joel against the Giants… It was wet – I mean really wet; really, really, really wet. Gojko and I still, to this day, greet any wet Saturday afternoon with the same refrain: 'This isn't rain! This isn't Richmond rain!'
It wasn't a particularly special game – not a semi- or final. It wasn't a local derby or a chance to match ourselves against old rivals or the cream of Europe. I'm not sure it was an especially important game in the scheme of things though there was certainly a certain frisson about playing the nouveau riche Richmond as there was with Newcastle and Saracens (how little the world changes).
And the weather – well that was not set for top of the ground, running rugby!
The pitch was a quagmire; greasy, slick, sloppy, heavy. Long before the new drainage gave us the comparative greensward of the last few years it was hardly grassed at all in parts.
Frankly conditions were perfect!
But it was not the eagerly anticipated forward arm-wrestle that I remember of that particular dismal, stygian Saturday afternoon in late October 1998 when our opponents were a Richmond side built big, with a formidable forward pack that might almost have been created with the sole purpose of playing Leicester in the mud.
Featuring such luminous names as Lions Quinnell (Scott), Barry Williams and their English cohort the then fashionable Ben Clarke, as well as the likes of Craig Gillies and Darren Crompton and Adam Vander they were a heavy-weight unit who had successfully bullied and thundered their way through early exchanges of the Premiership season.
They travelled, full of hope, to a diluvian Welford Rd – and still it rained – we've established that it rained yes? So much so that the antiquated guttering in the Crumbie stand surrendered, to cascade a torrent down on to the terrace below; so much so that my waterproofs, that had taken me up hill and down dale for many a year were inadequate to resist the flood. It really was awful – and then there was Joel.
Brilliant like the star of Earendil in the darkness, he blazed in the gloom.
It was one of those rare days when the Leicester forwards, were matched and at times, even, bested. Even at this distance I still recall the sense of surprise we felt to see the Tigers scrum struggle. But despite all that and the advantage that the Richmond 8 gained across the piece they had no answer to the most peerless tactical display at outside-half that it has ever been my pleasure to watch.
In the unfamiliar position of being behind a struggling pack that featured that day, Derek Jelley, Neil Fletcher and Paul Gustard, and playing with a midfield denuded of Howard and Greenwood, Joel Stansky dealt with the untidy and at times retreating ball with a ruthless, rapier-like ease and aplomb. In the awful conditions his kicking was precise, imaginative and prodigious. How such a small bloke generated that range remains a mystery to me – all in the timing I guess.
I recall his grin as he came off at the end to rapturously sodden applause after his faultless performance. His angles had been superb as he had constantly turned the massive opposition unit and driven their back three to distraction as he had pulled them hither and thither: another scrappy ruck and then another lethal, laser-guided kick to relieve the pressure or to craft and carve an attacking foothold. Just about the only time he ran the ball all day was to score a try after his maddening, relentless kicking perfection had caused the Richmond defence to discount and attacking back play.
He ran through the complete repertoire – the low skiddy kicks that slid on top of the ground into touch; the rollers that dribbled, slowing infuriatingly towards the whitewash; the huge booming touch finders that moved play 50 metres back down-field; the ariel bombs that dropped out of the leaden skies on the hapless Matt Pini – I doubt the Australian had played in such torrential conditions too often afore; the grubbers and the dinks; the snap clearances under pressure that gained yards they should not, could not, have made; the kicks at goal from underfoot conditions more reminiscent of the pitches I played on as youngster in Lancashire than those of a Premiership side. He was, simply, matchless; a prince among Fly-halves. Majestic!
I know we scored tries that day – three I think – there were probably one for Backy off the back of a maul (no – really – off the back of a maul – Backy – who'd have believed it!) and one for the little maestro himself and maybe one for the Baron – oh happy days! I do remember a huge sequence of scrums on our line that seemed to go on (in the mud – lovely) for an eternity as they desperately sought a push-over score: a sequence that ended in a penalty to us – oh how we celebrated – I said the Leicester forwards were matched not cowed!
It was a game to treasure for many reasons. But it wasn't the outside backs tackling their hearts out – well that was about all had to do all afternoon – that warmed me most come the final whistle. None of that do I hold dear all these years later. It wasn't the way that Cozzer and Backy and Cockers and the Baron 'got' to Ben Clarke – by the final whistle he was almost in tears at the constant niggle as those four roughed him up throughout the game – that we discussed in the pub afterwards as we sat and steamed happily in our waterlogged attire. Nor was it was it even Johnno himself indomitable that I remember most of that soggy afternoon.
No what we spoke about – in almost reverent terms – and what I remember now of that mere skirmish among numerous conflicts down the years, was watching the best number 10 it has been my great privilege to witness conduct a masterclass with the boot while the fat lads wrestled in the mud.
Joel was not with us long. Injury incurred against his good friend Brad Johnstone's Fijian tourists one cold December night just weeks later brought an early end to his glittering career after just two years at Welford Rd but there will always be the memory of Joel against Richmond in the rain...