Memories Part 5...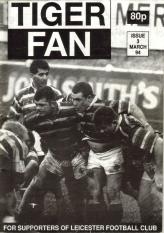 By ChrisG
August 14 2014
Welford Road memories..... First ever: it was 1997, approx March/April I think, and we went to watch our son play in the Tiger Cup under 11's or something like that. It was also the day Tigers last played Orrell in a league match, the Northerners playing in their relegation season and what, to date, turned out to be their last in the top flight.
All I remember is that my son's team won and so did Tigers, who started the game with an understrength side and brought on a task force of something like Johnno, Backy, Deano and I think Wiggy all at the same time in the second half. And Rory scored a try much to my mum's delight, being her favourite player as he then was.
It was our second ever Tigers game, the first being the stuffing we took in Cardiff at the hands of the excellent Brive side of that era. The camaraderie we felt on that trip set the scene though, victorious French supporters after the game buying us drinks and not a sign of a gloat or an insult, just real mutual respect. Having watched the round ball game up to that point on a semi-regular basis, this was amazing (and totally fantastic!) to us. A real sports-life changing experience! After the visit to Welford road though we were hooked and came to about half the games the following season, and got our family season tickets at the start of the 1998/99 season.
Most treasured experience - player related, I'll cheat and name two! Having purchased said season tickets we bought the obligatory replica shirts in the shop at the first game, my son being a fly half at school had "10....Stransky" put on the back of his so we had to collect it the next week. Having collected the newly decorated shirt, the lad of course put it on straightaway, we walked out of the shop, and there was Joel himself strolling across the pitch towards the changing rooms in an otherwise almost deserted Welford Road. So I shouted a star-struck greeting to him to wait up, expecting a quick wave and for him to continue towards his changing and preparation. But no....he shouted back from 50 yards away and stopped, so we all sprinted along the terrace to meet him by the tunnel. My son proudly turned his back to show Joel his new purchase. The great man was really taken aback and stood chatting to us for 10 minutes, autographed the shirt, posed for photos etc. We couldn't believe a global superstar of the game could be so open and friendly. We've since realised he isn't alone but that first experience and its timing with the new shirt was amazing.
The other one - another great 10 but never a Tiger!!! This time it was about 2001 and the Falcons were the visiting opposition. Now my daughter was about 14 at the time and was in love with a certain Jonny Wilkinson. She announced we had to get to the ground three hours before kick off as there was no way she was missing meeting the love of her life. So we went along with it and hung around like the strangest set of groupies (!) Lo and behold the man himself duly arrived and was mobbed...well accosted, by one very excited 14 year old. He was great - just like Joel, autograph, photos, the lot. The following season daughter announced we had to get there super early again. I suggested this might look a bit like stalking but she insisted, so once more we obliged. On nabbing him as soon as he arrived she produced two A4 copies of the photo we had taken of her with him the previous year and asked him to autograph them. Jonny was brilliant, he remembered her then and signed them both, had a chat with our son who was still a fly half and even gave him a few tips. These are memories for life. Thanks Jonny. Legend.
Best game - so many right up to date but if I have to pick one: Heineken quarter final v Stade Francais, 2007. This was a game where I don't recall Welford Road ever being more vibrant! A real humdinger which had Stade in the lead by 6 points late in the second half until Danny Hipkiss stepped his opposite number and put Tom Varndell over and round under the posts for the winning score. Cue pandemonium in the sun!!!!
So many memories and so many visiting fans from all over England and Europe who say what a great experience the whole day at our brilliant stadium is, right through to Rock Bottom after the games. And that's usually after their team has been sent homeward tae think again ;-)