Memories Part 6....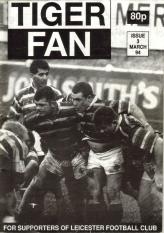 By Stopsy
October 13 2014
My first game at Welford Rd was Midland Counties East v Fiji, 7 November 1970, I went with my Dad and presumably the rest of the family. We sat in the Crumbie and my abiding recollection is of huge Fijian Forwards who could run at speed, catch and also throw one handed passes half the width of the pitch. I am sure it was further.
After that it was the Barbarians games and I particularly remember Bill Beaumont single handedly turning a game around for the Baa-Baas, in a single 12 minute period he was everywhere, highly reminiscent of Deano in his pomp.
I started playing at school in 1974, we didn't have a team before that but I was sufficiently smart to recognise that with 16 boys and 15 places, I'd better volunteer to play wherever, I came to understand why Tighthead was not oversubscribed that day in subsequent years.
In 1975 I was invited to train with the Tigers Youth and remember sitting in the old changing rooms when Rex Skelton took off his shirt and thinking how on earth does anyone get a chest that big. Occasionally we would go to the Nissen hut after training and marvel at being able to stand next to Lions, England and Tigers players.
Paul Dodge was the captain and what a great player and bloke he was, even at that age, the contrast between him and Marcus Rose' attitude could not have been more stark. My progression to the first team was all but guaranteed but for one obstacle in the rather large shape of Steve Redfern, I would only have got a game if he was injured or went up a team. I collected a fine set of splinters on the bench.
There then followed becoming a fan and watching or listening on Radio Leicester to Van Hopkins while pretending to be doing my homework. A group of friends from school started to go more often and eventually I got my Season Ticket, I was put forward by Graham Willars.
From there my girlfriend, now wife, and I travelled widely following the team and enjoyed standing in muddy fields in the rain. I was always amazed at how excellent Welford Road was compared to nearly every other ground with the possible exception of Twickenham before they destroyed it's soul.
I now attend rarely and am thankful to BT for their coverage. I do get down with work colleagues and will sometimes stretch that into a night out pass where I can remember why I can't drink beer that much any more.
Attending a game in the early 2000s just after the Crisp Bowl was thankfully called off, a friend and ex player commented that Welford Rd is still a proper Rugby Ground with heritage and still bits recognisable such as the Captains Bar. Much as I look forward to the future developments of the club and ground, I hope we can find a way to retain the links to our heritage.