Memories Part 7....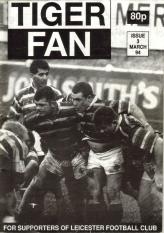 By Geezer
November 1 2014
My earliest memory of Welford Road is (as I suspect it may be for many) being taken to a match against the Barbarians.
I remember the posters going up for "Leicester Football Club versus Barbarians" – it was always "Leicester Football Club" or just "Leicester", for all that they'd sometimes include a bit of tiger artwork - and having to ask what it was all about. The answer, for a local nipper, was a matter of some pride – England's highest prison walls and fattest man plus David Attenborough only got you so far, but the very fact that the mighty Baa-Baas regarded Leicester out of all the English clubs as worthy of a game: now, that was worth something. So being taken to this "they play us because we're the biggest and best, so ner" fixture was almost as good as getting a Johnny 7 for Christmas (even better would have been being allowed to take the Johnny 7 to the match, but wiser heads prevailed on that one, although I've been to many a match since which would have been improved by the ability to fire the red plastic armour-piercing thingy at the ref).
Memories of the match itself? In some ways, they're rolled up with the general memories of Leicester as a small boy, going shopping with my mother and being creeped out by the butcher's stalls in the market with the dangling chickens plucked except for the heads, and rabbits with bags on their heads, but getting cinder toffee at the sweet stall then having a Pepsi float as a treat at what I thought of as the place with the peacock, however much my mother insisted it was a turkey.
I remember the ground being full and standing room only – literally so with people on the big ash mound – and Leicester making a good go of it before getting put away later on (pretty much par for the course in the annual Barbarians game, so I was told). And steam! You just don't get steam off the packs like that these days. Well, maybe you do, but it isn't such steamy, artisanal, old-fashioned Corinthian values steam. And one thing that hasn't changed since my first visit is the steam in the crowd – that smell of mulled wine that sometimes wafts over the terrace is a Tigers fan's Proustian madeleine, sending you off into a reverie of memories of temps perdu and all that kind of suspiciously intellectual thing (Proust was probably a back). I never got to go into the bar after the match, boo hiss – that had to wait until much later when I got to go to WR under my own steam. Never lost the taste for standing, though.