Memories Part 8....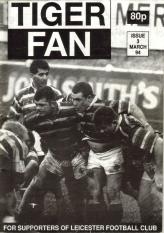 By Geezer Junior
May 23 2015
My first trip to Leicester was with Dad for the match against Bristol in 2006 at the end of the season. It wasn't my first Tigers match – I'd been taken to see them beat Harlequins in the rain when I was 5 and then when they lost to Wasps at Twickenham at the end of that season, but I didn't really understand the match then.
The Bristol game was brilliant, though. We went up early so we could have a look around before the match.
I remember Dad being amazed that Fenwicks was still there, but I wanted to see the butcher's stalls in the market and we did find one with a couple of hares hanging up with bags on their heads to catch the blood.
Dad was more interested in finding the sweet stall and getting some cinder toffee, so we got lots of that and some proper pork pies for the match.
We were really early for the match, and joined the queue for the terrace, and when we got in, Dad was surprised at the big stand where the old mound used to be.
Then it rained – hard. Just as well we brought waterproofs. It did clear up for the match, and Tigers thrashed Bristol, 32-3. Martin Corry stayed out on the pitch afterwards, and when he was coming off up the steps, I got him to sign my shirt and had my picture taken with him, and I remember thinking how huge he was, but really nice as well.
My best Welford Road memories are both of Tom Varndell, though – when he chased down an enormous kick by Ian Humphreys to score against London Irish when the Irish defender didn't realise he was coming up behind him, and was trying to see if the ball would go dead, and then when he scored the try right at the end for Tigers to beat Harlequins and qualify for the playoffs, and they played the theme tune from The Great Escape after the match.
We got our shirts autographed by Deano after that match, and he was really nice even though Harlequins had just had the match taken from them – I think he was secretly pleased at everyone saying how good it was to see him back.