Munster v Tigers ERC Cup Match Preview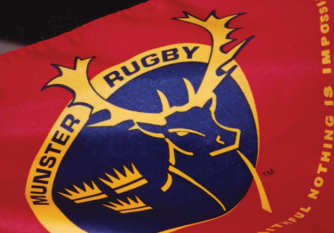 By ChrisC
December 7 2015
This is IT!? Is this "IT"? I wondered. Is my life to end in a metal tube surrounded by strangers? The Aer Lingus aircraft slewed across the sky treating us as if we were garments on fast spin and I really thought my time had come as did my fellow travellers theirs. We held on to our neighbours' hands, the cabin crew were ashen faced while strapped into their jump seats. Strangers joined in fear of what was to come.
When we'd eventually taken off it had been breezy with some drizzle but little did we know what lay ahead as the weather over the Irish Sea suddenly deteriorated and the pilot first tried climbing above the storm but was forced lower and lower, the aircraft creaking and groaning as if joined with its cargo of pathetic humanity in thinking its time too had come.
It couldn't be far now. We could see the grey water beneath and surely the Irish coast would soon appear to offer succour. We craned our necks as we peered into the gathering gloom and sheeting rain, hoping, praying for a sign of land, light, quiet. Suddenly we bumped onto the runway at Dublin airport. I thought later that we were lucky the tractors had left as, so bumpy was it, surely the runway was being ploughed for potatoes in those pre Euro, pre Celtic Tiger days.
There was relief and spontaneous applause for the pilot's expertise in seeing us safely delivered. The cabin crew who, just a few minutes earlier, were hanging on with the rest of us smoothed their hair, brushed down their crumpled uniforms and were once more the epitome of brisk efficiency as they ushered us from the metal tube.
My host was waiting for me as I staggered into arrivals, "bit bumpy was it" he asked. "Sure I expect you'll be wanting a drink before we set off". Calmed by the warmth of a large Irish whiskey I was ready to venture into the hinterland where his father's factory was located.
First though he took me to the hotel where I was to spend the night which, I was told, was owned by his "Da" and after saying that a taxi would collect me at eight to take me to meet the family for dinner he left, adding that the patriarch wouldn't be joining us.
Dinner, in a delightful restaurant that "Da" also owned, passed in a blur of steaming food, plentiful supplies of wine and convivial company but when the taxi was summoned and returned me to the hotel I was pleased for the peace and solitude of my room.
"Da" was there when I arrived at the factory the following morning; deeply tanned from time at his Barbadian villa. He had the sharp face of a raptor set with piercing eyes and a head topped with a shock of beautifully coiffured steely grey hair.
He was a wily adversary with whom to negotiate at the best of times but on his home turf he was even more formidable and I'd travelled to convince him to stop copying my other clients' products.
He listened to my admonishment before holding up his hand stopping me mid flow. "Sure don't worry we've changed the design a bit so we have". On inspection I was relieved to see that the end product was now sufficiently different to satisfy all parties and as I thanked him he pointed out that although the new component I'd be supplying was a bit more complicated he had to have it at the same price as the old one. Before the taxi firm, also owned by "Da", arrived to take me back to Dublin we'd had lunch in his restaurant and reached a satisfactory outcome but it was a tricky few days that ended with my being presented with an Irish national rugby shirt – just to emphasise who'd really won the day.
Similarly this week Tigers will be travelling across the Irish Sea to meet their own wily adversary in the form of Munster who'll also be on home turf.
Both teams will be very different from those that met on that momentous January night in 2007 when Tigers spoiled the home side's valedictory appearance at the old Thomond Park as they halted the hosts' twelve match winning run in the Heineken Cup at the iconic old ground.
Of Tigers' starting fifteen that day: Ian Humphreys, Castrogiovanni who was on the loose-head with Julian White on the tight and Alex Tuilagi are still playing at the top level and I bet all three will remember that 13 points to 6 victory as will Marcos Ayerza, who joined the fray in the sixty-seventh minute.
Munster's Tomas O'Leary, now back from his travels, will remember that night as well when he came on for the last quarter to replace Peter Stringer manufacturing a penalty chance that O'Connell eschewed and while Donncha Ryan was with the Limerick club in his debut season he didn't play but will recall the despair I'm sure as will Munster's present day coach; Anthony Foley.
Donncha O'Callaghan has moved from Munster to Worcester and collected a Red Card in a cynical display at Sixways whereas Tigers still collected a five point victory to keep them at third in the Premiership.
It was a much rotated Tigers' squad that travelled west from Leicester and was somewhat disjointed as a consequence. Their discipline was poor at times but they were angels compared to their hosts who tried every trick in the book and were rather rewarded when Mr Barnes fell into the trap set of awarding a second Yellow Card to Worcester's replacement tight-head prop so the home side, who were struggling at scrum time, stated they'd lost the ability to scrummage and were rewarded by not having to do so for ten minutes. Whereas a Penalty Try would have been a better punishment with the erring prop having to play on.
The following day Munster travelled to Rodney Parade to meet a waiting Newport and lost by twenty-two points to six. It was a dull match, the defences cancelling each other out for the most part. Munster's Zebo was erroneously denied a try at one end only to then stop one at the other and then Amorosino also muffed his chance. The match did finally burst into life when Newport's Landman burst over for a try – only problem is by then it was the seventy-eighth minute.
When Tigers and Munster meet next weekend Tigers will be in third place in the Premiership while Munster are also in third in the PRO 12 having played a match more than Leinster whose match in Glasgow was postponed and who're just a point behind their provincial rivals.
I'm pretty sure we'll see the Tigers' first choice front row on parade in Limerick with Ayerza restored to the starting line up alongside Tom Youngs, who made an unexpectedly early appearance at Sixways, having a tricky time coordinating with the old faces now finally together again in the second row. Dan Cole took time off from the CBT that I hope he's having to help him get over the trauma of prolonged exposure to the deadly duo of Stuart Lancaster and Graham Rowntree to start.
Dave Kilcoyne got the Munster loose-head spot and looked solid in the scrum at Rodney Parade and caught my eye in the loose so I think he'll be preferred to twenty-four year old James Cronin for Tigers' visit and he'll need all of the experience gained from his sixteen caps when opposing Dan Cole who's due a big game.
Mike Sherry, who has just the one cap secured when he came on as a replacement in the match against the USA back on the tour in June 2013 will, I think, be preferred to young Niall Scannell.
With Ayerza in scintillating form Munster will be hoping that the experienced twenty-four times a Springbok and ex of Ulster and Sharks; B J Botha will have recovered from the concussion he suffered in the match against Connacht a couple of weeks back as his stand in; John Ryan, who played a couple of times for London Irish back in 2012, could find the Argentine super star too much of a handful and with Mr Poite in charge could be facing a Tigers' kicking display or a Yellow Card.
Against Worcester Tigers' line out struggled at times due in no small part to Slater and Kitchener being the starting locks for the first time since April 2014 and poor weather conditions. After a bit of classic larceny at Sixways I'd actually be inclined to start Kitchener with Fitzgerald while Slater, who's recently again committed to the club, covering blind-side and lock from the bench as he feels his way back into action after a very prolonged absence.
Munster's line out against Newport was steady if unthreatening but against Treviso looked very shaky at times, even losing ball on their own throw.
The second row partnership that day at Thomond Park was Donncha Ryan and the fifty-nine time capped Wallaby; Mark Chisholm. Now thirty-three he's joined this term from Bayonne where he'd been for four seasons having joined from the Brumbies for whom he made his debut at the beginning of March 2003!
Ryan is nursing a rib injury so may be counted out in which case I'd expect to see Chisholm paired with UL Bohemians' British Lion lock David Foley.
There were some eye catching performances from the Munster back row down in Wales last weekend with sometime lock and sometime blind-side Robin Copeland making some good yardage so I expect to see him keep his spot with South African Christiaan Stander moving to blind-side. Stander was capped on ten occasions at Under 23 level before joining Munster from the Bulls in 2012 and can play anywhere in the back row.
Young twenty-one year old Jack O'Donoghue has come to the fore this season having made seven starts in the Munster open-side shirt. He wasn't available for selection against Newport due to illness but if he's recovered I'd expect to see him back. Very effective at the breakdown is young O'Donoghue although he's another who can turn his hand to any of the back row tasks but how'll he cope with O'Connor?
Tigers' missed O'Connor at Sixways so I'm sure he'll be back in the starting line up next weekend and although it's a pity Mike Williams has picked up a broken arm that'll keep him out for a while Tigers will just have to console themselves by calling on a British Lion and erstwhile England #6 Tom Croft.
Croft will be immensely useful against the Munster line out having found his inner Bill Sykes and I think there's the potential for some gains for the visitors, while Croft's athleticism around the pitch is legendary.
I think that Tigers will have to play at pace to make headway against Munster as they can get rattled when the opposition gets well and truly in their face and on the front foot so I'd go with McCaffrey at #8 and have Crane on the bench to tighten things up if necessary.
I feel the Tigers' pack will be a match the likely Munster eight at the set piece and at the breakdown.
Conor Murray has a foot injury and so may be another unavailable for selection by Anthony Foley which would leave it to a survivor of that famous day in January 2007 to lay the ghosts of the old Thomond Park. Murray would be a loss to the hosts and no mistake, but Tomas O'Leary, the Cork Born, Dolphins' thirty-one year old scrum half didn't get twenty-two caps by being a mug.
Ben Youngs will have to be on his mettle and celebrate his new contract in style if current Ireland scrum half Murray is fit to play but if it's O'Leary he faces he'll still have to watch the veteran if the Munster pack gain any advantage or even parity.
Ian Keatley has been starting in the Munster fly-half shirt in the absence of new signing from Canterbury: Tyler Bleyendaal who can also play at inside centre and who, after recovering from a quad strain, is also available for selection.
Keatley was rested for the trip to Wales with academy player Rory Scannell standing in and kicking his side's paltry six points but I'd expect the capped twenty-eight year old Keatley, ex of Connacht and Leinster, to be on duty to welcome Tigers and galvanize his back line in a way Scannell could not even with the excellent and experienced Dennis Hurley alongside him at inside centre making his 158th appearance for the province. But try as Hurley may to inject some direction and purpose into proceedings the visitors' grumous attack never looked much like regularly breaching the obdurate Newport defence.
Keith Earls had a week off to be replaced by Johnston, another academy graduate with the Munster midfield looking blunt in attack and rushed in defence. However this weekend with All Black Francis Saili, who's another new arrival from the antipodes, this time from Blues in the Land of The Long White Cloud, reported to have recovered from his calf strain and back in training I expect him to fill the Munster #12 shirt otherwise it'll be Hurley paired with the aforementioned Earls as was the case in the ERCC fixture against Treviso.
Although that day it took a long time for the Irish side to break down the stubborn Italian PRO 12 club they finally managed it once the visitors began to tire.
The Tigers' back line looked much more cohesive once Matt Smith joined the fray at Sixways and he'll surely continue to mark out his turf ahead of de Villiers eventual availability but my goodness what a marvellous utility centre the evergreen Tiger has become under the tutelage of Messrs Mauger and Allen and ready to take his place in support of the incoming Springbok and later the Wallaby Toomua as well of course the newly committed Manu Tuilagi.
In the meantime though Peter Betham must, on the one hand, welcome the game time at centre where he has acquitted himself with great distinction but on the other long to get back to the wing and away from the claustrophobia of the centre.
If Earls is paired with either Hurley or Saili then there'll be a mighty threat through the centre if the Munster half backs can get the ball away from a set piece that could be under some pressure.
I think their forwards will be doing the donkey work trying to repeatedly come round the corner.
For their part Tigers not only have Owen Williams fit but will possibly welcome Freddie Burns, another player staying with Tigers for another stint, back into the match day squad giving the visitors quality in depth.
If, as I think should be the case, O'Connor and McCaffrey are in harness then Tigers may also find some fecund territory around the tackle area and able to get some good ball to the backs where I hope to see Veainu get another start on one wing with Goneva on the other permitting Tait, if fit, to return to full back.
To be honest I think Thompstone would be as effective as Goneva but psychologically I feel the Munster defenders would be more distracted by the presence of the big Fijian.
Ronan O'Mahony and Zebo were on the Munster wings last Sunday and while I reckon Zebo will keep his spot for his all round game my feeling is that the South African; van den Heever, in his third season with the province after joining from Stormers where he spent a couple of seasons after moving from the Bulls, may get the nod from Anthony Foley. van den Heever's a typically big, hard charging South African winger but my guess is he'll have his work cut out stopping Tigers' Mr Teflon.
Ireland international Andrew Conway is a solid character at full back and kicks well but was another who had a sick note for the Newport match and I think he'll be preferred to Tigers' old boy Lucas Amorosino who didn't seem terribly enamoured at being in the full back spot.
The Argentine international had a couple of seasons at Montpellier after he left Tigers before moving on; first to Oyonnax where he tarried for a season and then to Cardiff where he tarried for another before fetching up at Thomond Park this year. This won't be the first time he's met up with his old Welford Road club since leaving as he started on the left wing for Cardiff when they were severely spanked by Tigers in last season's LV= Cup by forty-three points to nine and when he had to endure the whole eighty minutes of purgatory.
If Tait is recovered then I expect he'll be at full back for the visitors but if not I doubt many Tigers' supporters will be rending their raiment at a back three of Goneva and Thompstone with Veainu in the number fifteen shirt.
Common sense tells me that at home, even if this is a very different Munster in these post Kidney,O'Connell, Donncha O'Callaghan, David Wallace, Leamy, Mick O'Driscoll, Stringer and Ronan O'Gara days, that it'll be a close fought win for the hosts.
But you know? Somehow with Mauger's Tigers also being a very different proposition these days it could just be a surprise victory for the visitors just as it was when Connacht triumphed at Thomond Park a couple of weeks back.
And if it were then I think the Tigers' faithful, longing for a new golden era, would be able to cautiously dare to hope and whisper "This is IT!"