How the cup was really won!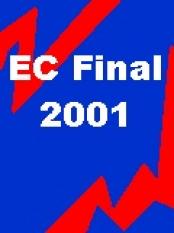 Paris 2001
By Razcal
May 7 2002
I am sure there are twenty thousand different experiences of May 19th 2001 but reliving my time that day is keeping me going until May 25th 2002.
Family finances were precarious but this was Leicester in the European final and even if it was to be played on the moon I regarded it as my undeniable duty to get there. My other half didn't quite see it in the same way at first. However, suddenly , she warmed to the idea of a weekend in Paris and started to make arrangements to leave the kids with her sister.
"But Michael is coming" (my son and STH)
"We can only afford for 2 to go" was the riposte. "Well he is coming."I insisted. "He shivered on the terraces of West Hartlepool and stood in Bath's cattle pen and you can not make him miss this game."
I only hope the team knows just how tight my conjugal knot was strained in the ensuing debate. I was happy to take all four of us on the plastic but no. We couldn't afford for anyone to go so only two could go. Her logic , not mine.
So it was Michael and I. Now how to go. I was a survivor of the LTASC's trip to the pool game in Paris the year before. Coach out Friday night and depart Paris Sunday morning. Seventeen months on the crick in my neck from constantly falling asleep in uncomfortable postions gave me more gip than any playing injury ever did.
Lets do it in style and go Eurostar. The hotel was booked in a flash ,£15 per person per night including breakfast. Then there was the ticket question. Plus ça change! The club had no idea how many or what kind of tickets they would get and yet Stade Français were already selling their allocation.
In my best French I cheekily bought four 280 franc seats by the halfway line over the phone. I only paid £26.40 each as I got the commercial exchange rate on my credit card. Then finally my son insisted on a banner. That used up a lot of discussion time but we finally settled on a huge green and red lettered TRIGERS on a white background. Tri because we were going to win our third trophy of the season and because we wanted tries.

The one the Cat got was much better
On the Friday morning it transpired the cat had slept on the still not dry masterpiece and then gone walkabout downstairs. The paw prints have just about been erased by now and the cat's fur has almost regrown ( I had used enamel radiater paint retrieved from the depths of the garage.) So a second , less than perfect masterpiece was rushed through and the cat flap sealed.
Friday evening , rush out of work , grab masterpiece and off.
The first auspicious omen occurred as we changed tubes to get to Waterloo. The building work at Kings Cross meant we had to take a different route and change at Leicester Square. This has to be a sign we thought.
We did seem to stand out in the London rush hour with our shirts. However the sight of a sprinkling of fans on the Euro star cheered us up.
The train was still crawling through Kent when I found the bar. If the person next to you is wearing a Tigers shirt you will get talking. This lady's matrimonial conflict put mine in the shade. Her husband had booked two flights and a hotel on his mobile coming out of Watford , for himself and his son.
"Well they can forget leaving me behind" she whispered. " I 've found the address of the hotel and I am just going to turn up. I've got my match ticket. They don't know I am coming."
I would have given a lot to have been there when she did turn up particularly if he had not gone with his son!
A little while later my magazine leapt out of my hands , nearly knocking my plastic cup of rouge over. I looked up to hear the ticket inspecter intoning "Szow mee zyour teekets plees". You may think this normal but he had checked them ten minutes earlier.
I handed over my train tickets to receive the frustrated response , "Non, zyour teekets." Resisting the temptation to introduce him to my Basil Fawlty impersonation I indicated that I spoke fluent French and discovered he wanted to look at my match tickets. The cheek of it. Very reluctantly I obliged.
Then he explained a wallet with match tickets and a return train ticket to Edinburgh had been found on the train and he thought they might be mine. He then asked if I would make an announcement in English as no one had taken notice of his first announcement. I promised to do my best but I did try to explain I only spoke Leicester English not Scottish.
However , before my possible new midlife career could take off we located one very relieved Scot. Not a long distance Tiger fan , just a rugby nut meeting up with old friends who would have been friends no longer if he had arrived without the tickets.
We found our hotel by midnight. Saturday morning found us walking along the Seine from Notre-Dame to the Eiffel Tower. We found more and more red , white and green shirts coming the other way and you could see a mass of Tiger shirts spiralling around the bottom and top sections of the tower.
What a day. The sky was pure blue and the sun very warm. Around the Eiffel tower it seemed just like Welford Road on match day. We crossed the river and found a sign in French urging all passers by to make a wish. Well didn't we just wish! A walk down to the Arc de Triomphe. We then debated if ascending it would be tempting providence and then went up anyway. I watched two sparrow hawks hunting pigeons along one of the avenues below.
As kick off drew closer I had to face up to my final dilemma. I had worn my Australian shirt to the Quins game because my wife had pinched my shirt. Anyway , I thought I could honour Pat Howard's last league game. I then wore it to the play off quarters expecting us to lose because of not playing a full team. When we won I was told to wear it to the Northampton game for luck . Now did I wear the lucky Australian shirt or the Tigers shirt in the final?
I compromised. I put the Australian shirt under the Tigers's top on the way to the ground. It was over 80 degrees but a lucky shirt is a lucky shirt. As we got near to the ground we kept meeting people from Leicester we knew but didn't know were going to the game.
Then we saw Dusty Hare , beer in hand standing outside the same café we had drowned our sorrows in the year before. I don't know what came over me but I felt moved ( by a combination of red wine and hot weather no doubt) to shout out " Dusty I was here in 1982 when you scored 19 points. Now I know we are going to win."
Dusty just beamed and replied "Ah 1982 a good year"( England beat France in Paris in 1982 by a record score with five Tigers). I f you scoff at omens how many points did Stimmo score that day?
During the prematch warm up special Heineken Cup Final rugby balls were kicked into the crowd and my son outjumped several French lads to claim one. Yet another sign that made us feel we were going to win. I will let someone else run over the finer points of the match itself. But I must finish by explaining how I eventually won the cup for us.
Dominguez dropped his goal right in front of us. I didn't look at the posts. You could tell immediately it was good. My friends then turned to me and said "Get your Australian shirt on." All that was required was to take my Tiger's shirt off. Remember , I was wearing it under my Tigers shirt.
As I pulled my Tigers shirt over my head I closed my eyes and called upon all the Gods of rugby. Stransky's drop at Saracens , Healey's try at Wasps , Freddy's Gloucester moment , the winning try in the 79 final, Rory's injury time winner at Sale all flashed across my brain. As I opened my eyes , Ben Kay caught the ball in the line out and Oz was off. As Lloyd scored my Tiger's shirt was off save for the right cuff which was still on my wrist.
I nearly put out several French fans' eyes trying to punch the air with a Tiger's shirt dangling from the end of my wrist. Just remember next time you see a re run of Lloyd's winning try who you really have to thank.
These players , they just don't know the half of it. All they have to do is train a bit then turn up and play. Did they risk their marriages and bankruptcy by being there? Did they have to encounter mad ticket inspectors and wear two shirts in 80 degrees and clear up after their cat? No. It is definitely much tougher being a supporter.

Tell that idiot he nearly put my eye out

Celebrating in the Au Cochon Noir