Gibbo, Gladys or Debbie?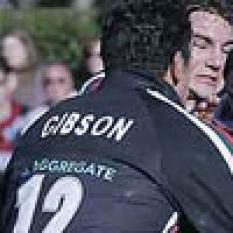 By Ro
December 29 2005
"Andrew Mehrtens loves it when Daryl Gibson comes inside him". I believe it was the inimitable Murray Mextead who uttered those immortal words. But Andrew Mehrtens' feelings apart, a bit about the man. Daryl Peter Earl Gibson. Born 2 March 1975, Lumsden, Southland, New Zealand.

Daryl was educated at Christchurch Boys' High School and Canterbury University. He played his junior Rugby with Christchurch High School Old Boys before graduating to Canterbury NPC at the age of 18 in 1993. He played a total of 80 games for the NPC side, winning two NPC titles and 78 for the Super12 side Canterbury Crusaders, with four Super12 titles.

Surprisingly Daryl only made 19 appearances for the All Blacks, 8 from the bench. His only AB try was scored in the 1999 World Cup against Italy at the McAlpine Stadium in Huddersfield (I know 'cos I was there.), when he appeared at inside centre. The All Blacks ran riot that day, scoring 101 points to Italy's 3.

Earlier that year, he had started at inside centre in each game of New Zealand's Tri-Nations-winning campaign. The team only lost one of their four matches.

His was the familiar story of being cursed with the label 'versatile' and was capable of playing at full-back, wing, centre or 'second five eighths' (whatever that is). At the time he was in direct competition with Jeff Wilson, an in form Christian Cullen, Tana Umaga and Alama Ieremia. This could go some way to explaining the fairly meagre number of caps. His final AB cap was in August 2002 against South Africa in Durban, when he replaced Leon MacDonald at Full-Back.

Daryl also played for the New Zealand Maori between 1996 and 2000.

In 2002 Daryl left New Zealand Rugby at the relatively young age of 27 to join Bristol on a two year contract. He gave up the possibility of taking part in the 2003 World Cup to realise his ambition of playing in the Heineken Cup.

His home debut for the Shoguns was against Leicester Tigers, when he had an enforced 10 minute break in the sin bin. Shoguns won that day 25-20 with only 14 men when, after 3 minutes, a certain Julian White was shown the red card after head-butting Graham Rowntree.

His one season at Bristol saw the Shoguns relegated. Although there were offers from other clubs, Daryl's ambition to play in Europe must have made his decision to join the Tigers that much easier. He came to Leicester on a two year contract which expired at the end of last season. Fortunately, he has extended it for another two years so he will be around a while yet.

Daryl's tag of 'versatility' left behind him, he has made the position of inside centre his own at Leicester. Having watched him play for the last couple of years, he has become a firm favourite. He's one of those players who are not particularly noticeable in a game but who have an incredible work-rate. He allows those around him to play well. Like any good inside centre, Daryl has that uncanny knack of offloading the ball just before the try-line so someone else can pop it down. Unfortunately, in Dublin, there was no-one to pass it to so he just had to score himself.

Let's hope that this season will see his International sacrifices proved worthwhile and he can win that elusive European medal. We can all dream!

One of the strangest things about Daryl Gibson is the nicknames given to him by Tigers fans. Most people seem to know him as Gibbo. However, I always think of him as Gladys (this is ra's fault). But at the HCup Quarter Finals in Dublin the man sitting next to us called him Debbie (as in Debbie Gibson). I wonder if he knows.

Well, I'm not going to tell him!