Large's Top 50 Saracens - 50-41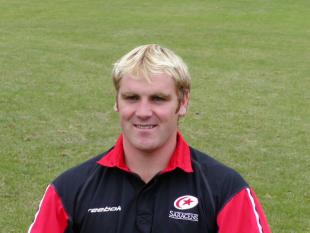 Andy Goode
By Large
February 16 2009
Everyone has their favorite Saracens. Many hark back to the 1998 cup winning team for theirs Saracens and many of that team are in this list of my top 50 players to don the black shirt since the inception of the Premiership and the move to Watfiord in 1997. Therefore previous Sarries stalwarts like Floyd Steadman, Alex Keay, Lawrenece Smith, Brian Davies et al are, unfortunately missing.
So without further ado, here are the first ten in the list from 50 to 41, along with my reasons for them being here.
50. Andy Goode – Outside Half
Probably up there in the top three of anyone's list of the most reviled ex-Sarries (Julian White and Dean Ryan, anyone?) but makes this list thanks to a shedful of points and a carefully-aimed, low-trajectory bullet of a punt into the Shed itself after being given the bird by the cheery cherries. I'm sure it hit someone who deserved it as much as Goode did himself.
49. Brett Sparg – Wing/Fullback
Bert Spragg was one of those smaller players who'd give 100% and he certainly was a tryer. Left just before the 2003 World Cup, if I recall correctly, to try to break into the Namibia side and, unfortunately, disappeared without trace after failing to do so.

48. George Chuter - Hooker
Got into the England reckoning while he was here and then, inexplicably, disappeared to go travelling around the world; only to reappear at Leicester a few months later with a considerably smaller nose. Coincidence or something else inexplicable?
47. Andy Lee – Outside Half
My earliest memory of Barney Rubble was when he kicked the winning penalty at Bramley Road against Leicester in 1995-96. I could hear the roar in Finchley where I was playing. Was with the club ages so it was a shame he spoiled it after leaving by going to work for Quins.
46. Tony Roques – Flanker
"The Machine" left in 2004 after six seasons of unstinting service in the back row. Unfortunately in the day of the mobile fort at flanker, Rocky, despite his fitness and tackle count, was normally bumped off the ball by bigger back rowers in the GP, while he was kept out of the side in his early years by bigger names.
45. Paddy Johns – Second row
Remember THAT brawl down at Lydney in 1999? Big pro London team comes down to give the Gloucestershire part-times a beating. Cue home pack getting their retaliation in first at an early lineout. The 16-man scrap spills over to the barrier pitchside and poor old Gentleman Johns is not only being beaten by the home pack, but half a dozen of their supporters too. Made I larf, although I don't think the Ulster dentist saw the funny side.
44. Matt Singer – Wing
The old, shabby Franklin's Gardens was the scene for Singsong's greatest moment which put Sarries into the 1998 Cup final. Went down in my estimation seriously thereafter for a try in the Varsity Match for Fenland Polytechnic against my beloved Dark Blues.
43. Scott Murray – Second row
"Oi! Murray!" shouted a Fezboy (who shall remain unnamed) at an end of season do a few seasons back "Ow come you're so bloody good for Scotland and so s**t for Sarries?" I didn't hang around for the answer, but it still eludes many as Murray, despite his unquestionable talent and athleticism, didn't really reproduce his international form in a black shirt. I liked him, though.
42. Shane Byrne – Hooker
Took an age to get into his stride when he arrived, but during his final season Mullet showed what a good player he was in and around the loose. Shame, then, that his contract wasn't renewed and he went back to Ireland, presumably to open a hairdressing business.
41. Luke Smith – Outside half
Luke who? Was the headline when he arrived from Rotherham. We and Gloucester found out in the second match of the 2001-02 season as he kicked 29 points to win it. Probably most memorable for the cringe-worthy "Use the Force, Luke" noise that used to be played as he lined up his many kicks at goal.