Welford Road Stormed ...... AGAIN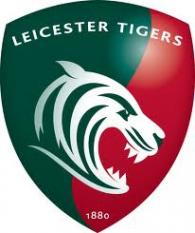 Tigers Tamed
By jeremy ogaribaldi
March 7 2011
What a day; I missed the same fixture last year so it made it all the sweeter to be here in person. The trip up was a long one on the slow cross-country train; but at £11 return who would complain. As we passed Oakham and Melton Mowbray the carriage filled up with green striped shirts and an air of confidence. Pleasant company though and enquires were made of how far I had come; and what a long way to come to lose.
Sons met at the station we trooped to the ground in an ever increasing swirl of drizzle. I hadn't seen the new stand before its very impressive. I'm definitely not standing on the Holland & Barrett terrace again; the seats and views on the other side of the pitch look too tempting. Still we got a nice perch at the back around the 22; with protection from the rain and somewhere to store our beers.
The game started and a degree of confidence started to come over me. I was explaining to sons, that Sarries had scored a try in the first 2 minutes in the last couple of matches and it seemed to be possible here. Our new tactic of forwards driving straight off Wiggy's passes from the scrum was making ground and suddenly Botha was almost through. Only a last ditch tackle saw him caught, but two phases later Tiggers desperate defence saw them give away a penalty. Goode stepped up to take the lead. However it was short lived and from the kick-off it was Sarries turn to earn the displeasure of Mr Davy. Staunton levelled it up.
Not to be down-hearted Sarries returned to the fray throwing the ball around pretty well in the damp conditions. Unfortunately, they knocked the ball on but Leicester weren't really able to do a lot with it before kicking it away. Sarries returned to effective attack earning an offside decision for Goode again to do the honours; 3-6. Sarries seemed to have the best of the next 5 minutes with some good driving from the forwards. To be honest Leicester did seem to have it under control but another knock-on gave Leicester a chance to counter attack. They seemed to be doing quite well when a cracking tackle from Botha almost dislodged the ball. For some reason Mr Davy didn't like it and Staunton with a long-range kick levelled it up.
Then the move of the game; Sarries kicked to just over half-way and from the quick throw one Tuilagi brother slung a long pass to his brother. It looked forward at the time (still looks forward on the replays) and Ernst I think hesitated. It was all that Tuilagi needed to burst past him and inside Strettle, who to be honest wasn't really expecting to make a tackle and didn't. Tuilagi had a full head of steam by the time Goode got across to make the last ditch tackle and was bashed out of the way. A well worked try from very little, but Staunton missed the wide conversion. Tiggers had their tails up now and looked to be pulling away. After a sustained attack, Sarries were again penalised for slowing the ball down and Staunton extended the lead to 14-6. Tiggers didn't score again
Sarries started to turn the tide by going back to their patient game. This was two pronged;
1. if inside their own 10 yard line they drive up until one of the Leicester wingers was drawn forward; then they kicked it over their head. The solid chase meant they either settled for their own line-out around the 22 or kicked back for a Sarries lineout on half-way.
2. if on or around halfway then more forward drives or bashes up the centre got us into the Leicester ten yard area. Tiggers defence was fantastic; apart from two almost missed tackles in the first 10 minutes, they never really looked like being broken. Unfortunately for them, their discipline at the breakdown meant a penalty was always likely to come in a period of sustained attack. Sarries just had to keep plugging away for it to happen. It did just before half-time and the score at the break was 14-9 after Goode slotted comfortably.
It was a really tight game and I was afraid that one missed tackle was going to be the difference at the end. The second half if anything was tighter than the first; Powell came on for Penney and our defence looked stronger as a result. Although both sides were trying hard, the defences were getting on top, with often only a few phases of ball being run before a kick was aimed at an out of position winger. It wasn't until the subs came on that the game came alive again. Stephens versus Castro in the scrum was going to be a cracker and Castro got first blood for not binding. But after a few more minutes a big scrum on the Tiggers 10 yard line and Stephens popped Castro up in the air for a penalty that Goode slotted over; 14-12. A few minutes later Tiggers were awarded a penalty in a fairly easy position, but Staunton missed it. He seemed to have a dodgy leg which was probably the reason, but he stayed on the pitch for probably too long.
Then the first of a couple of "odd" decisions from Mr Davy. Sarries had a 22 drop out which after a couple of dummy attempts Farrell kicked long. Tiggers allowed it to run over the dead-ball line. Now I was under the impression that you can only come back for a scrum from a full kick; drop kicks don't count. That's the reason HooHaa tried so many of them last year, if they missed the defending side gave you the ball back from the drop-out. It didn't matter as for a totally unexplained reason Sarries won a scrum against the head at Welford road in their own 22; how long since that happened. Sarries attacked with the ball in hand and worked their way up to just into the Tiggers half, when they offended again. It was a long kick and Goode slotted it to take the lead with 3 minutes to go.
It was the premiership final all over again, especially as Leicester seemed to be shot. Sarries then had an amazing attacking sequence of around 24 passages of play driving towards the line. They probably would have scored against any other team, but the defence from Leicester was fantastic and they finally turned the ball over. 36 had come on for Staunton and he fired a long penalty into the Sarries 22 for one last attack with a minute to go. Then the second of the "odd" decisions. Up until this point Sarries had been doing well attacking the Tiggers lineout, especially in the second half. They had stopped the lineout being won, but not obtained possession of the ball. There was a lot of jockeying for position before the ball was thrown in and in their eagerness, Sarries had given away 3 tap-penalties. At probably the last lineout of the day, before the ball was thrown in, another blow on the whistle.
Given the ball was not actually in play, the award of a full penalty for offside seems a little harsh and a collective sigh of relief swept over the ground. Never mind the home side had not played well, they were going to get out of jail. 36 stepped up for the kick and with time up pushed it wide. Cue wild celebrations by all the players in white and the few supporters in black dotted around the ground. It was a very enjoyable experience taking my sons out to dinner in the town centre; a smug smile of satisfaction on my face
Leicester: Hamilton; Agulla, M. Tuilagi, Allen, A. Tuilagi; Staunton, Grindal; Ayerza, Chuter, White, Mafi, Skivington, Croft, Newby (capt), Waldrom.
Replacements: Hawkins, Stankovich, Castrogiovanni, Green, Woods, Harrison, Hipkiss, Twelvetrees.
Saracens: Goode; Strettle, Penney, Barritt, Wyles; Farrell, Wigglesworth; Rhys Gill, Brits, Nieto, Borthwick (capt), Botha, Melck, Saull, Joubert. Replacements: George, Saunders, Stevens, Vyvyan, Brown, de Kock, Powell, Short.
Replacements: George, Saunders, Stevens, Vyvyan, Brown, de Kock, Powell, Short.
Attendance: 22,451.
Ref: Sean Davey.