Sarries vs. Exeter – Match Report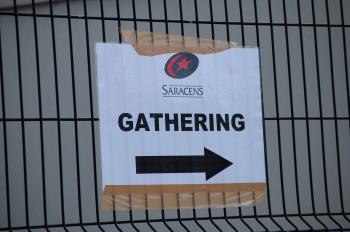 The Gathering Pic by PNH
By saracens4life
April 18 2011
First up a quick apology – I enjoyed myself far too much on Saturday to remember the precise details, or heaven forbid take notes, of Sarries' latest completed project, a convincing 33-12 victory away at Sandy Park over the only Premiership side to have beaten us at home this season: newly-promoted Exeter Chiefs.
What I will give you is essentially an amalgamation of the posts I have already made since the game – some general comments about our performance, and also a word about our hosts.
In my preview I talked about the importance of winning the gain-line battle against Exeter. They followed the script, launching barrage after barrage into our midfield, which pretty much all game handled it admirably – I have become convinced that Brad Barritt would be able to tackle a tank at full speed, which was handy on Saturday as his opposite number Sireli Naqulevuki is not much smaller than one – and the Brown/Burger axis was primed for defensive action. We did not attack the gain-line as much, or as ferociously, as they did, but we starved them of the front-foot ball which to a side with limited creativity in the backs is as essential as oxygen. The moment that summed it up for me was a crunching tackle from Brits off a crash-ball from a Chiefs lineout; the hooker then proceeded to get back to his feet and steal the ball. You cannot win away at Sandy Park without nullifying the Exeter ball carriers, and that we achieved this paved the way to victory.
The defining passages in the game were the first ten minutes of each half: during these periods the Chiefs were very much in the ascendancy and were breaking our line and threatening to score, but in each half we were the first side to register points. It was our typical gritty resolution in defence which denied them, and then a clinical streak in the opposition half to demoralise them.
I also said in my preview that if we were to give the backs a bit more space to work in, and if they played with a bit more ambition, we could well reap significant rewards. This approach was not a given in view of the hard-nosed approach which has served us so well in recent weeks, but with our typical precision at both the lineout and the breakdown, and a slight lack of line speed in the Exeter midfield defence, the likes of Goode, Strettle and Wyles played with much more freedom and posed much more threat than I have seen for a little while. The whole ship was, as usual, marshaled superbly by the experienced 19-year-old head of Farrell, and we saw the fruition of our multiple-first-receiver-approach (not a catchy name, I realise) with Goode, Barritt and Brits demonstrating their distribution skills. If we play with similar width and ambition – and precision, as highlighted by the paucity of scrums in the match – against Gloucester next week, it will be an absolute cracker of a game, seeing how they threw the ball about with youngsters liberated from the usual pressures of a top-of-the-table clash at Welford Road.
The one flaw in our game was our usual reliance on our kicking game, neglecting the profit we had got from moving the ball through the hands, and the poor execution of this game, of which both Wigglesworth and Farrell were guilty. More often than not full-back Luke Arscott would not have a long journey to reach the ball, and he counter-attacked superbly all day, skipping past would-be tacklers with alarming frequency. What worried me more than anything was the fact we persisted with this tactic even when it was blindingly obvious Arscott would return it with interest.
But I digress: apart from that particular tactic, and the two tries conceded due to some sloppy tackling, we played a near perfect game. Our first try was a result of applied pressure, which had already seen us accumulate a 6-0 lead through the faultless boot of Alex Goode, with Brad Barritt charging down a laboured clearance kick from Kiwi Jason Shoemark and offloading superbly from the floor to give Chris Wyles an easy run-in from 15 metres. The second score was a moment of individual brilliance from an almost forgotten source, Saints-bound Noah Cato, who beat countless flailing Chiefs' defenders to score in the corner. Unless our Noah has a quick name change to Soane Tonga'uiha, there is not much chance left for Sarries supporters to see the best of his talent, so I certainly felt glad for him. The third try, which put the result beyond doubt, was a true forwards effort, a rolling maul from 10 metres out which was scored in the end by Welshman Rhys Gill, who I thought put in a good shift at loosehead having come on to replace Matt Stevens.
As an aside, a couple of seats along from me in the South Stand was a fellow Sarries supporter who had a remarkable knack of timing his visits to the toilet with tries for the Men in Black. His first departure neatly coincided with Wyles' try, and on his return from the second he found the Sarries hordes going wild after Cato's individual score. In the closing minutes we were clamouring for him to go again to secure the bonus-point victory; sadly it was not to be, but if you'd offered me 33-12 at the start of the day, I'd have bitten your hand off…
Overall then, an excellent performance, a convincing victory at a notoriously tough away ground, and we have extended our lead over Gloucester. A win against the Cherry & Whites on Easter Sunday will guarantee us a home semi-final. Without trying to tempt fate, we do look the most consistent side in the Top 4, and we do not relinquish victory easy. A successful end of season beckons, but as we quite rightly keep hearing, we are taking things 'project by project'.
A brief word on Exeter: I have enjoyed few away visits more than I did Sandy Park on Saturday. The travelling masses, bolstered by dozens of kids who were on rugby tours, were in good voice from the Gathering to the final whistle, and the Exeter fans were equally passionate, welcoming and gracious in defeat. The setup was completely conducive to interaction with the home fans, and the Hog Roasts went down a treat as well.
Exeter are a club with real ambition, with plans to expand Sandy Park to a 20,000 capacity, and I would not be surprised if they could fill that out given the interest they are generating in the local area. On the playing front, they have performed a small sporting miracle this season. Some of the forwards may be suffering burn-out as their first Premiership season draws to a close, which is to be expected, and Rob Baxter's recruitment thus far suggests a greater element of rotation in his selection policy, but the achievements they have made in the Premiership are remarkable given how easily dismissed they were by many pundits before the season.
They have truly arrived at the top-table of English rugby, and long may they remain. A fabulous day out, and I cannot wait for Sandy Park next year…
Exeter (5) 12
Tries: Shoemark, Naqelevuki Cons: Mieres
Saracens (13) 33
Tries: Wyles, Cato, Gill Cons: Goode 3 Pens: Goode 3 Drop-goals: Farrell
Exeter Chiefs: 15 Luke Arscott, 14 Matt Jess, 13 Jason Shoemark, 12 Sireli Naqelevuki, 11 Nic Sestaret, 10 Gareth Steenson, 9 JuniorPoluleuligaga, 8 Richard Baxter, 7 James Scaysbrook, 6 Tom Johnson, 5 James Hanks, 4 Tom Hayes (c), 3 Hoani Tui, 2 Neil Clark, 1 Brett Sturgess.
Replacements: 16 Chris Whitehead, 17 Ben Moon, 18 Chris Budgen, 19 Chad Slade, 20 James Phillips, 21 Garrick Cowley, 22 Phil Dollman, 23 Ignacio Mieres.
Saracens: 15 Alex Goode, 14 David Strettle, 13 Chris Wyles, 12 Brad Barritt, 11 James Short, 10 Owen Farrell, 9 Richard Wigglesworth, 8 Ernst Joubert (c), 7 Jacques Burger 6 Kelly Brown, 5 Hayden Smith, 4 Mouritz Botha, 3 Carlos Nieto, 2 Schalk Brits, 1 Matt Stevens.
Replacements: 16 Jamie George, 17 Rhys Gill, 18 Petrus du Plessis, 19 Hugh Vyvyan, 20 Andy Saull, 21 Kevin Barrett, 22 Adam Powell, 23 Noah Cato. )
Referee: Dean Richards