End of Season Poll Pt 3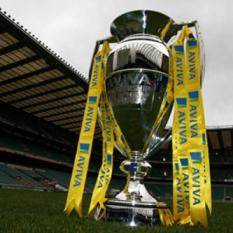 Season summarised.
By Japie
August 12 2011
The last instalment of the End of Season poll.
PART III: Miscellaneous

1. BEST SARRIES RUGBY MOMENT OF THE SEASON:
Doh! Was this one of the most obvious winners in the history of these polls? Although some measured fans out there didn't take the most popular path in their voting (either seeing things most of us don't or perhaps a quest to be 'different') and voted for "Goode running from the centre line to the Clermont try line leaving a trail of defenders in his wake" or "Owen's final penalty kick in Semi Final versus Gloucester". But though there were some variations in how it was expressed (perhaps next year we should have several options per category to pick from: would make it easier to count up!), the huge majority went for WINNING THE AVIVA PREMIERSHIP. It was the unbelievably tense 9 minutes and 9 seconds ("Awesome , heart-stopping, Tiger-stopping defence!" "The nine minutes preceding the final whistle at HQ: what a disciplined, dominant, controlled, awesome display of defence." It was the penalty award in Sarries' favour in extra time. It was lifting the trophy. To quote old Billy Waggledagger's Henry V:
"This story shall the good man teach his son;
And Crispin Crispian shall ne'er go by,
From this day to the ending of the world,
But we in it shall be remember'd;
We few, we happy few, we band of brothers;
For he to-day that sheds his blood with me
Shall be my brother; be he ne'er so vile,
This day shall gentle his condition:
And gentlemen in England now a-bed
Shall think themselves accursed they were not here,
And hold their manhoods cheap whiles any speaks
That fought with us upon Saint Crispin's day."
2. WORST SARRIES RUGBY MOMENT OF THE SEASON:
To be sure, this year we didn't have many bad moments, so finding the 'worst' was not easy. But your votes were reminders that despite my slightly pie-eyed, rose-tinted, half-full reflection on the season just gone, there were gloomy moments. Losing to Exeter at home was a popular choice. Alex Goode's yellow card in the opening game at Twickenham was another frequently cited choice. Losing to Sale in the new year with 'the Orange One' (he who shall not be named) and poor Derrick Hougaard and Kameli getting injured also got more than one vote. "None, they've all been erased from memory by a mixture of senility and booze" was a good vote!
But just out in front was…
Winner: For the supporters watching the last 9m9s!
3. FUNNIEST RUGBY MOMENT OF THE SEASON:
We all laugh at different things. Surprisingly only two things got more than one vote. The second place prize goes to Matt Banahan realising his 80m interception had been called back after Alex Goode pointed it out to him. However I think several of your suggestions deserve to be mentioned to hopefully make you smile as much as I did about them:
The look on Cockers face at the final whistle of our games at Welford Road and Twickers.

The bloke in front of me taking the piss out of the Gloucester fans next to me by making tractor noises and shouting tractor in a farmers accent and kissing the fans on the head when Owen got the last penalty.

Watching Sarrie win the mascot challenge.

Franklin's Gardens crowd rushing to beat the traffic with 10 mins to go

Any of "Orange Boy's" promises to be a true club man;

Judge Jeff Blackett – enough said!

First voice in crowd: "Stop standing up Thompson"; Second voice in crowd " Makes a change from bending over!"

My sister being hit on the head by a ball kicked by Freddie Burns on Easter Sunday v Glaws (apologies if it is not to do with the players that much!)

Kelly Brown's baby throwing up on the pitch after the final
But the winner, by a distance, was Brendan Venter's unusual TV interview after defeat to Racing Metro. If you've not seen it, see http://www.youtube.com/watch?v=2FgchHlaSQE. Genius. Three cheers for Sereli Bobo…!
4. BEST REFEREE:
A real mix of responses for this one but it was good to see a few of the familiar big names come up (as for worst ref below). I liked the vote for Glen Jackson. If you've seen him referee that's more than me but I wish him every success. I think a reverse order 1-2-3 would be apt here.
3rd place: Romain Poite (one voter said, "his performance at Thomond in the Amlin semi was one of THE most outstanding I have EVER seen".
2nd place: Dave Pearson
But the winner is Wayne Barnes. Those who attended the SSA event know he knows his stuff and we see that USUALLY on the pitch. I was sympathetic with the voter who voted for him but then wrote, "except for THAT scrum decision in the final".
5. WORST REFEREE:
A dishonourable mention for Andrew Small it seems. I've always liked him myself but several commented along the lines of "awful schoolteacher like manner and no rapport with the players".
But I'm not going to gild the lily in this category. Out in front, I'd have to say of course, was the perennial 'favourite'.
Winner: David Rose (though he was very nice to my son when refereeing the game my son was a mascot at!).
6. BEST MEDIA PERFORMANCE BY A RUGBY CELEBRITY OR BROADCASTER:
Austin Healey did well for many voters. As one said, "It pains me to say it but Austin 'Wiggy' Healy has been amusing and fairly insightful this year." That could be said to apply also for votes many of you gave for ESPN's coverage. Several voted for Large for his radio commentary which according to one voter, "is streets ahead of most others, and I fail to see why he isn't offered a wider role than local radio!"
But the winner, again, was Brendan Venter's Racing Metro interview.
7. WORST MEDIA PERFORMANCE BY A RUGBY CELEBRITY OR BROADCASTER:
A variety of votes: Brain Moore, Guscott-Pratt, Any NZ commentator; LNBD ("for his statements about the Wasps trip to Abu Dhabi being 'Mission accomplished' despite it leaving most Wasps fans seething, for rather majestically distancing himself from Wasps as they go t*ts up and for generally being a bit of a a*se."), Sky, Serge Betson; "Anything by Eddie Butler, Jonathan Davies, Jeremy Guscott, Brian Moore", Barnes all season and rugby on BBC.
But the winner was Tango Man. Lots of comments I can't reproduce. But I agree with them all…!
8. THE MICHAEL GENTLEMAN (SAMUI MAN) CONTRIBUTION TO THESARACENS.COM MESSAGE BOARD:
And finally…
Lots of votes spread around the contributors to the Board. EdwardG got several votes (well done him for being so accessible). Woodford Dave got some (really?! One voter said, "The editors for banning Woodford Dave (shame it was only temporary")). Darraghgirl deservedly attracted votes for her great match reports. Someone voted for "none" as "Not been a vintage year really. Too much polemic, too many "speculation" lists. NOT WD, but otherwise I'll pass on this!". I got a vote – you're mad. The editors got my vote.
But the winner was Saracens4Life "for match previews" and "S4L for engaging in so many threads on this and other boards without descending into petty insults and personal abuse". A few other positive comments too. Well done!
And that's all folks…