Another season – another loss in the Double Header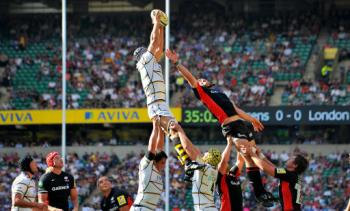 Lineout: Area of concern
By Jeremy O'Gorman
September 4 2011
Twickenham, another double header and yet another Sarries Wasps clash. Now I've not looked back at the history books, but I seem to remember that we do better when we are up first; not so hot in the second match.
Quins Irish was up first and a bash and crash game it was; lots of elbows and crashing bodies. The Quins front row of Marler and the brother of our beloved Cencus is a formidable outfit and both have ball handling skills as well. Both made their mark in a first half, with Johnson scoring a try and Marler getting binned. Quins seemed under control, until Ojo sneaked in for a couple of tries and nearly pulled of a sneaky win in the end. I quite fancy playing both of them; Quins seem not to bother with a defence and Irish don't bother competing at the breakdown.
So the main event, after a summer not quite believing that we were champions. It started well enough, with control around the rucks even if the lineout looked a little creaky. Steady Sarries pressure led to a straightforward penalty for not rolling away. Owen looked well in control and slotted home. Two minutes later more pressure led to offside practically in front of the posts; three more points for Owen and Sarries led by six. It did seem to go downhill from there on as Wasps accepted most of the possession, running the kicked ball back. Their tactics reminiscent of the Wasps of old; driving close to the scrum on both sides; simple but effective.
The wolf-pack looked under pressure, especially out wide where Wade looked very quick. The lineouts too were a bit of a concern; even Borths was getting turned over by Wentzel who looks a good buy. The first scrum wasn't until 16 minutes and Rees Gill seemed to nosedive, giving away a penalty: Robinson who kicked well made it 6-3. Shortly afterwards the first try of the game, when a simple attack on the near side left a four to three out wide. Good hands by Flutey and Bell put Wade away and with his speed nobody was going to catch him. Good hands they were, but the second pass was forward; just watch the replay.
A further fifteen minutes of stalemate with both sides not really going anywhere, Sarries managed a break by Short holding the ball up well, Sarries collected and were driving forward. Not sure exactly what the offence was but Sarries got the advantage wide out. The advantage came to nothing and Owen slotted the penalty well to close the game up to 9-10. Unfortunately from the restart, Borths committed another offence that I could not quite understand and Robinson restored the 4 point advantage which is where it finished.
Wasps captain Hart struggled off with a few minutes of the second half to bring on the impressive Vunipola: another good Wasps acquisition. Sarries though seemed to be taking control of the game and when Hodgson came on after 50 minutes the flow seemed slicker, and Brad seemed to be making more inroads and pulling the defence away. But as NdeK switched the ball the other way, Goode swept down the wing with Ernst inside him. Pulling the last of the cover a try seemed certain, but the ball didn't quite make it into Jouberts normally safe hands; evidently Varndell managed to get something on it to deflect it.
Sarries put the missed try behind them and came forward again. Hodgson penalties shortly afterwards and again four minutes later; the first for not rolling away and the second from a disintegrating Wasps scrum. It seemed to be swinging the game the way of the men in black as finally they re-took the lead; 15-13. Sarries were looking to close out the match as they started to run the ball well from side to side; but suddenly Wray was isolated and quickly stripped. The ball took a few seconds to end up in Varndell's hands ansd with a ten yard start nobody was going to catch him, although Hodgson and Strettle from the other flank came close.
There was still ten minutes left and with Wasps creaky scrum, penalties were going to come and with seven minutes left a reasonably straightforward penalty was awarded. With time to get the game down to 2 points difference and put more pressure on the Wasps scrum, Borths chose to kick and unfortunately Charlie missed. It meant Sarries needed a try and to be honest it didn't look like coming, especially as Wasps were winning all the line-outs. Huffing and puffing did get the ball turned over a couple of times and with Strettle on a great carving run through the middle it seemed possible. But the ball was turned back over and despite a big flourish at the end it wasn't enough
On reflection Wasps probably deserved to win, but had Ernst scored the game would have had a completely different result, not least because we would probably not have turned the ball over for Varndell's try; we would have kicked for the corners. Still a bonus point was a better return than last year. A sobering thought is that in the last 11 years the Premiership champions have lost the opening game; so says the BBC. No idea who the two winning sides were, but I'm sure somebody does
Saracens: Goode; Strettle, Powell, Barritt, Short; Farrell, de Kock; Gill, Brits, Nieto, Borthwick, Botha, Melck, Saull, Joubert.
Replacements: George, Carstens, Du Plessis, Kruis, Wray, Spencer, Hodgson, Taylor.
Wasps: Southwell; Varndell, Bell, Flutey, Wade; Robinson, Davies; Payne, Webber, Broster, Birkett, Wentzel, Launchbury, Poff, Hart.
Replacements: Morris, Castex, Baker, Cannon, Vunipola, Berry, Davis, Haughton.
Referee: JP Doyle (RFU).
Att: 55,437