Sarries vs Saints Preview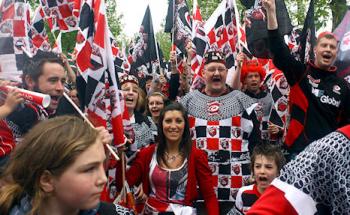 Painting Northampton Red
By saracens4life
November 24 2011
So then, crunch time of the season: two weeks of Heineken Cup, two intense weeks of Premiership rugby with some mouthwatering encounters along the way, and on to the famed back-to-back rounds in Europe. 6 weeks of close to test match rugby: isn't it great??
You can add onto that Northampton's derailing Heineken campaign and the tenacious rivalry built up between themselves and Saracens over the last couple of seasons and Saturday evening has a cracker in store for us. For all the Saints' manifest quality from 1 to 15, and this season now from 16 to 23 as well, their performances have been inconsistent to say the least, from their heroics in defeat at Thomond Park to the shambles of Friday night against an exuberant Scarlets side. By contrast, you know what you're going to get from Mark McCall's Sarries side, where structure and discipline has become the name of the game.
So what can we expect from the Saints? Well, they had – not for the first time with this team – an air of fatigue about them last week at the Gardens – mental as well as physical. Given the lessons of past seasons and Mallinder's summer spending spree, I'd expect to see some trust shown in the fringe players – the likes of ex-Gloucester man Doran-Jones, Tongan-American Samu Manoa, snipey Welshman Martin Roberts and the grey-haired utility man Tom May. The interesting thing is whether this weakens the Saints line-up, as it would have done in previous years, or whether it helps to liberate the outside backs from the increasingly stagnant and predictable crash-ball approach. Against less structured defences the introduction of May in particular as a second distributor at 12 has helped to stimulate the passing games of both Ryan Lamb and Stephen Myler – much underrated in this respect – and create space for Saints' abundant resources in the back three. Here the Russian speedster Vasily Artemyev, the up-and-coming Scott Armstrong, the man formerly of this parish Noah Cato, and local poacher Paul Diggin will be competing with the England duo of Ben Foden and Chris Ashton – who combined so beautifully for one score at Thomond Park – for starting berths.
At half-back Jim Mallinder has the potential to appropriate the Sarries' model of rotation, with the organiser Lee Dickson and the more threatening Roberts complementing each other – and the same with Myler and Lamb respectively. Considering Dickson and Lamb have started for the last few weeks, including two test-match intensity Heineken pool games, we may see a change in personnel on Saturday. The big selection question though will be at #12, with defensive rock Jon Clarke likely to keep his position outside. James Downey epitomizes the Saints usual style of crash-bang-wallop and putting everything on the gain-line battle; May, by contrast, is the cornerstone of the Saints' emerging attacking style.
There are similar selection dilemmas for Dorian West in the pack. For me Soane Tonga'uiha has looked well off his rampaging best both in the scrum and the loose and seems to have put on a bit of the wrong sort of weight. Alex Waller on the other hand has all the dynamism of a young, Northampton-bred man and he is one for the future; Doran-Jones also has proven quality. I doubt we will see both props relegated to the bench, so I'd expect the on-form Zimbabwean powerhouse Brian Mujati to keep his place at tighthead. Hooker is another green black & gold shirt up for grabs: Dylan Hartley had a poor game against the Scarlets both as a player and a leader, and the New Zealand-born club captain faces some stern from solid back-up Brett Sharman and exciting prospect Mikey Haywood. Hartley normally brings a lot to his side in terms of ball-carrying, enthusiasm and a general in-your-face attitude, but West may opt for the fresh dynamism of young Haywood. At second row Saints, not unlike Sarries, have two types of player: Courtney Lawes and Manoa, the mobile, athletic, headline-grabbing sort, and then Christian Day and Mark Sorenson, the Borthwick-esque workhorses and lineout callers. With Day out injured Sorenson is likely to keep his place, but it is a free-for-all to be his partner, and rotation may be the name of the game to give the England man a breather.

Finally to the all-important back-row: Calum Clark, for me a future England captain, has hardly missed a minute this season, and while he keeps turning out the big performances the time must be near to give him a break, with Phil Dowson itching to get on the field in the past two weeks. Elsewhere they have Tom Wood - who in my mind should be an even more imminent England captain - and Ulsterman Roger Wilson. I would not be too surprised, with Leicester at Welford Road on the horizon, to see the fearless young openside Ben Nutley replace one of them.

So then, plenty of options for Mallinder and West, and, I'd imagine, plenty of need for fitness management – quite hard to pick a starting line-up in those circumstances. One thing we can be more certain of is Saints' attitude: their returning World Cup starts have not quite had the desired effect, and a poor pair of results in the Heineken has made the next two weeks almost make-or-break in terms of their season, and there will be a few demons from the last two seasons that the Green Black & Gold will be desperate to expel.


Sarries, on the other side, seem to be in a more comfortable position. Sitting atop their Heineken pool and second behind on-fire Quins in the Aviva, Mark McCall's men will have no fears about playing at Fortress Franklins. In fact the Men in Black tend to thrive on noisy, hostile crowds, rather than the turgid atmosphere of Vicarage Road, and their away form in the past 12 months has been close to exemplary.

However, they too may see an opportunity to reintroduce a rotation policy that has grown somewhat errant in recent weeks. Loosehead prop is an area of potential difficulty, with Rhys Gill having lost some of his early-season excellence and the departing Deon Carstens still struggling to come to terms with Northern Hemisphere scrummaging, up against the destructive, if slightly illegal - but then, who isn't?? - Mujati. That said, John Smit does possess the ballast which suspended Schalk Brits lacks, and in tandem with likely-to-return Italian anchor Carlos Nieto, he should help to restore the balance at scrum-time. Smit will also need to be a physical presence in terms of ball-carrying as Sarries look to nullify Saints' power on the gain-line; for this reason – and for rotation purposes – I would also expect to see hard-hitting Mouritz Botha come into the starting line-up, though Hayden Smith and Steve Borthwick offer similar things and both have been in good form. Borthwick especially epitomizes the Sarries' founding principle of hard graft and he is unbelievably determined and selfless on the pitch, doing all the most unpleasant jobs; Smith then, with his greater impetus in the tackle, would be more suited to a bench role.
In the back row, for the same reasons as above, I think we will continue with the trio of Kelly Brown, Jacques Burger and Ernst Joubert for optimum physical presence. I could say for Brown exactly what I said for Borthwick, and he has the added bonus of excellent ball skills in the wide channels; Burger's tackling needs no introduction, and nor does the calming influence and the poacher's instinct of Number 8 Joubert. The pace and scavenging of Andy Saull will then be valuable weapons off the bench.
Selection at scrum-half is now difficult, with the injury to Neil de Kock, Cambridge youngster Ben Spencer rshould retain the #9 jersey in any event, as his calmness and maturity against Biarritz were very reminiscent of a certain Owen Farrell in similar circumstances last season, and he deserves the chance to flourish. His kicking game is also excellent, both in terms of decision-making and execution. I would expect Charlie Hodgson to continue at fly-half as long as a knee injury sustained in the first-half against Biarritz does not prevent him. Brad Barritt, the rock of our side both in attack and defence, will undoubtedly stay at inside-centre, but I wouldn't be surprised to see one of Adam Powell or Chris Wyles alongside him on rotation, and to add some extra to the backline – with Farrell dropping to the bench or shifting across to #10. The backs created plenty of chances last week but remarkably did not score a try until the 80th minute; this bodes well in a sense, but only as long as we've learned our lessons when it comes to finishing.
Much of that will depend on how we bring our back-three into the game. David Strettle has been sharp though under-used this season, and for me that should be one of Andy Farrell's main focuses when it comes to tactics in attack. James Short may well have an enforced rest after his slap on Benoit August, regardless of how pathetic the whole incident was, and in any case I wouldn't be surprised to see Alex Goode taking his place and the American Wyles moving to the left-wing. The return of Michael Tagicakibau would also be welcome, and we have ex-Bath man Joe Maddock waiting in the wings should he be needed.
So then, the outcome…for Saints the watch-words will be concentration and precision – the two things that were so desperately lacking against the Scarlets. Much of this will also depend on what becomes of the Jim Mallinder story, and the uncertainty around his future cannot be helping his players' focus; I write this on Sunday night, no doubt more will be known by Saturday. For Sarries it will all be about being clinical, taking all the points available, not squandering easy chances, and overcoming our apparent inability to score tries from very close range. That said, the Men in Black always seem to pull it out of the bag at the Gardens, and I predict that they will be able to overcome the inevitable Saints' backlash and continue their fine away form.
The battle in the stands will also be a factor, and after a fine travelling contingent down to Biarritz it would be great to make ourselves heard above the Wendy chants of the Northampton faithful. I for one cannot wait…