Rampant Sarries Stun Sale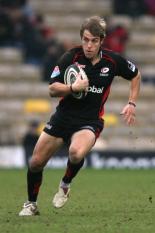 Wyles: First Try
By King Zak
March 25 2012
If ever there was a game that epitomised how to be ruthlessly efficient in rugby terms, this was it. Sarries were irresistible throughout and ultimately unstoppable. One had to feel sorry for hapless Sale who had the misfortune to meet Saracens at that point in the season when they chose to increase the tempo and attacking edge. They had indicated this transition at Worcester two games previously but the trip to Abu Dhabi had clearly galvanised an already determined team onto another level
Sale started purposefully and had the first opportunity to score when referee Andrew Small adjudged the visitors were responsible for a collapsed scrummage. This was not the last time he came to such a conclusion and the scrummage remains an area of concern. McCleod's kick from two metres inside his own half dropped just beneath the crossbar but the opportunity seemed to spur the home side on as they dominated the early exchanges both territorially and in possession. However, for all this dominance, their attack was somewhat laboured and predictable - choosing to try and bash through the midfield. This is meat and drink to Barritt and co and they seemed to relish the opportunity to put some big hits in on their opposition.
Saracens first display as an attacking force resulted in the game's opening score, showing all the necessary attributes of quick ball and subtle running lines that Sale had failed to find
The excellent De Kock moved the ball quickly to his right and when the ball reached Wyles in the outside centre channel he was running at pace towards Cueto. The former England wing seemed to hesitate, unsure whether to go for Wyles or the overlapping Taylor. Wyles spotted the opportunity immediately and stepped back inside to cruise through untouched to score beneath the posts - it was a foretaste of things to come. Hodgson added the extras and received warm applause form the home support in doing so.
The game continued in a similar pattern, Sale having possession and territory without ever looking like breaking through. Sarries seemed to be biding their time and looking for the right opportunity to attack the breakdown and strike from quick turnover ball
Their next opportunity came courtesy of Sale not releasing the ball in the tackle, - Charlie slotted the kick from 40 metres and one sensed Sarries were well on their way to securing a much needed victory
Sale finally got on the scoreboard as McCleod struck a penalty but it was Sarries who once again looked most likely to cross the try line and it was that man De Kock who proved the catalyst. His swift break created space for Joubert to crash over in the left hand corner. It was a strong finish from the No 8 who, much like his team, seems to blossom when March arrives. Hodgson's kick fell well short but was the only blemish on an otherwise flawless display from the former Sale favourite
McCleod reduced the arrears with another penalty but turnover ball once again provided Sarries next scoring opportunity, as crisp passing and clever running lines created space for Short on the wide left. He rook the ball at full pace on halfway and seemed to have the space to round the fullback and go for the corner. However, he chose to cut back inside, possibly as a result of criticism from previous games suggesting he's not aware of supporting players. He was stopped short of the line but as De Kock moved the ball quickly right the Sale midfield were caught offside and Hodgson slotted the simple kick from in front of the posts
McCleod responded with another successful penalty on the stroke of halftime but for all the home side's effort, Sarries held a comfortable 9 point lead
Michael Tagicakibau replaced James Short and Mako Vunipola replaced John Smit at halftime and the second period got underway with an immediate penalty to Saracens. Hodgson converted from 45 metres to the right of the posts and had another opportunity moments later from an easier position. Sarries had scored 6 points in two minutes and had hardly touched the ball such was the nature of the unforced errors from the home team. Sarries then really started to turn up the tempo and another sniping run from De Kock created space for Goode to run in under the posts. It was almost a carbon copy of the opening try and highlighted the deficiencies in Sales uncertain defence. Hodgson added the simple conversion as Sarries stretched their lead to 22 points and a try bonus point was within sight. It seemed certain to arrive as Tagicakibau burst down the right wing; only an excellent tackle from Cueto (I think!) prevented the score. However, Tagicakibau was not to be denied as he crashed through moments later to secure the bonus point. Hodgson continued his excellent form with the boot from wide right - it really begs the question if any club side has such riches in goal kicking, with Hodgson, Farrell and Goode all more than adequate in their own right
The icing on the all ready very rich cake was provided when replacement Huuuuuge Vyvyan crashed over from 5 metres out. Hodgson's kick completed the rout and what had been Sales largest home crowd of the season had already started to head for the exits
The only negative on an otherwise excellent night for Sarries was the worrying injury to Saull who left the pitch on a stretcher moments after arriving as a replacement for Melck. Sarries are becoming perilously careless in their retention of backrow forwards this season and it may ultimately prove to be their downfall in pursuit of silverware. Saull's injury and the replacement of George for Fraser gave an interesting look to the backrow; Joubert, Kruis and Brits.
Sale's early season promise seems to be running out of steam but for the Men In Black (or Red in this instance) the only way is up as they, temporarily at least, went top of the Aviva Premiership.
It was hard to pick out a MOM from such an all-round team performance but for me, De Kock was the catalyst behind so much of the good rugby played and presented a constant threat, although his box kicking left something to be desired at times!
On a personal note, a huge thank you to Steve and his team at the Olde Vic for making us feel so welcome in his own inimitable style; it will be a great loss if Sale do move to Salford. Also, thanks to Tim, Jason and Jimmy for the usual hospitality and post match banter, I really do hope we can get together at our respective new homes next season - cheers guys!
SALE: 15.Rob Miller, 14.Tom Brady, 13.Luther Burrell, 12.Sam Tuitupou (capt.), 11.Mark Cueto, 10.Nick Macleod, 9.Dwayne Peel, 1.Andrew Sheridan, 2.Marc Jones, 3.Tony Buckley, 4.Kearnan Myall, 5.James Gaskell, 6.Mark Easter, 7.David Seymour, 8.Andy Powell.
Replacements 16.Joe Ward for Jones (61), 17.Alasdair Dickinson for Sheridan (54) , 18.Vadim Cobilas for Buckley (61), 19.Tom Holmes for Seymour (67), 20.Richie Vernon for Easter (61), 21.Cillian Willis for Peel (61), 22.Johnny Leota for Burrell (48), 23.Will Addison (not used).
SARACENS: 15 Alex Goode, 14 Duncan Taylor, 13 Chris Wyles, 12 Brad Barritt 11 James Short, 10 Charlie Hodgson, 9 Neil de Kock, 1 John Smit, 2 Schalk Brits 3 Matt Stevens, 4 Steve Borthwick (c), 5 George Kruis, 6 Justin Melck, 7 Will Fraser 8 Ernst Joubert

Replacements16 Jamie George for Fraser (66), 17 Mako Vunipola for Smit (41), 18 Carlos Nieto for Stevens (60), 19 Hugh Vyvyan for Saull (53), 20 Andy Saull for Melck (50), 21 Ben Spencer for De Kock (66), 22 Adam Powell for Barritt (66), 23 Michael Tagicakibau for Taylor (41)
Referee; Andrew Small
Attendance 9,476