170,000 Over two legs watch Sarries v Quins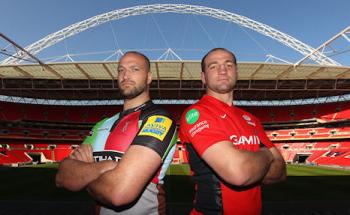 By Saracens4Life
March 30 2012
For a number of seasons English rugby has been dominated by the East Midlands hegemony of Leicester Tigers and Northampton Saints. Leicester were invincible domestically; Northampton flew the English flag, quite brilliantly, in Europe; and the two sides cobbled together their forces to make up the national side. Now, though - as tomorrow's game at Wembley will demonstrate - rugby's attention is moving slowly southwards.
Quins set the benchmark in December by breaking the record for a domestic attendance outside a final with 82,000 at Twickenham. Tomorrow we will go one better, with a predicted sell-out at Wembley. That's 90,000 people. And much as our stripey-shirted friends up the M1 bemoan our lack of season ticket holders and our marketing gimmicks, we are tapping into an uncharted support base which they haven't even begun to explore. The growth of rugby in London can only be a good thing for the sport; by cooperation between our two clubs, much can be achieved...

Anyway, to the match. Much will depend on the game plan each sides brings tomorrow. Sarries' usual style involves territorial dominance by means of the best kick-chase game in the land, and then the best defence to back it up. Quins will have two likely ways of countering this: either by playing our game by better than we do, or by going out all-guns-blazing trying to break down our defence.

You would think that the latter befitted their personnel. Mike Brown is probably the best 15 in England when it comes to picking lines from the back. Both George Lowe and Matt Hopper can break one-on-one tackles easily. The Quins pack has some excellent offloaders: Kohn, Easter, Marler. Danny Care is as sharp as any other 9 in the league. However - equally - their defence was very mean against an albeit predictable Bath side last week. And with the likes of Monye, Turner-Hall and Wallace all able to follow up the kicks of the world's 2nd best fly-half, Nick Evans, Quins do have the capacity to vary their game up.

But enough of the doom-and-gloom and complimenting the opposition. I'm meant to be one-eyed for goodness sake!! So, to restore the balance: here is why I think Sarries will win tomorrow, and hence take top spot...

The Lineout. Much as I rate George Robson as a jumper and organiser, Steve Borthwick does have the edge as an organiser. And whoever we play in the back five, you can guarantee that all will be good jumpers - among them the untouchable Ernst Joubert.

Kick-Chase. Combined with the lineout dominance, our kick-chase always ensures that we spend most of the game in the opposition half. Will Fraser has taken on the injured Andy Saull's mantle of primary chaser, and Brad Barritt and the excellent David Strettle complete the usual trio.

Attacking potential. 5 tries against a usually well-organised Sale defence last week sets a good tone. With quick ball from the breakdown and fizzing passes from the in-form pairing of Neil De Kock and Charlie Hodgson, there is plenty of danger out wide. The likes of Chris Wyles, Schalk Brits and Michael Tagicakibau are starting to fizzle in the more open channels. Much will depend on Mark McCall's selection: Hodgson and Barritt will occupy the 10 and 12 shirts. Outside centre is more interesting, with Adam Powell the incumbent in good form and Chris Wyles able to fill in if required, but there is also the now-looming figure of Owen Farrell to accomodate.

Still the best defence in the league. Whenever the wolverine axis of Borthwick, Barritt and Paul Gustard are present, you can be sure that very little will break PNH's immortalised Thin Red Line. Justin Melck is the definition of 'workhorse', and no doubt Mouritz Botha will be eyeing up Turner-Hall's ribs once again...

My suggested line-ups:

Harlequins:
15. Brown; 14. Williams; 13. Lowe; 12. Turner-Hall; 11. Monye; 10. Evans; 9. Care. 1. Marler; 2. Gray; 3. Johnston; 4. Kohn; 5. Robson; 6. Robshaw; 7. Wallace; 8. Easter.
16. Brooker; 17. Lambert; 18. Fairbrother; 19. Vallejos; 20. Fa'asavalu; 21. Dickson; 22. Clegg; 23. Hopper

Saracens:
15. Goode; 14. Strettle; 13. Powell; 12. Barritt; 11. Chris Wyles; 10. Charlie Hodgson; 9. Neil de Kock. 1. Matt Stevens; 2. Schalk Brits; 3. Carlos Nieto; 4. Steve Borthwick; 5. Mouritz Botha; 6. Justin Melck; 7. Will Fraser; 8. Ernst Joubert.
16. Jamie George; 17. Mako Vunipola/Rhys Gill; 18. Petrus du Plessis; 19. George Kruis; 20. Jackson Wray; 21. Ben Spencer; 22. Owen Farrell; 23. Michael Tagicakibau.

So, overall? I think both teams will want to exploit the width of the Wembley pitch and the abundance of pace in their line-ups. So I think we'll see attempts to break out of what will start out as quite suffocating game plans.

Hopefully the 90,000 people turning up - and just to make it clear, that is a WORLD RECORD - will be entertained enough that they'll want to come to our wonderful NEW HOME at Barnet Copthall. What a week it has been to be a Sarries supporter.

Now I'd better stop before someone pinches me. Sarries by 6. Enjoy the game.