Sarries V Falcons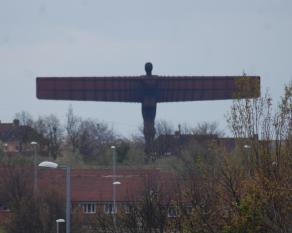 "Angle" of the North-PNH
By Gryff
April 23 2012
It was our first visit to Kingston Park and the promised downpour failed to materialise. We had however, stayed in Durham the night before where the river was in real threat of flooding after weeklong rain and the ground was clearly sodden. As with the Copthall plans there is an onsite car park the one at Kingston Park being split into 2 areas the smaller first bit being tarmaced the larger non-tarmaced area resembling the Somme we had wondered why must of the cars in front were 4x4s!
I had wondered at the east stand selling out so quickly not realising that this was such a small old-fashioned clubhouse stand sitting a couple hundred souls! The two end areas were standing cowsheds one covered one not and then a large and comfortable East stand dominating the ground. The ground was quickly filling as the teams warmed up.
The warm up was notable for 2 facts. Firstly the injury to Brad Barritt meant that Charlie Hodgson stepped in with Adam Powell onto the bench. I always worry when Brad doesn't start a game but not a bad replacement with Owen moving into the centres. The other fact was that both teams predominately practiced a kicking game. Sarries even in the warm up seemed to execute this in a more effective manner and almost seemed to be bullying Falcons kicking 10 metres into their practice half. With Saracens clearly planning game plan A i.e. play the game in the right areas with a strong defence and kick chase game and Falcons looking for a safety we mustn't lose approach the omens weren't good for an open flowing game.
As kick off approached and the ground filled the tension amongst the ground was palpable. The match meant so much to the home supporters being potentially the last home premiership match for over a year. The Falcons supporters around us nodded welcomes but were too tense to chat much. Good noise was generated in the build up. I'm afraid I didn't spot any kites the only birdlife was an oversized falcon in a bad costume strutting around the ground whipping up some chants.
The game started and Sarries seemed to obtain early control. Most of the play was taking place in the Falcons half and the ferocity I had expected was manifesting itself in the Falcons defence big hits flying in. Whenever, Falcons gained the ball a safety first approach meant that they kicked it back to Sarries often with the kick being returned with interest. You could feel the tension building in the crowd. Despite the ferocity though the Falcons defence stayed legal and not until the 11th minute did a penalty chance arise a long-range effort from Owen, which fell just short. Sarries kept the pressure up but the old problems of dropped balls, missed overlaps, missed final passes, overthrown lineout's meant that when chances arose nothing came of them.
What was heartening and slightly surprising was the power the growing dominance of the pack. I had expected Sarries led by Steve Borthwick to cause trouble to the Falcons lineout and this quickly materialised with throws being stolen and Falcons' ball disrupted. I had however, thought that a Falcons front 5 including Golding, Murray, Swinson and Hudson would be a handful for the Sarries pack and especially Matt Stevens which had been misfiring n recent weeks. I was pleasantly wrong though and the Sarries pack quickly obtained an edge, which soon lead to another penalty, which Owen this time converted. Another penalty came from the scrum but this time Owen hit the post. The half ended 3 – 0 to Sarries with Sarries seemingly n control but of course the score was much to close for comfort.
The main ray of sunshine for Sarries was Alex Goode who fielded the many bombs with ease kicked well for position and touch and on occasion made good yardage running back. He always seemed to have time on the ball be able to stand up n the tackle and make extra yardage whilst support arrive. For falcons that Sarries old boy Peter Stringer was trying to drag his team into the game.
The second half started in a similar fashion to the first and another scrum penalty allowed Owen to double the score. Gopperth was short with his first penalty but soon converted one following a late tackle by Will Fraser. A ticking off and warning by J P Doyle but a worrying trend for Fraser. Another scrum penalty was converted by Owen to re establish the 6-point lead.
This led to a realisation by Falcons that they weren't going to out muscle and out kick Saracens and needed to change their game plan. They started running the ball back more and keeping possession. Sarries however seemed to be able to handle this however with 13 minutes left a potential game changing decision resulted in Justin Melck being sent to the bin for a late tackle. From the ground it looked harsh and reports seemed to agree this morning. From here to the end of the game Falcons launched wave after wave of attack, which was repelled by strong and now traditional Sarries goal line defence. Falcons won a couple of penalties but turned down attempts at goal to go for the win. Sarries turned the ball over several times but were unable to clear including Owen overstretching a penalty touch finder resulting in the ball staying live. Fitzgerald came close but eventually after the clock was stopped Sarries turned over the ball and kicked it dead.
A hard thought win with several Sarries players carrying the marks. It had always going to be a physical battle and a try fest unlikely. The losing bonus point kept Falcons hopes alive whilst Sarries qualified for the playoffs temporarily leap frogging Tigers into 2nd place. Options are open after Saturday's results with possibility of home or away semi finals but the most likely outcome is an away semi at Welford Road. Third semi in 3 years how good does that sound?
We enjoyed our visit to Kingston Park t looks as if it may have been a good job we made it with Falcons needing a clear 5-point win against Wasps.
Newcastle: 15 Greg Goosen, 14 Corne Uys, 13 Jamie Helleur, 12 James Fitzpatrick, 11 Ryan Shortland, 10 Jimmy Gopperth, 9 Peter Stringer,8 Adam Balding, 7 Will Welch, 6 Ally Hogg, 5 Tim Swinson, 4 James Hudson, 3 Euan Murray, 2 Rob Vickers, 1 Jonny Golding.
Replacements: 16 Matt Thompson, 17 Grant Shiells, 18 James Hall, 19 James Goode, 20 Taiasina Tu'ifua, 21 Mark Wilson, 22 Chris Pilgrim, 23 Tom Catterick.
Saracens: 15 Alex Goode, 14 David Strettle, 13 Chris Wyles, 12 Brad Barritt, 11 James Short, 10 Owen Farrell, 9 Neil de Kock, 8 Ernst Joubert, 7 Will Fraser, 6 Jackson Wray, 5 George Kruis, 4 Steve Borthwick (c), 3 Matt Stevens, 2 Schalk Brits, 1 Rhys Gill.
Replacements: 16 Jamie George, 17 Mako Vunipola, 18 Carlos Nieto, 19 Mouritz Botha, 20 Justin Melck, 21 Richard Wigglesworth, 22 Charlie Hodgson, 23 Michael Tagicakibau.