Andy Farrell OBE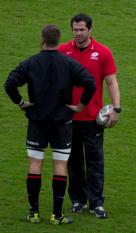 Advising no more
By Gryff
June 19 2012
So it's a while now since Andy resigned from his position with Saracens and whilst the dust has settled slightly it's not really any clearer the what's and why. Now some of the emotion as died down in reflection I suppose we should not be surprised that his departure is surrounded with controversy as so was his start, his England caps, his position etc. I thought it would be a good idea to look back at his7 years with Saracens and my personal recollections of the man.
Andy actually signed for Saracens leaving Wigan in March 2005 for a £700,000 contract part funded by the RFU. However following a series of injuries including a car crash he was not to make his debut until 11th September 2006 although he had already been named in Andy Robinsons EPS squad having never played a game of RFU. I personally encountered Andy at a pre season match at Bedford when we sat behind him. He was happy to talk to all around and it was clear by the intensity with which he was watching, analysing and commenting on the match that a coaching future would come.
His debut was for the A team away at Quins and even this caused controversy as a dispute had arisen between the RFU and Sarries re the correct use of Andy. Sounds familiar? The RFU saw Andy as the answer to the problem inside centre position (sound familiar) whilst Sarries saw him as a blindside flanker. The game at Imber Court was surreal a Monday night game with a large crowd, TV crews, journalists and England coaches. AF was deemed to have played well and made his first team debut the following week against Falcons and several bench appearances came at blindside before Gaffney bowed to RFU pressure and he made his first start on November 12th 2006 against Tigers at inside centre.
Andy went on to play for Sarries 28 times starting 23 matches scoring 1 try. His career mirrored Saracens at that time with 11 wins and 17 losses. I think personally the best match I saw him play for Saracens was the EDF game against Scarlets at Stradey. Sarries lost the match 36-32 but qualified for the semis with 2 bonus points having been 33-14 down Andy came on as replacement engineering a great comeback to achieve this.
Various stories surround Andy at Saracens his dedication, professionalism and hard work. The one I always remember was told by Dan Scarborough who talked about the intensity with which AF trained and how he would beg for someone to stay out with him when the session finished and that the speed and force of his pass was such that Scarborough had to soak his hands in ice after a session.
Back to his England career he had been named by Brian Ashton in his EPS for the 2007 6 Nations and made his debut for England on 3rd February 2007 against Scotland. He went on to play in RWC 2007 strangely being selected at fly half in the defeat by South Africa at pool stages later scoring his only England try against Tonga. In total he played 8 tests winning 5 losing 3. The Tonga match was to be his last game for England with much controversy surrounding his omission from the later RWC matches as he had brought defensive structure and accuracy to the team (sound familiar?). Unfortunately his injuries and age 32 by the RWC was against him personally I have no doubt that a few years early and fit he would have made a real impact.
For the 2008/09 season Andy signed a new 2-year contract and was made co captain at Sarries though injuries were to curtail the season. Around this time the rumours went around that Andy had offered to play the season for Saracens for nothing as he had been so taken aback by Saracens and in particular Nigel Wrays support during his initial injuries etc. This seemed indicative of the honest and principled man we had been getting to know. Rumours also surfaced that he was unhappy with the situation of the club in early 2009 and that he was going back to Wigan with Eddie Jones. Shows you shouldn't listen to rumours as with the Venter revolution Andy was appointed skills coach following his playing retirement at the end of the 2008/09 season.
It was also during 2008/09 that Owen made his debut for the club and an attempt was made for AF and OF to play together but typically in a pre season game against Western Force it ended up that Owen replaced an injured Andy so it was never to happen.
We all know what happened in the 2009/10 season at the end of which Andy was made Head Coach and then we all know what happened in the 2010/11 seasons. Champions! Champions! Champions! I don't believe these changes lay with any one coach even BV but with a strong and vibrant coaching team of BV, MM, AF, AS & PG. Andy obviously played a major part. I remember coming across Andy in a hotel in Galway before a pre season match in August 2010 and he seemed exactly the same man I'd met 5 years early at Bedford. Pleasant, open and living and breathing rugby (other than when he was moaning about Owen's first girlfriend)!
Obviously the RFU had not finished with Andy as in January 2010 he appointed assistant coach to Stuart Lancaster for the Saxons team a precursor of things to come! During this period all was not smooth running with AF and England with Andy at one stage at a fans forum explaining he'd almost lost his position with the Saxon for pushing Brad Barritt's case. Andy eventually stopped working with Saxons but with Lancaster taking over from Martin Johnston after a disastrous RWC England were soon to come calling again. It was said that Andy had to be personally persuaded to take the temporary position for the 2012 6N by Lancaster for which Sarries gave their blessing. The renaissance in England's fortune is well documented with Andy being credited as part of the team that made England a team again!
The secondment over and AF came back to Sarries but England soon came knocking. However, without Lancaster's personal touch the RFU messed up the negotiations and in true Andy fashion he decided that he wouldn't have Sarries messed about and he announced he was staying at Sarries. However, controversy never being far away and on 31st May rumours started circulating that he had resigned from Sarries and this was later confirmed by the club. It seems out of the blue the night before we had been at a fans forum with Edward Griffiths at Hertford Rugby Club where Edward had talked about our eager young English coaches Andy, Paul and Alex. The signing of Tomkins and Ashton and the ties with Wigan suggest that Saracens were building around Andy.
Saracens appear unhappy and rumours of enforcing the 6 month notice has surfaced. Lancaster has said there is no arrangement but I doubt if anyone would be surprised to see him appointed to an England role following the post SA review. There's probably a lot more of this story to run.
It does seem that the recent events are at odds to the Andy we have known especially his renowned honour and loyalty. Owen did say at the recent SSA Awards Dinner (plug plug) that his father had been really torn by the post 6N shenanigans. He described sleepless nights and much unhappiness. Maybe Andy's prime facet was loyalty to his country?
Whatever happens from here I believe that Andy Farrell has been a very positive influence at Saracens helping create a strong team and family ethos and a consistency and success on the pitch. It's been an honour to watch him and listen to him and on occasion talk to him. I had always expected him to be Director of Rugby at Saracens and I do hope no bridges have been irreparably burnt.