Saracens Top 10 Busts - Craig Quinnell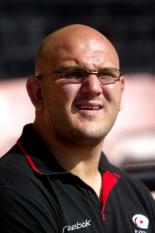 By The Fezboys
August 1 2012
Fat Quinnell! was the headline on this very site when it was announced the former Cardiff and Richmond man mountain was joining. The first ever tactical substitute for Wales in international rugby was tactically given the heave-ho after less than six months and fewer than 10 games, Leaving us all wondering what the Fat Quinnell his acquisition was all about.
Name: Craig Quinnell
International Caps: 32, Wales
Joined from: Cardiff
Time at Sarries: 2002
Appearances: 6
Points: 5
Famous for: Being the brother, son and nephew of Welsh international rugby players, and a penchant for punching and pies. Not to mention a memorable clenched-fist salute to the Lowe Rous when Cardiff beat Saracens at Vicarage in the Heineken Cup a couple of seasons before joining.
Hype: Just to prove that the now legendary "Something Special" quote was not invented by the arrival of Edward Griffiths, one of his predecessors, the late Peter Deakin, remarked on Quinnell's arrival "Craig is a talent and a player who plays the hard brand of rugby that we are looking for and we're delighted that he has signed for Saracens. I'm sure that he will fit in well at the training ground and will add something special to the squad,"
Reality: There were already rumblings from the back end of the World when soon-to-be appointed Sarries coach Buck Shelford was apparently unhappy Quinnell was joining on a 4-year deal reputedly worth £500,000. "No more signings until I arrive!" was his curt comment. Less than half a year on, the player was told he could leave after failing to make any impression other than on the Sarries bank balance.
Most memorable Sarries moment: Probably the shock for all of us on hearing the alleged £500k price tag.
What happened next: There was much relief that a potentially volatile player on an obscene amount of wedge was out the door. When his departure from Saracens was announced, Shelford said a number of clubs were interested and Quinnell wanted to move to one that would enhance his chances of returning to the Wales fold. The destination which would apparently help him fulful this ambition was First Division Worcester. Oh, and he never did play again for Wales. Next!