THE EPIC JOURNEY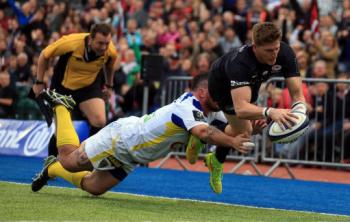 By Behind the Bench
May 10 2017
ASM Clermont Auvergne vs Saracens The European Champions Cup Final Saturday 13 May Murrayfield As recently as 2010/11, Saracens had a miserable season in the Heineken Cup, winning just one from six pool matches in their return to top flight competition. Since that campaign, they have steadily improved to the situation now, bidding to retain the title they gained in Lyon last season.
Was there a particular point when Saracens "arrived" as genuine European contenders, to accompany their growing domestic momentum? Clermont provide a helpful barometer of that astounding progress. In that 2010/2011 non-event, Clermont recorded a pair of straightforward wins in Montferrat and Vicarage Road, Sarries unable to cope with the power and size of their Top 14 opponents. The following season, they made it out of an easier pool yet floundered at home to Clermont again in the Quarter Final in 2012, whilst the sides had a break from each other in 2012/3 as Saracens got to the semi-final but were beaten by Toulon at Twickenham. After negotiating Ulster for the second successive Quarter Final, they were back at HQ, and, this for me, when Saracens put a patchy record against French sides behind them as Clermont were crushed 46-6, with "that" performance by Jacques Burger. Toulon were the nemesis as they won the last Heineken Cup at Cardiff in 2014. Moving onto 2014/5 and Clermont were edged out in the opening pool game in NW4, but won in France. But then, in suburban Paris, Marcelo Bosch changed everything, and winning in France has suddenly became a habit, as the Quarter Final at Racing Metro 92 was won in dramatic style, and though the semi final at Clermont was lost, this is the last defeat to date in the tournament. There have been wins at Toulouse, Oyonnax and Toulon since then, not to mention the win in Dublin where the visitors kept cool in a vat of emotion. Hence, there is no ground or opposition that this team fears, or position that they can't win from.
As the fortunes of the sides have entwined, what of their opponents, a side who have been billed as the best side never to have won a top flight European title (though they have won the second tier tournament). Given their volume of near-misses, Clermont were seen as a talented side with significant mental frailties, losing out twice in finals to an unpleasantly conservative Toulon side. Just last season, though, they contrived to somehow miss out on the knock-outs entirely as they failed to grasp victory at home to Bordeaux Begles, and Exeter became the unlikely qualifiers in a stirring afternoon. Does this season suggest they have turned the corner? An odd selection of European results suggests the jury is still out. They started off with a powerful and clinical 35-8 demolition of Exeter at Sandy Park, not a phrase often used, ahead of a 49-33 home win over Bordeaux as they conceded four tries alongside scoring six of their own. The double header matched them with Ulster and they lost out 39-32 at Ravenhill, however, showing the spirit to fight back for a pair of bonus points, but in the return game, they established a 28-0 lead before eventually winning 38-19. An incongrous 9-6 win was claimed at Bordeaux, but demonstrated they can win the tight games as well, particularly as they were down to 13 men for several minutes in the first half. The last game saw them confirmed as top seeds, as they established a 48-7 lead after crossing the whitewash five times in the first half, but winning 48-26 in the end. The Quarter Final was tighter as Clermont pulled away from a 6-6 interval scoreline to win 29-9 against Toulon, but in the Semi Final, they made another strong start to establish a 15-3 interval lead before hanging on for a 27-22 win.
Analysing the tries scored against them, Clermont appear to be susceptible to quick and incisive attacks and kicks which their large pack are less equipped to deal with. In turn, they are capable of blistering attacks, but seem unable to sustain this intensity, seeming to "declare" and let their opponents back into the match. Against a side with a defence as sure-footed as Saracens, it is unlikely that they would accumulate much of a lead, and it will probably boil down to how effective the Clermont defence is, though, that said, there is far more variety to their attack than Munster's, particularly given their kicking game. It appears that chances will come Saracens' way providing their defence holds firm against the competitions' most powerful attack, which has scored 800 points in 26 Top 14 matches, which places them second in the table.
Turning to possible line ups, Clermont could stay with the same line up fielded in the semi final. That would see Scott Spedding at full back, with former England pair David Strettle and Nick Abendanon on the wings, outside Aurelien Rougerie and Remi Lamerat in the centres and a half back combination of fly half Camille Lopez and scrum half Morgan Parra. The front row could feature Raphael Chaume, Benjamin Kayser and Davit Zirakashvili, with a lock duo of Arthur Iturria and Sebastian Vahaamahina, and the back row trio of captain Damien Chouly, Peceli Yato and Fritz Lee. For Saracens, Alex Goode should be at full back, with Chris Ashton and Chris Wyles on the wings, and Marcelo Bosch accompanying Brad Barritt in the centre, and Owen Farrell returning to the half backs with Richard Wigglesworth. Forwards-wise, Mako Vunipola, Jamie George and Vincent Koch will form the front row, with a second row of Maro Itoje and George Kruis, and a back row of Michael Rhodes, Schalk Burger and Billy Vunipola.
View a Printer Friendly version of this Story.
THE EPIC JOURNEY
TheSaracens.com (IP Logged)
10/05/2017 16:54
excited? Moi??



Edited 2 time(s). Last edit at 2017:05:29:12:16:44 by Darraghgirl.
Sorry, only registered users may post in this forum.